25 Black-Hosted Podcasts for Embracing the Black Experience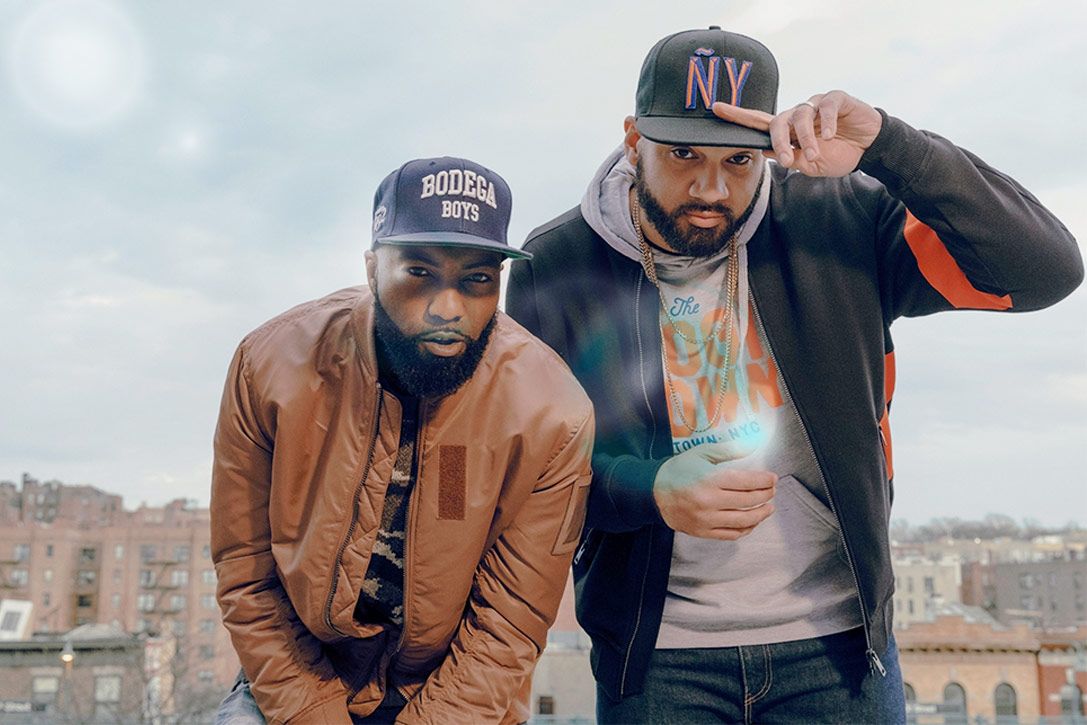 Let's keep it real. We have all had those days where we can't stand any TV show or movie that comes across our screen. Instead of wasting time trying to find something to watch, subscribe to a podcast. Whether you are using them for education, relaxation, or comedy, there is a platform for you. Here are 25 podcasts you can subscribe to with Black hosts leading the conversation.
Balanced Black Girl
Lestraundra Alfred, a personal trainer and nutrition coach, started her podcast Balanced Black Girl after successfully launching her fitness blog. Creating a community for women of color, she uses her platform to discuss health, wellness, self-care, and self-love.
Black Entrepreneur Blueprint
Starting your own business can be tough, but this podcast is giving you the blueprint to make it happen. Hosted by Jay Jones, this weekly show features interviews with other Black entrepreneurs. With over 300 episodes, Black Entrepreneur Blueprint will help you "learn how to launch, build, and grow your business."
Black Family Table Talk
Tony and Toni Henson host their weekly podcast, Black Family Table Talk, where they handle issues related to Black families. Both public speakers, they cover topics that include Black love, parenting, strengthening the Black community, and Black economics. Their podcast also offers the opportunity to share your own story, ask questions, or suggest future topics.
Black Girl Nerds
The concept of "Black Girl Nerds" is uncommon in society, and this podcast sets out to prove that yes, they do exist. Black women have their quirks, and they are celebrated in this podcast. While "nerds" is often used as a derogatory term, BGN flips the meaning to represent women who are unique, eccentric, and diverse.
Black Girl Podcast
Scottie Beam, Gia Peppers, Sapphira, Bex, and Alysha P are the hosts of this society and culture podcast. After working together at Hot 97, they decided to share their conversations on topics affecting Black women. Black Girl Podcast covers topics surrounding pop culture, sisterhood, love, and more.
The Black Guy Who Tips
For those looking for the perfect blend of laughs and pop culture, husband and wife duo Rod and Karen will give you that much and more. With over 2000 episodes, the couple often puts their comedic spin on discussions of current events and politics with special guests like Jemele Hill and Elon James White. New episodes of The Black Guy Who Tips are released five times a week.
Black Talk Radio Network
Scotty T. Reid created Black Talk Radio Network that houses numerous Black-hosted podcasts. While he hosts his own podcast "Black Talk Radio News," his network also includes "3 Guys Talking Smack," "Life, Liberty & The Pursuit Of the Wonderful Life," and "Love Wins With Ellis and Benita."
Bodega Boys
Hailing from the Bronx, Desus & Mero are the Bodega Boys. With jokes for days, the comedy duo releases a weekly podcast where they discuss pop culture, politics, sports, and more. This podcast is ideal for those who like a little raunch with their laughs.
Call Your Girlfriend
If you and your best friend live across the country from each other, Call Your Girlfriend is the blog for you. Co-hosted by besties Aminatou Sow and Ann Friedman, these two women live on different coasts. As unapologetic feminists, they share a weekly call to discuss current events and politics.
Combat Jack
For a dose of hip hop in all its glory, Combat Jack is "the undisputed #1 HipHop podcast." With an exclusive dive into the industry from some of the genre's greatest, you can listen to celebrities like Damon Dash, Scarface, and Rza talk about their experience and journey through hip hop.
Day One Fans
Established from the platform UNPOPCULTR, Day One Fans was launched in 2019 as an avenue to focus on the struggles of being a creative as a BIPOC (Black, Indigenous, People of Color). Started by LaChelle Chrysanne, the podcast discusses music, film, art, and culture.
Fck Work But Ima Go
If you love your job, that is great. If you don't, join the club. Hosts Natasha and Jenna are two HR professionals who are sharing their experiences on the podcast Fck Work but Ima Go alongside comedian Jeremy Anderson. While they'll keep you entertained, they'll also help you navigate through workplace issues. No one looks forward to Mondays, but you can look forward to a new episode.
Friends Like Us
Hosted by Marina Franklin, Friends Like Us features a panel of female comedians of color. In this weekly podcast, they discuss their views on current hot topics with the occasional visit from a male guest.
Go Off, Sis
There must be a lot of things that make you want to "go off." A sub-brand of Refinery29, Go Off, Sis is hosted by Rach and Mimi, two women who discuss situations that often make you want to lose your cool. With topics that include relationships, social media, and mental health, they are covering all the bases for their listeners.
Jesus and Jollof
Luvvie Ajayi and Yvonne Orji team up to host their podcast Jesus and Jollof. As two Nigerian women who grew up in the United States, they are using their platform to discuss the fusion between their Nigerian culture and their American upbringing.
The Nod
Brittany Luse and Eric Eddings started their podcast The Nod to tell the stories of Black life that aren't normally told. While Black life is often portrayed in one way, they are using their platform to "celebrate the genius, the innovation, and the resilience that is so particular to being Black."
Online Business for Black Women
Another podcast to help the budding entrepreneur, Online Business for Black Women is targeting women who are looking to create an online business. Hosted by Keshia M White, she is sharing stories and experiences of other women to help transition from employee to entrepreneur.
Ratchet And Respectable
Demetria L. Lucas, author of A Belle in Brooklyn and Don't Waste Your Pretty is the host of this podcast. With topics that include dating and relationships, politics, and pop culture, her take on the issues are the best of both worlds - ratchet and respectable.
The Read
Since 2013, hosts Kid Fury and Crissle West have been sharing their take on pop culture and the celebrities we love (and love to hate). Based out of New York City, The Read often features segments for Black excellence, entertainment news, and listener letters.
Strong Black Lead
I can never get enough of watching Black people succeed. Started by Netflix, Strong Black Lead highlights and gives a voice to some of the best actors in Hollywood. Hosted by Tracy Clayton, she sits down with amazing and influential people in the industry. Past episodes include interviews with Omar Epps, Lynn Whitfield, and the late John Witherspoon.
Tax Season
Tax Stone looks to give you "an unfiltered view from the streets of Brooklyn" with his podcast Tax Season. With over three years of content, the podcast took a hiatus in 2017 before a new episodes were released in 2019. With an affinity for Dusse, you can listen to Stone talk to special guests like Chad Ocho Cinco, Jeezy, and Naturi Naughton.
Therapy for Black Girls
Society has finally normalized mental health for Black women, and this is one online space that has helped pave the way. While it began as a blog, Dr. Joy Harden Bradford is continuing the conversation in Therapy for Black Girls. A licensed psychologist, she is working on making mental health more accessible for Black women.
What More Can I Say?
Hosted by Tone Kapone, Zach Boog, and Keke, What More Can I Say? is a weekly exploration of hip hop culture. A newer blog on the list, they launched in May 2020 and are giving you their personal perspective as Christian millennials.
2 Dope Queens
Hosted by Jessica Williams and Phoebe Robinson, 2 Dope Queens has been a popular podcast since 2016. Each episode features three comedians who sit and discuss topics related to race, sex, and the like. Their original podcast sparked Sooo Many White Guys, a spin-off podcast hosted by Robinson. The success of 2 Dope Queens led to a four-episode HBO special that was released in 2018 and renewed for a second season that aired in 2019.
3blackgeeks
Creating a platform for Black geeks, 3blackgeeks celebrates all the topics and content that most "ignorantly" assume does not appeal to Black people. With a love for martial arts, anime/manga, and comics, they combine their "geek loves" with pop culture.
Black people are diverse, and that can be demonstrated through our likes, dislikes, and these podcasts. We are entrepreneurs. We can be nerds and geeks. Black people love both hip hop and anime. Podcasts are a great way to find "your people," and any of these platforms will provide you with a strong community.