3 Ways to Make the Best Connection With Customers in 2021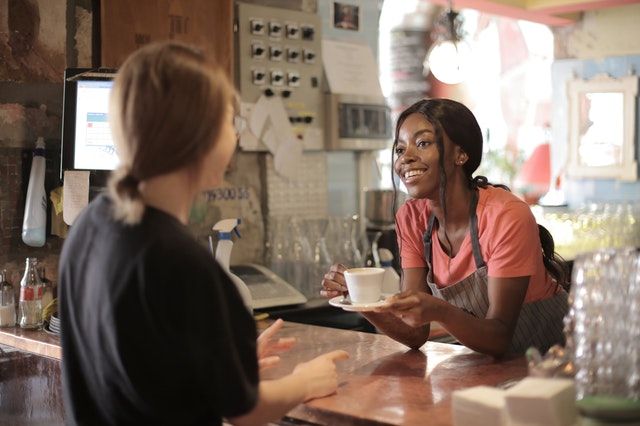 No matter how amazing a company's products or services are, it's impossible to survive without customers. Whether it's a steady stream of new customers or a revolving door of loyal ones, forming a strong connection with your clientele is the best way to keep them invested in your business. Consider focusing on your relationship with your clients and customers. How do they feel about your business? How are you communicating with them? These are just some questions that might come up when you evaluate your brand. As you prepare your business for 2021, here are three ways to shape and strengthen your connection with your customers.
Focus on Customer Experience
What is customer experience? You might think it's how easy it is for your customer to make a purchase or how well your business handles customer service questions. While these are elements of the customer experience, there is more to shaping the relationship. Customer experience is the perception your customer has of your business. It can be influenced by product quality, shipping timeframes, payment options, among other aspects. These are just a few factors that can shape how your business is perceived.
Factors to consider that affect the customer experience are:
Product/service quality and perceived value
Order accuracy
Pricing & discounts
Shipping timeframes
Physical location including interior design, accessibility, and parking
Marketing materials (social media, emails, website, ads, etc.)
Customer service
Health & safety (particularly relevant now are COVID-19 sanitation practices)
Intangible aspects such as your supply chain, philanthropic activities, and other methods of connecting with your local and global communities
All of these factors will determine how customers feel about your brand. The relationship you build with them will affect whether they become a returning customer, recommend your products or services to their peers, or cut ties with your business.
Connect with Your Clients & Customers
Your business should aim to be your customer's best friend. Let me elaborate. A best friend doesn't flood your inbox with text messages and emails when it's clear you need some space. They also wouldn't disappear for months at a time without a single word. Best friends are dependable. Good friendships are built on trust and reliability—knowing the other person will always be present and actively interested in your well-being.
Customers need to feel that your business is there when they need it. Effective customer communication can lead to customer loyalty, a growing base, and positive word of mouth. Your business can do this by meeting your customers where they are. If they're on social media, you need to connect with them on Facebook, Instagram, or other social networks. To help customers with questions, consider both telephone and online chats. There are numerous communication tools and platforms that your business can use to help strengthen its customer connections:
Email campaigns
Social Media
Video
Ads
In-person communication (staff/customer interactions)
Telephone (customer service, tech support reps, sales, etc.)
Online chats (agents or bots)
Communication with your customers can help prevent some of their experiences from falling apart, especially during the ongoing pandemic. With COVID-19 still affecting the way businesses operate, social media continues to grow in its importance. Visit Clover's blog for tips on how to approach your social media strategy and how to get the best use out of mainstream platforms. And while this is sometimes viewed as the most obvious form of communication, your business also needs to be mindful of the visual and non-verbal ways that your business is interacting with customers.
Don't Forget Visual & Nonverbal Factors
Ideally, every aspect of your business should be intentional. This includes visual and nonverbal communications and experiences. These are all of the things you and your staff do not communicate overtly, or in spoken or written form. Things like:
Visual branding (color scheme, logos, fonts, digital visuals, location visuals, etc.)
Presentation (window displays, endcaps, websites, social channels)
Packaging & shipping (branded boxes & bags, delivery vehicles, etc.)
Interior design, signage, and other physical aspects of your business location(s)
Cleanliness and layout of your physical location or curbside area
Tone of voice your team uses with customers
Body language and attire of you and your staff
While nonverbal communication may not be as direct as sending an email about a sale or discount, it can help shape your customer's subconscious feelings about the brand. Let's use the example of visual branding.
Take a look at some of the most popular fast-food chains in the world. What color dominates their logos? Most often, you'll find that the common color among these restaurants is red. In color psychology, red evokes the strongest emotions. It is associated with love, passion, power, anger, and danger. The physiological effects of these emotions, which often include increased heart rate and blood flow, can exacerbate hunger. Additionally, many of these fast-food companies incorporate yellow into their logo because the bright color is psychologically tied to happiness, warmth, and energy. This isn't a coincidence. It's visual branding.
As you open your doors to a New Year, this list is a great place to start. Building and improving customer connections is essential to creating a base of happy, satisfied customers. And while these three areas of focus will ultimately help strengthen your business, there are more ideas to consider implementing for a well-rounded strategy. For more tips, insights, and stories specifically catered to your business, visit Clover's blog pages curated for restaurants, retail, and service-based businesses.
This article was developed in collaboration with our friends at Clover. Check out Clover and all the ways they can help your business.