Millennial Quits Job To Make The Next Big Hip Hop & R&B Card Game, AUXGOD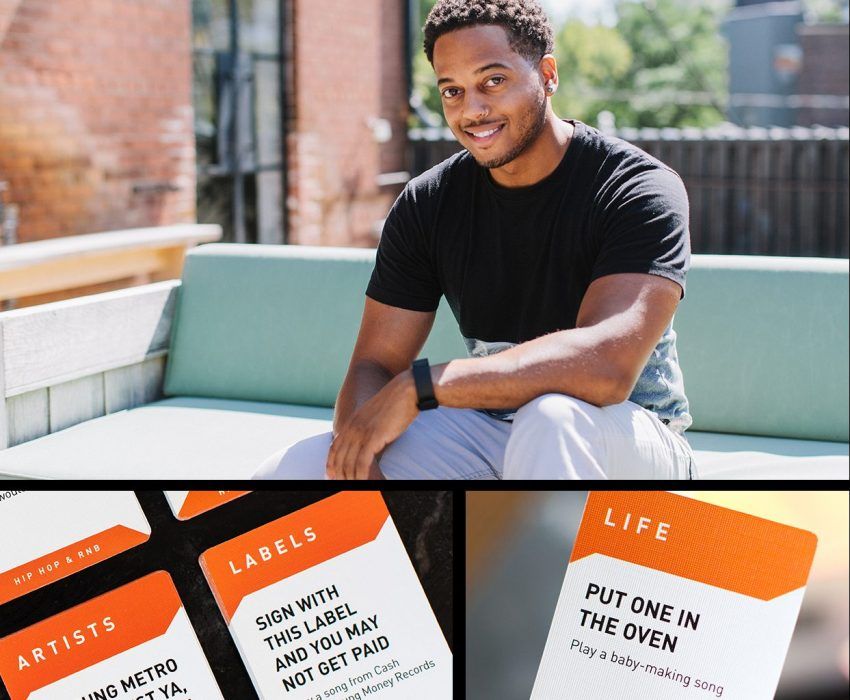 Over the past few years we've finally seen an emergence of adult games made for us, by us. With our love for music and a good card game (is there ever a Black family gathering without this?) I was extremely excited to learn more about a new game that is already taking off. AUXGOD Music Battle Card Game, created by Toronto-based millennial entrepreneur Michael Rousseau, is taking our family functions or pre-party rituals to new heights, and brings a new meaning to the phrase "pass the aux." Users split into 3 teams (one being judges), draw cards, and compete to put on the best song that relates to the card drawn. We caught up with Michael to learn more about the game and how aspiring entrepreneurs can get their own game ideas off the ground.
Mandy: What inspired you to create AUXGOD: Music Battle Card Game and what were you doing prior to launching?
Michael: I grew up in a family where games were a staple for every Thanksgiving and Christmas. Seeing my parents, aunts and uncles enjoy games when I was younger was very memorable. Now that my siblings and cousins are older we've pretty much followed their path and play games as well. I figured it would be a fun game to make for family gatherings, turns out other people love it too!
Prior to launching AUXGOD I worked fulltime as a financial business analyst at a tele-communications company here in Toronto.
Mandy: How exactly does the game work?
Michael: Cue elevator pitch- AUXGOD is a party game where two teams battle each other by playing music from their smartphones in response to the playing card. "Play a song about your past relationship" each teams play a song that they believe best fits the card. Another team will judge and give the team with the best song a point.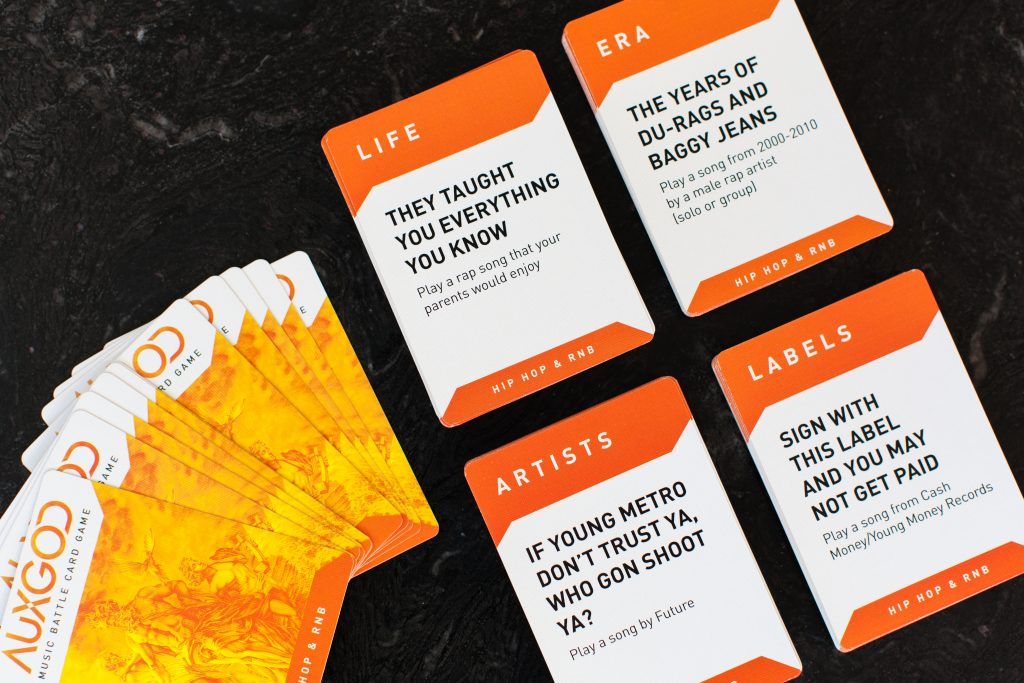 Mandy: As soon as I heard about this my first thought was "this sounds like a dope pre-party game." What's usually the vibe when people get into the game and what has the reception been like so far?
Michael: The best part is seeing people really battle and go for it. I've seen so many people dance, get in the other teams face and really perform their song choices. Then the arguing, that's always so entertaining, people really believe their song should win, that their performance was better and they deserve the point.
Mandy: How did you go about funding it?
Michael: I used Kickstarter to fund the initial order of the game.
Mandy: What was your experience like with the Kickstarter? Any advice you'd give to other entrepreneurs hoping to go this route for funding?
Michael: My experience with Kickstarter wasn't what I thought it would be. I figured since my game was a music game surrounded by Hip Hop & RNB it would be easy. However, I didn't campaign before the Kickstarter, I just threw it up there and hoped for the best. If I were to re do it, I would have actually done a campaign where I would have gathered emails and promoted a free version of the game for 6 months before I went live.
Mandy: Are you a full time entrepreneur now? What did you do to prepare to make the leap?
Michael: I'm a full time entrepreneur, as AUXGOD is still in the building stages every dollar made has to be reinvested in the business. While I worked full time for those 7 years in finance, I was also hustling as a photographer, initially when I left my job, I started photography full time and that is what keeps me afloat today because of the foundation I built. So making the leap was very gradual, a little nerve racking because there's no income every 2 weeks, but the quality of life is better.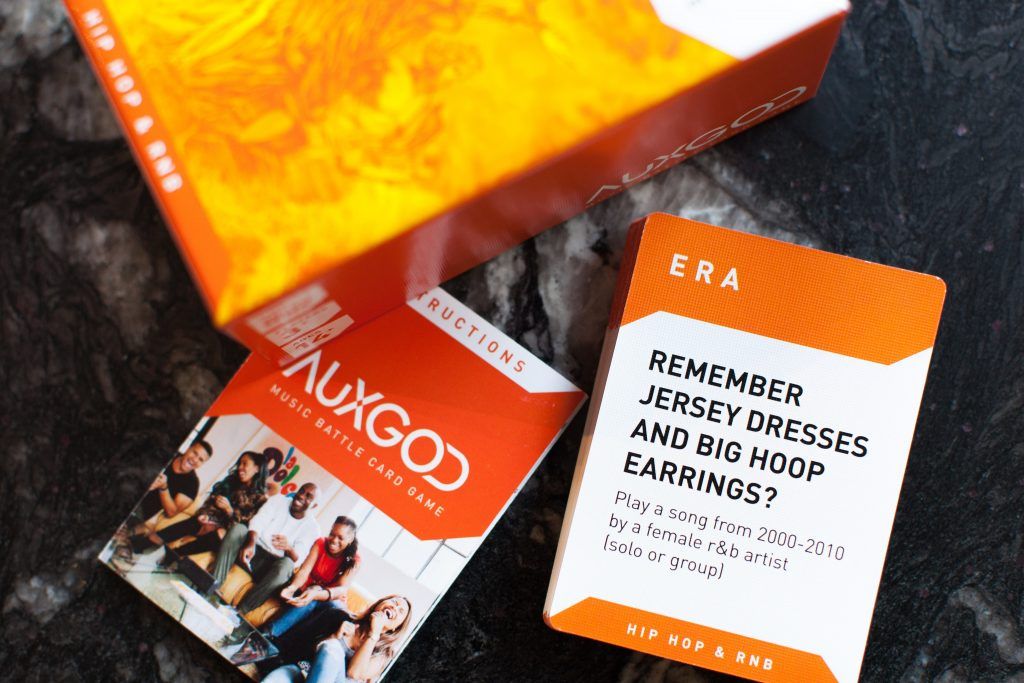 Mandy: I'm sure we have many aspiring Black entrepreneurs reading this who have an idea for a card game but don't know where to start. How did you learn the ins and outs?
Michael: Trail and error! I contacted a lot of manufacturers and pitted their quotes against each other, I kept an organized spreadsheet with all the numbers. Then I asked some of the companies for samples of their work. Get a graphic designer as well, know your strengths, what you're not good at pay someone else to do it. Anytime you're stuck Google is your friend.
Mandy: What were the biggest lessons you learned since launching AUXGOD?
Michael: Marketing a product isn't easy, there's so much noise online and you don't get that much time to grab someone's attention. Also, please read. Seriously, read books about everything you're bad it. It's going to make your life so much better. Skip all the hard parts, read a book and go into your situations with a little knowledge versus being blind.
Mandy: Where do you see AUXGOD and yourself in the next 5 years?
Michael: Oh such a hard question! Things change on a daily basis. Next year I'm going to start working on the Pop version, the following years I would love to add Country and Rock to our line up. YouTube is going to be a push as well, subscribe to us at "AUXGOD Game". We'll be hosting AUXGOD battles with our customers and vlogging the ups and downs of running a business.
Mandy: What has been the most rewarding part about being an entrepreneur?
Michael: Being able to create something that's putting smiles on people faces. Getting to see people enjoy something you created in your basement is amazing.
There's times where I reflect and say "Wow…look at God"
Follow the journey on Instagram @auxgodgame and grab a copy at www.auxgodgame.com