This Black Entrepreneur is Taking Cards to the Next Level with The Game of Spades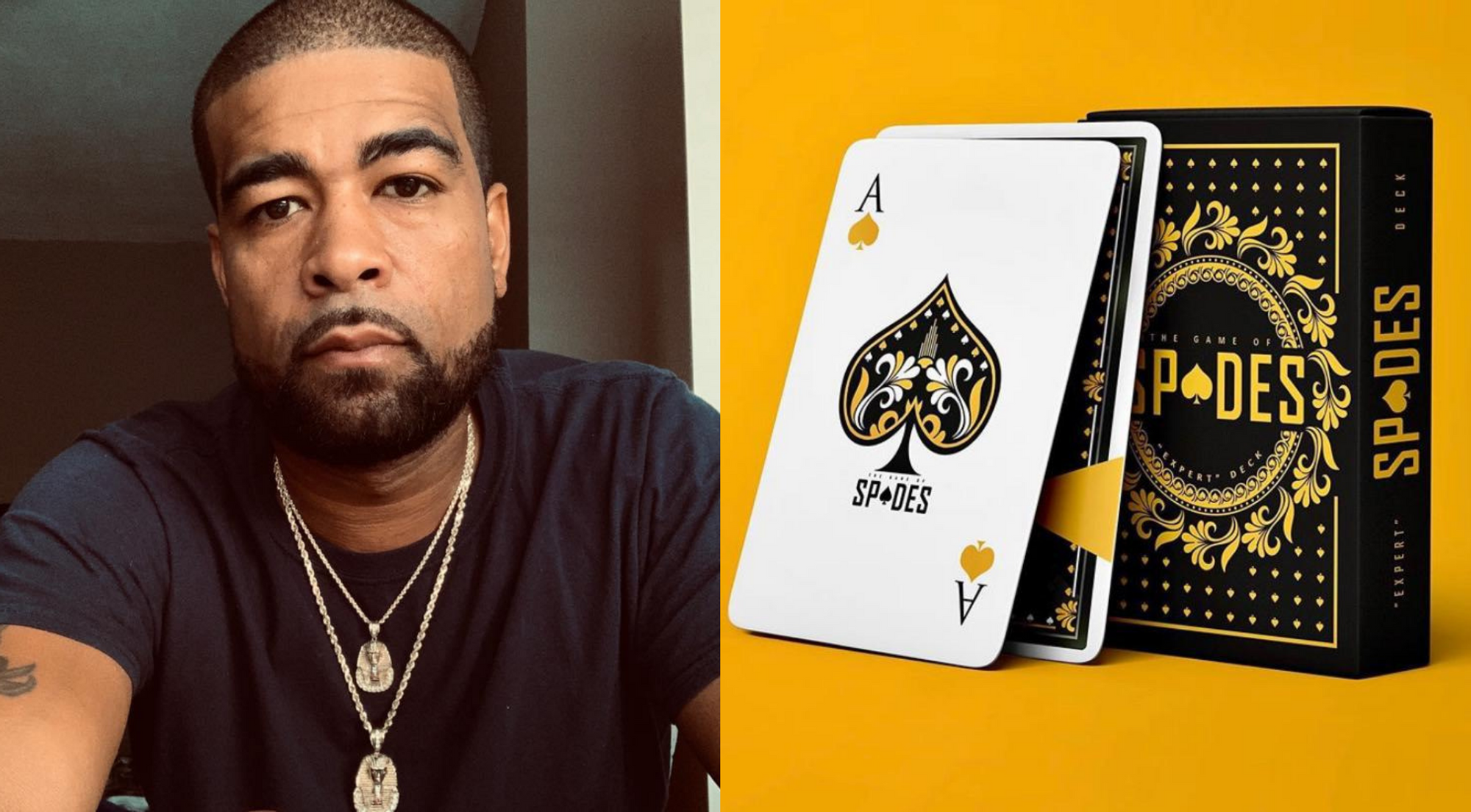 While playing cards with his family on a trip home for the holidays in 2018, serial entrepreneur Aaron Parker was inspired to take a favorite pastime with most Back families to the next level. He utilized his graphic design and marketing skills to enhance card playing forever with The Game of Spades. After a successful Kickstarter campaign that has raised over $10,000, to date, Aaron has gone on to expand from the "Beginner Deck" into much more, including merchandise. He even earned an Instagram story shoutout from Roc Nation executive Lenny S. while playing with his celebrity friends Michael B. Jordan, Terrence J., and Steelo Brim in June 2019. And he's just getting started.
Learn more about Aaron's road to creating The Game of Spades, his plans for expanding the brand, and why he suggests everyone plays with family and friends.
Lela: How did you come up with The Game of Spades?
Aaron: It was actually back in December 2018; I was home visiting family in Buffalo, New York for the holidays. We play a lot of spades in Buffalo, especially my family. While playing, one of my family members said "why doesn't spades have its own deck?" That stayed with me even as I returned back to my own home. Then, one day while driving home from work, I thought about that question again and thought wait, why hasn't anyone ever created that?
Things kind of sprung into action that same night. I did research to see if anyone had ever created that type of deck. Thankfully, I have a graphic design background. So, I figured I may be on to something and went full steam ahead. I began designing my first deck, and I did research on where I could get samples made. I got my LLC established, filed for my trademark, and just tried to make sure the product was right. That's basically how The Game of Spades was born.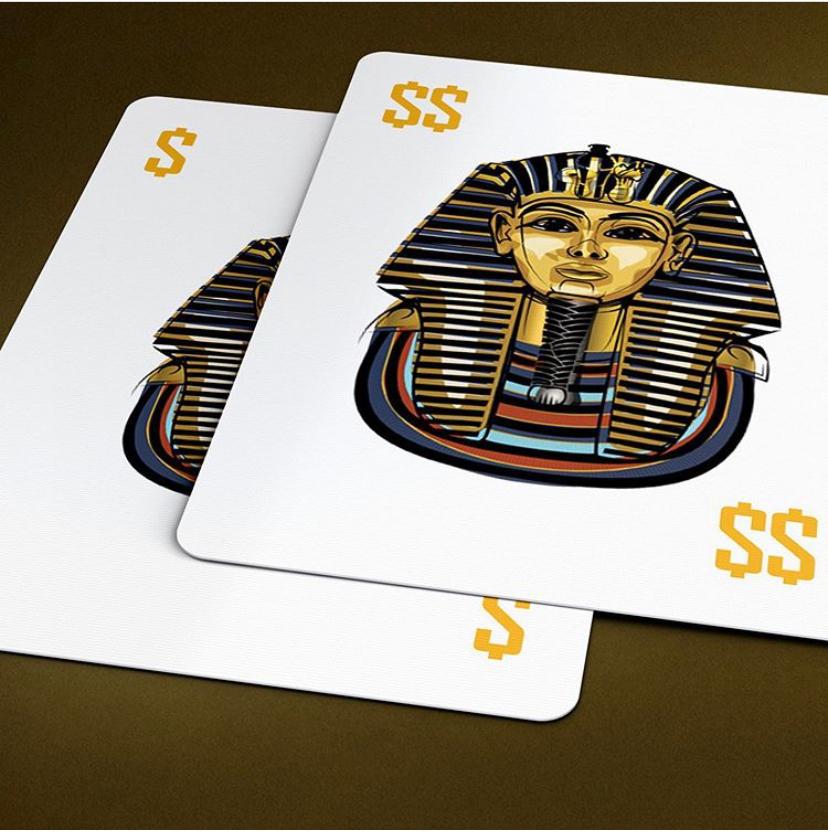 Lela: What makes The Game of Spades' decks stand out from a regular deck of cards?
Aaron: There are a few different attributes. Personally, I like to play the most traditional way – with the big and little jokers as well as the two of diamonds and spades. So, for the Beginner Deck, I wanted to be innovative. I removed the two of hearts and clubs, and I included instructions for the deck. I also made sure that it's obvious which joker is which. Therefore, people no longer have to write on the cards. There's a big version and a small version of King Tut on my joker cards, in addition to one money sign and two money signs on the small and large jokers, respectively. And, of course, my favorite suit are the spades, which are black and gold for The Game of Spades. I made sure to give the actual spade its just due in the game and highlight just how important it is.
But I do know that everyone doesn't play the traditional way. So, I also created the Expert Deck, which includes 54 standard cards. That deck can be used for any card game. However, it's still designed to showcase spades as the prominent suit. Like the Beginner Deck, it includes the big and little joker design as well as the black and gold spades suit. The Expert Deck, however, has a very unique look for the court cards. I decided to step away from the European court that's featured on regular card decks.
Lela: You mentioned playing the traditional way. Who taught you how to play spades?
Aaron: I can't really pinpoint anyone in particular. I think I learned more so from just watching. I watched my elders and wondered what was going on. I just wanted to be a part of the table. After the games, I would ask questions. I, then, began taking the cards and playing spades with my friends. Spades is just one of those things, like learning how to walk, in a Black family. You just learn.
And I love playing with family and friends. That way you don't offend anyone that you don't know. Playing with family and friends is less awkward and more fun.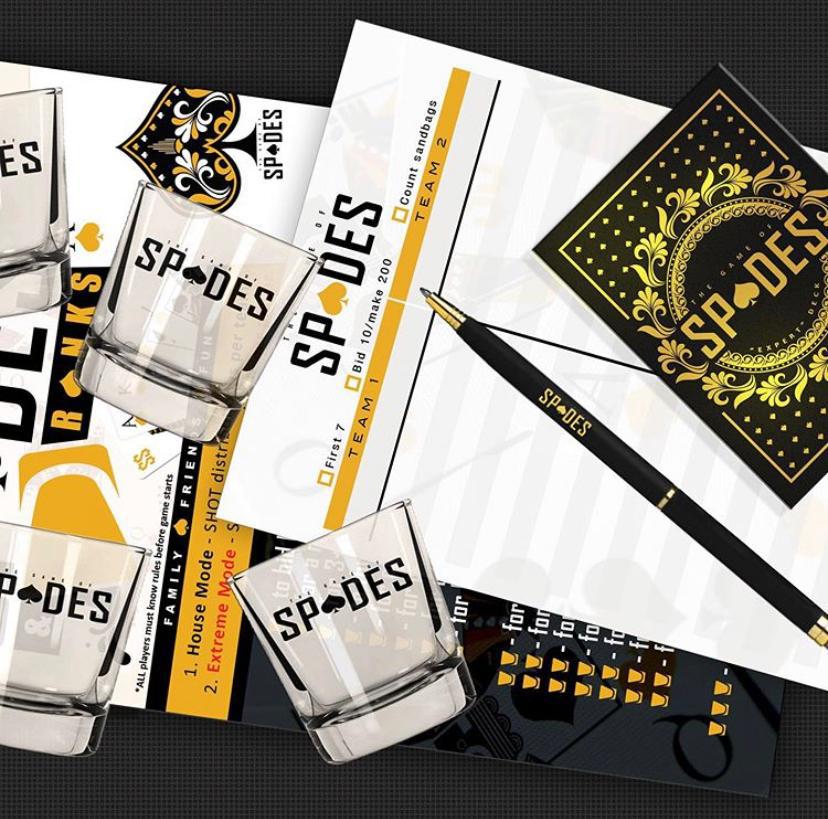 Lela: Would you say that sales have increased in the last few months due to the virus and more people being home with loved ones?
Aaron: Yes, but also the timing for me was tricky in a good and bad way. The virus slowed down the production of my new deck. So, I literally just received them. I did a Kickstarter to fund everything at the top of 2019, which was very successful. I was just able to get a lot of those rewards sent out recently. Customers are just now getting their hands on the latest deck and being able to get a feel for it. But yes, with the Beginner Deck, you can definitely see the correlation between those sales and people being home. But it also goes back to my effort and making sure I'm active and marketing the products.
Lela: Did you ever think you would pursue entrepreneurship? Was that always the goal?
Aaron: I've always been an entrepreneur. I'm a self-taught graphic designer. With that background, I started a graphic company, Clubhouse Graphics, somewhere around 2007 or 2008. I was also a party promoter while in Buffalo. So, I used my skills to do the flyers for the parties. Then, I also combined all of those skills with my marketing background and experience. I put it altogether to bring The Game of Spades to fruition. And I'm continuing to move ahead with putting out other businesses as well.
Lela: Are you considering creating any games or redesigning The Game of Spades?
Aaron: I'm not creating any games, in particular. But as of right now, I do have plans on doing variations of the spades deck – different custom decks. Nothing is really in the agreement phase just yet. However, I have some music artists and industry executives who I am trying to collaborate with to do a deck with them. Again, nothing is set is stone, but that's currently the idea.
I have the Expert Deck solidified. That's my base deck, but I want to do different variations. One that I'm very excited about is an Afrofuturism Deck that I have coming up. I'm going to have an artist create a bunch of cool Afrofuturism characters. I have a story that goes along with it. It's set in ancient Kemet. It blurs the lines between actual history and fiction a little. The characters will be the court cards.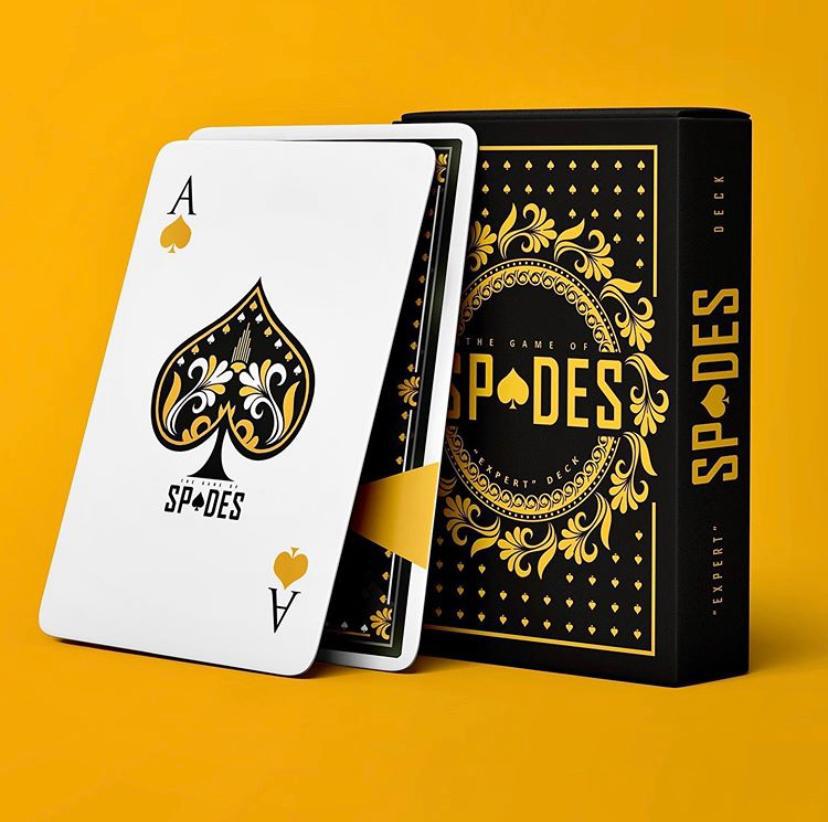 Lela: How else have you expanded the brand?
Aaron: Originally, back in September/October 2019, I began doing The Game of Spades finals. And this year, we were going to do city-specific tournaments that laddered up to a bigger national tournament. If you won in your city, you'd then be invited to a national platform. I was in the middle of getting all of that rolling. Then, the virus slowed things down. I'm now just trying to be innovative and adapt to the current climate. So, I created a tournament kit where bar owners and promoters can host their own spades tournaments. It comes with a deck, poster board, and more.
I'm also very excited about the merchandise. I took the king and queen of spades and put them on graphic t-shirts. I plan on taking several other cards from all of my designs and putting them on garments as well. Also, I've turned The Game of Spades into a drinking game, with the Spades & Dranks game-set. The branded magnetic closure box opens up to an Expert Deck, 4 shot glasses, a metal pen, a score pad, and rules, which are very simple. Pretty much, you get penalized for playing bad spades. There are different shot increments for whatever rule was broken. It takes spades to the next level. So far, so good with the reviews I'm receiving. In addition to creating on my own, I'm also open to collaborating with other Black-owned brands.
To learn more about The Game of Spades and support the brand, be sure to visit them on the website. You can also follow @TheGameofSpades on Facebook, Twitter, and Instagram. Those looking to learn how to play spades courtesy of The Game of Spades can check out their Spades 101 series of videos on YouTube.