Black-Owned Company Launches Seat Covers To Protect Travelers From COVID-19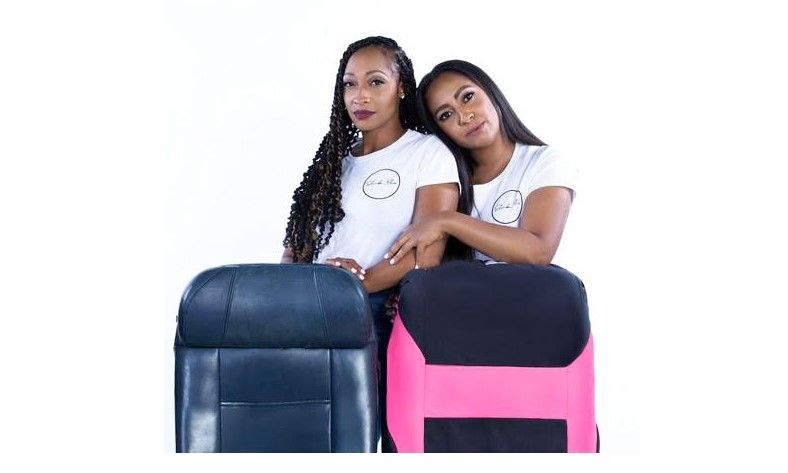 The COVID-19 pandemic threw everyone for a loop at the beginning of 2020. As the numbers began to climb in the United States and all over the world, most of the population was experiencing fear and confusion. And while some of the country was on lockdown, life was still going on for most. Essential employees still had to clock in. Friends and family were still traveling to check in on their loved ones. Sisters Nichale Denby and Nichole Denby-Jackson fall into this second group.
When faced with travel to visit a COVID-positive family friend, the Slumber Bliss founders were wary of contracting the virus themselves. Through their fear, they birthed the genius idea that is behind their company. And their story continues below.
Jouviane: Every brand has its mission that can often be described in a few short words. If you could use three words to describe Slumber Bliss, what would they be?
Nichole: The first word I would use is philanthropy. A portion of our proceeds will be going to various charitable organizations submitted by our customers, and at the end of each quarter, we'll choose a new organization. The second word or phrase I would use is "public health and safety." And lastly, the third phrase would be "high quality."
Jouviane: Starting a business isn't for everyone, but you clearly have a knack for it. Is entrepreneurship something you've always been interested in?
Nichole: Entrepreneurship has always been at the forefront of my career. I started as a professional track and field athlete, and I was someone who was used to working on my own time, setting my own schedule, and working for myself. After I retired, I entered the corporate world in the technology field, and while it's been amazing, I've spent the entire time trying to figure out how to become an entrepreneur again.
I do own a restaurant in Texas, Lone Star Jack's Barbecue, and I co-own Slumber Bliss with my sister. We're always trying to push the envelope and find new ways to create great businesses and leave our mark on the world.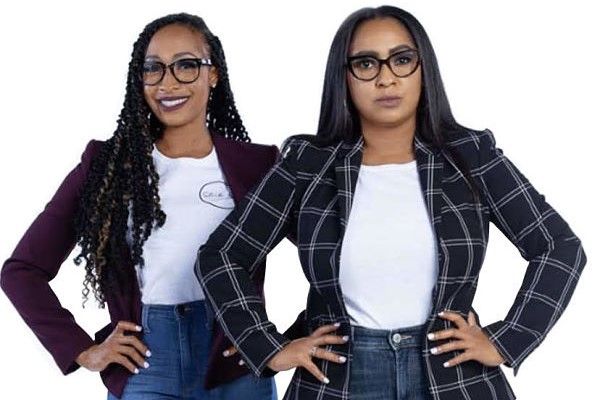 Jouviane: As you and your sister try to leave your mark on the world, how would you describe working together?
Nichole: It's been great. My sister is more of the creative mind behind our ventures, but we both bring a different set of strengths to the table. Nichale comes up with a lot of the ideas and then I'll put my spin on it. We bounce ideas off of each other to make sure they're perfectly executed, and we work really well together. I believe that's why we're always able to come up with these great ventures, and ultimately we hope to become successful together. The past few years since we've started working together have been amazing as we work to build a Denby sisters empire, and we're now starting to see the fruits of our labor.
Jouviane: It's amazing that you've both been able to work seamlessly together. And while you've mentioned working together on other plans and I'm aware that Slumber Bliss carries multiple products, I have to ask. How did you both come up with the idea for seat covers?
Nichole: The idea came during the early months of the COVID-19 pandemic when the virus was running rampant. We had a close family friend who tested positive for COVID, and their health was declining pretty rapidly. My sister and I were going back and forth between the idea of travel, especially because no one was traveling at the time. Plus, travel was one of the fastest spreading ways to contract the virus. And since we wanted to be nearby for our family friend, we hopped on a plane dressed in protective gear, wrapped our seats with plastic bags, and hoped for the best. While we might've gotten on the plane looking crazy, it's because after doing our research, we didn't find anything that we were confident in. And on our way home, our fear of traveling led us to ask ourselves, what would make us feel confident to travel?
We did research on different fabrics and found that there's antimicrobial fabric that halts the spread of many types of pathogens and even kills some of them. So after getting seat dimensions from our mother who works for Delta, we contacted our seamstress to make us these antimicrobial seat covers. And after our friends, family, and other travelers complimented us on them, we decided to shift our gears to mass marketing so the public could also feel safer when traveling.
And during our research, we dug into the cleanliness of airlines and public transportation and how often they're cleaned. Their cleanliness, or lack thereof, showed us that this isn't just a COVID-19 product. This is a public health and safety product.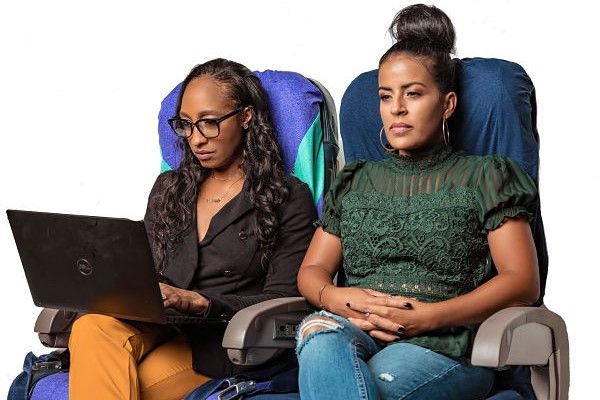 Jouviane: You're absolutely right. This pandemic is opening our eyes to just how careless some of us were pre-COVID. Nothing about this pandemic has been easy, and I'm sure starting this new venture wasn't either. What would you say was your biggest obstacle and how did you overcome it?
Nichole: The biggest obstacle we had was learning everything up to the distribution phase. We love doing research and consider ourselves to be very resourceful, so we've been very meticulous about everything up to this point. That's why it's taken some time to get from our start in March to our launch. We've been learning the ins and outs of the manufacturing and distribution process as well as doing on-the-ground research to gauge people's reactions to the company and its products. Ultimately, we've been working to make sure we're prepared to handle any type of order, whether it's one order from a single customer or wholesale deals from larger companies.
Jouviane: And Slumber Bliss has quite a few items to offer its customers, not just the antimicrobial seat covers. Could you give us a quick rundown of some of your products?
Nichole: At the top, we have our must-have product, the bread and butter of our business, which are the seat covers. We also have our "Clean Freak" pack. What the seat cover can't touch, the pack will cover. With the items inside, you can sanitize everything like your armrest, seat belt, and tray tables. It has your hand sanitizer, antibacterial wipes, a tray table cover, gloves, and a mask. Another interesting item on the list is our blanket attachment, which is patent pending. On every seat cover, there is a snap button that corresponds to a button on the blanket. With this, you don't have to use your hands or worry about your blanket falling. You can sleep comfortably, work comfortably, or read comfortably.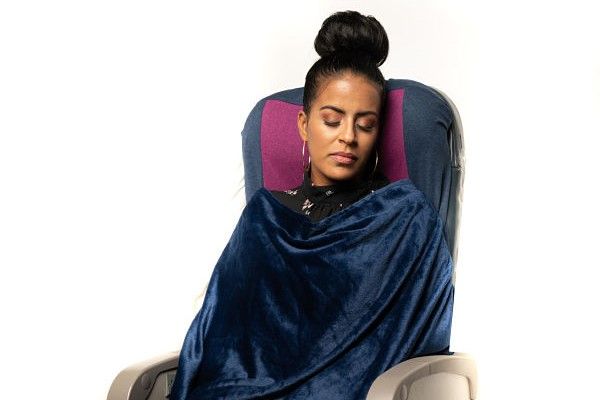 Jouviane: It's obvious that this new mindfulness when it comes to traveling and public spaces isn't going anywhere. Where do you see Slumber Bliss in the future?
Nichole: This pandemic has changed the face of the world forever. I think the way we view the cleanliness of public transportation and spaces won't ever be the same. People are always going to be conscious of germs. In five years, we hope to see Slumber Bliss in sports arenas, on public transportation like planes and trains, and even in rideshare transportation.
Jouviane: Now I'm sure we'll have OBWS readers in all of these locations both in the near and distant future. If there's one thing you could tell them about your brand, what would it be?
Nichale: Make sure you're protecting yourself during travel. There are so many pathogens and germs found in any particular vehicle of transportation. We want everyone to stay safe as they travel and find themselves in public spaces, and we believe that Slumber Bliss is the best option for doing that.
--
Slumber Bliss is also offering our Official Black Wall Street readers an exclusive discount. Use the code BLKWALLST at checkout to get 15% OFF your order.