HBCU Grad Launches Adult Coloring Book Series to Help Black Women With Self Care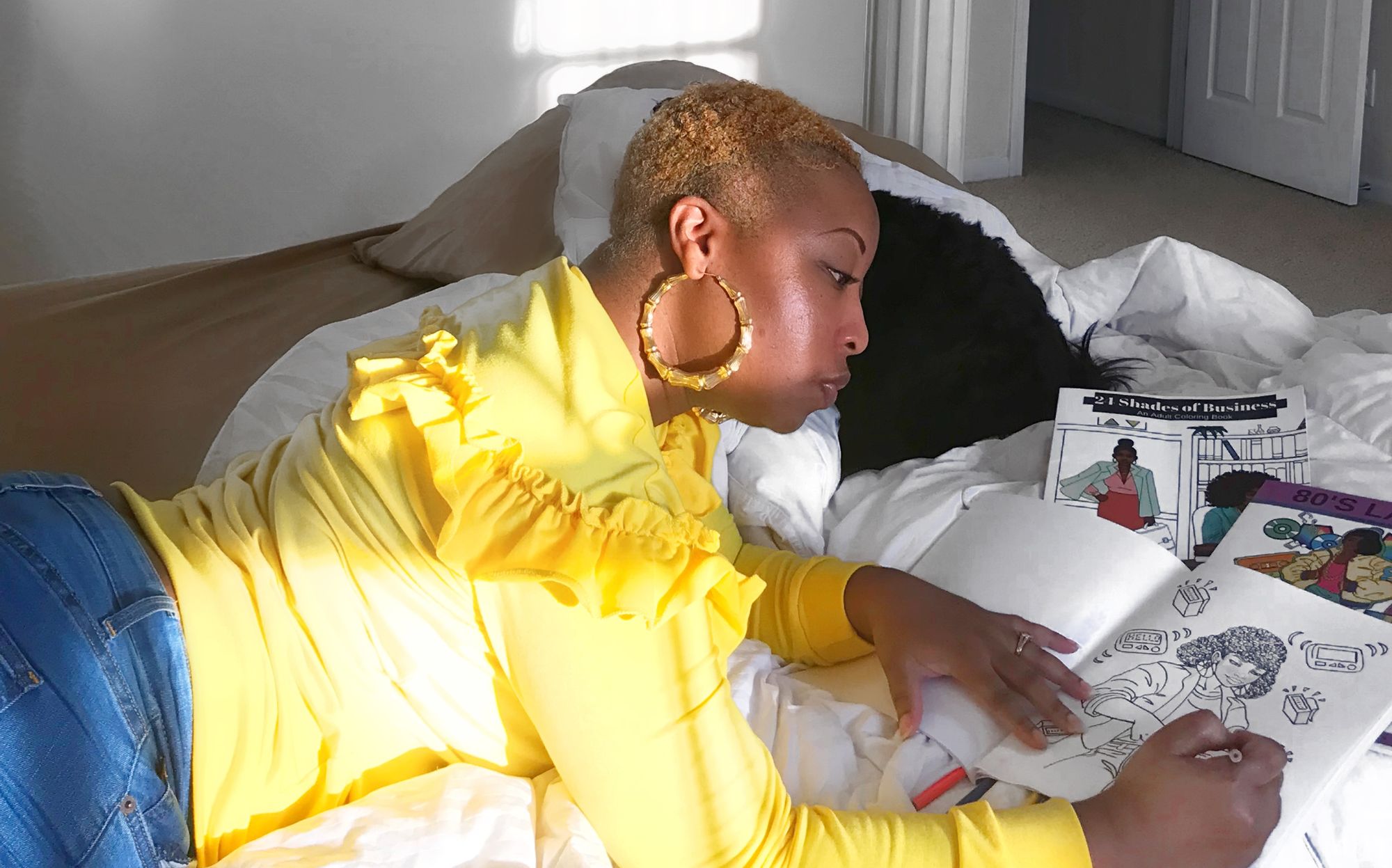 With the growing emphasis on the benefits of therapy and the damaging effects of stress, self care has rightfully taken its roots within the Black community. One HBCU grad is taking things to a new level by highlighting a more unconventional and nostalgic, but effective method to relieve stress... coloring! Yes, believe it or not, coloring engages the cerebral cortex while relaxing the brain's fear center ("amygdala"), allowing us to relax and focus on the task at hand. North Carolina-based entrepreneur Latoya Nicole launched the coloring book series "Entrepreneurs Color Too" to give Black women a new method to relieve stress on the go. "80's Ladies" features fashion trends from the 80s and 90s, while "24 Shade of Business" is filled with 24 inspiring illustrations of Black women in various occupations from CEO to a Yoga Instructor, and has already sold thousands of copies. It also includes inspirational quotes and activities. When she isn't assisting Black women in relieving stress, she's helping other entrepreneurs start and market their online business through her consulting company iamlatoyanicole.com. We recently caught up with Latoya for more on her coloring book series and success.
Mandy: What influenced you to launch Entrepreneurs Color Too?
Latoya: I was at work a while back and it was a really busy season and we were all frustrated and overwhelmed with the work load. Some of the managers wanted to try and make things better so they were doing "stress relieving" things like providing free coffee, massages and they also brought each of us coloring books to help "take the load off." To be honest, when I first saw the coloring book I was thinking "what am I gonna do with this?" because I hadn't used a coloring book since I was a child. But one day I had gotten frustrated to the max and I jokingly and frustratingly said to the guy beside me "pass me one of those colored pencils!" Once I started coloring, I noticed that I started feeling calmer!
But, I thought nothing else of it until years later and I was browsing the internet trying to figure out great ideas to put in place so that I could create passive income. My initial thought was to write a book about my journey and entrepreneurship, so I was browsing and asking God what my next move should be when I heard "24 Shades of Business." When I hear certain things, especially after I ask, I don't take them lightly because I'm a believer that I have always been given "witty inventions." I quickly jotted down the title that I had heard and put it in my journal. Later, I started putting pieces together and remembered how the coloring book from my job had really helped. I also remembered that the coloring book only had trees, mandalas and birds for me to color. I started doing more research and I realized there were no adult coloring books that solely highlighted African-American entrepreneurs in their businesses. And, of course, since I had already been given the title of the book "24 Shades of Business" I knew the first book would be dealing with business, so I took that and ran with it.
Mandy: What was your background prior to launching?
Latoya: I received my undergrad from WSSU and I also have a master's degree in counseling and was working in the mental health field. I was making more than enough money to live comfortably however I was completely burned out and didn't feel creatively fulfilled. I was at a crossroad between continuing to make money and be stressed at my job with no alternative solution or to learn to create my own money. I chose the latter and although I still use my education and work background, I now just use it on my own terms.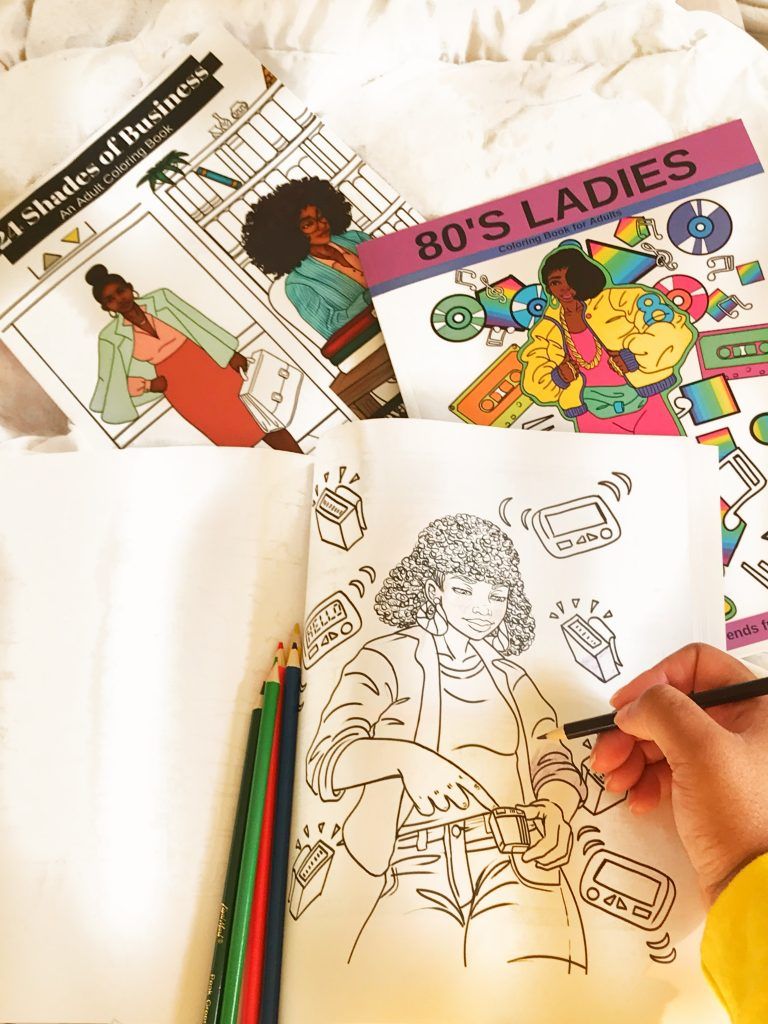 Mandy: There are so many self care options out there for women, what made you decide on coloring books?
Latoya: Women can be so self-sufficient and self-sacrificing that sometimes we can forget the importance of self-care. I knew I wanted to create something that I could relate to because representation matters, plus coloring was like therapy for me. Coloring allows us to switch our brains off from other thoughts and focus and concentrate only on the moment which can help decrease stress. The time and focus that adult coloring takes can help remove the focus from the negative issues and habits and focus them in a more productive way. When we are thinking about which color to choose and when we are applying crayon or colored pencil to paper, we are also working on problem solving. Who knew all of this was involved from the simple act of coloring and bringing a picture to life? Even now, many psychologists suggest coloring to patients as a means of relaxation, and as a calming tool.
Mandy: How did you learn the skills necessary to launch this business?
Latoya: I did market research and found pieces of what I needed and I put all of those pieces together along with a bit of trial and error. I also researched online to find people who had done what I was looking to do and I studied them as well as consulted with a mentor that is in this business.
Mandy: If you could go back in time, is there anything you would have done differently? If so, what?
Latoya: Yes, I would have started much sooner. (smiles)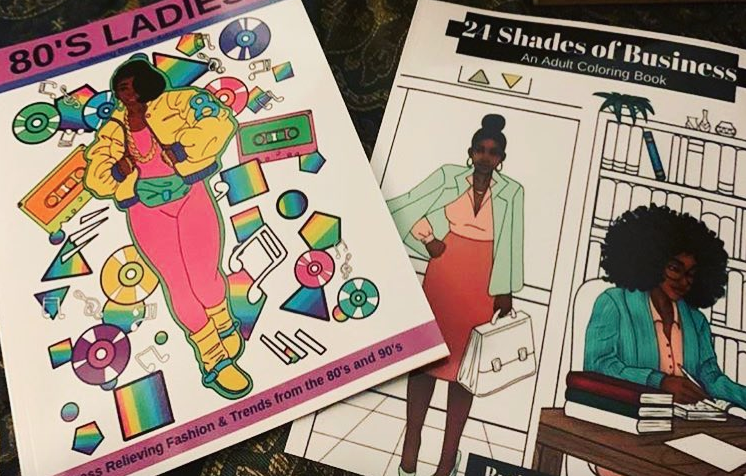 Mandy: What has been the reception of Entrepreneurs Color Too since launching and how does it feel to be an Amazon Best Seller?
Latoya: The reception from the community has been exceptional. We have gotten major press, including Curly Nikki, Black Enterprise and Madame Noire and more than thousands of books have been sold all around the world. My book "24 Shades of Business" has even been stocked in Barnes & Noble bookstores and "80's Ladies" gets lots of wholesale purchases from people who love the 80's and 90's era.
I enjoy getting all of the feedback and people tagging me in their pictures when they receive their books as well as when they color the pictures. Even as adults they are excited to see images that they can relate to.
Mandy: What advice can you give other aspiring entrepreneurs looking to break into this industry? Is there any way for them to get in contact with you?
Latoya: After you have done your own research, which is extremely important, don't be afraid to reach out to others who have been successful and done what you want to do. It's ok to "slide in those DM's" or email people for advice or even set up a consultation with them. I even offer consultation services and courses at iamlatoyanicole.com to help guide and teach others about starting and marketing their online businesses.
Mandy: What's next for Entrepreneurs Color Too? Where do you see yourself in 5 years?
Latoya: My vision is to continue to expand. I have a lot more books to publish and have even considered adding journals, apparel and other unique and creative things to the brand as well.
Mandy: Where can people purchase the coloring books?
Latoya: The books can be purchased on Amazon or by going to our website at "www.entrepreneurscolortoo.com".