The Time Is Now: Options Snipers Helps the Black Community Build Generational Wealth Through the Stock Market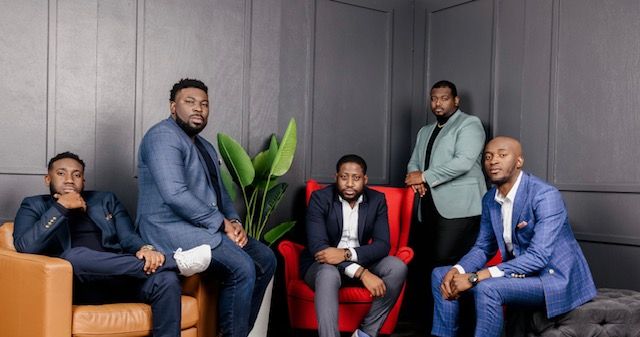 Options trading may not be a popular subject for most, but Michael Washington, Wasola Akinkuowo, Deji Adebayo, Josh Alufa, and Wale Olawoyin are on a mission to make sure the world, particularly Black people, take notice. That is why they launched Options Snipers in the summer of 2020. While maintaining different careers as entrepreneurs, realtors, health care professionals, and more, the group of friends were also getting into the stock market and options trading individually. However, Wasola, referred to as the glue of the group, brought them all together to form a community of options traders, and they haven't looked back since. They've taken their respective careers, particularly as entrepreneurs with multiple businesses and used that business acumen to propel their company to the next level while building up other traders along the way.
Find out more about Options Snipers' beginning and the origin of its' name, how one can get started, why options trading is a way to build generational wealth, and much more from the educated group of friends and options traders known as Options Snipers.
Lela: How did you come up with the concept for Options Snipers?
Wasola:  A group of us started out doing day trading – trading penny stocks. Josh and I as well as a group of friends started off doing that. But on the other side, Deji and Wale were trading options and had their own community going on separately. Then, one day, Wale and I were texting, and he mentioned how he was doing real estate. I told him that I was looking at the stock market, and he said we have a community going on where we just talk about options trading. I thought that could be a cool idea to join in on. So, I basically just combined my group with his, and we got a chance to know one another. I already knew Josh for about 10 years, and Wale and I attended college together. Deji and Wale also knew one another for a number of years. Mike came into the mix because one of my good friends told me that he was also trading options and suggested we link up. Although we had known one another since 2009, we hadn't spoken in a while. However, I called him up last year, and the rest is history. Once we spoke and he confirmed that he was also doing options, I basically invited him into our community. We participated in daily Zoom calls to look at the stock market and at different stocks to invest in. So, that's how the five of us came together.
After coming together, we considered expanding what we were doing since we were seeing a lot of success with our options trading. We felt like it would be a good idea to branch out and get some other people involved as well. And that's how we formalized everything.
Lela: When did you all make it official, and who came up with the name Options Snipers?
Wasola: We officially got started in late July/early August 2020. As far as the name, that was a collective decision. We were already using the term sniping, which basically means to enter into an options play at the right time. Similar to how someone with artillery snipes, it's a similar idea but with options trading. Since we were doing options already, the name just came together. It exemplifies who we are as a community.
Lela: For those not familiar, what exactly is options trading?
Mike: The way we like to explain options trading to our new members and people who've never heard of it before is it allows someone to invest in the stock market with minimal money or what we call little gain and get the plate of big gain. The reason why is because you can take a small amount of money, leverage it, and turn it into a large sum of money a lot faster than you would be able to if you had to buy whole shares for long-term. With options trading, it allows you to buy something like a contract, as we call them. If you had it for a certain amount of time, it can grow and outgrow what you would be looking for as far as shares. Once you understand options trading and how it works, it's a lot more lucrative in the beginning than shares. But what we're teaching our community is once you make this money trading stock options, you now can take your money and invest it into shares long-term. And that's how we create generational wealth.
Lela: Why do you recommend that Black people, in particular get into options trading?
Josh: The great thing about options trading is it allows you to leverage little capital and invest in large companies. For example, to buy one share of Tesla, you need to have $800. However, you can buy a contract in Tesla, depending on the week or the month for about $50-$100. You can have one-eighth of the costs and still invest in a big company and turn those options contracts into shares later on. For Black people, I think it provides an entryway into investing in big, strong companies that have a future. A lot of people like to do penny stocks and other smaller companies that only cost about $.10-.30. However, those companies may not be around for 50-100 years. The cost of Apple may intimidate most, but with options, you can go through the back door for 10, 20, or 30 years down the line. Also, the great thing with options is that you can actually turn them into stocks later on. It gives you the power and the ability to choose what you want to do. Do you want to keep your contracts? Do you want to take profits? Or do you want to turn it into shares in the contracts using the profit that you've made?
Lela: When starting Options Snipers, what was one of your main goals or objectives?
Mike: Our main goal in the beginning was coming together in a community and learning how to create wealth for ourselves. We were options trading for some time and said we should be able to teach our community – Black people – how to trade stock options because it's something that's not often discussed. Prior to finding out about stock options, I didn't know a lot about the stock market. Now that I do, I understand how this can shift the wealth gap between where we are and where we can be in the next 10-20 years if a number of Black people begin investing in the stock market, trading options, and gaining wealth.
I, personally, started learning about options trading around the end of 2019. And one of my first options trading was Tesla, and it went really well. However, I had no idea what I was doing. Once I linked up with these guys, I learned more about how to go deeper into options trading, thanks to Deji in particular. He even helped me turn my account into more than six figures within my first year of trading options.
Also, not a lot of women, particularly Black women, invest in the stock market. So, we've been able to grow our community of women, which we call our Lady Snipers. It's headed up by some of our strongest members. They empower our women community and get them into trading options. Historically, the stock market is normally considered a male-dominated field. However, at the end of the day, money is money. So, women can get involved and make just as much money as men, if not more. They're really the backbone of our community. They take this thing by the horns and go for it. If you check out our Lady Snipers on Instagram, you'll see that they're killing the game.
Lela: Switching gears a bit…how early would you suggest getting children involved?
Mike: My son is 9-years-old. So, I would say as soon as they can read and write is a great time to start teaching them financial literacy. There's something called demo trading or paper account, which allows someone to trade in the real stock market with real conditions. However, they're using what we refer to as paper money or fake money. Through demo trading, you can teach children or even yourself how to trade in the stock market or how to trade options. That's what I used to teach my 9-year-old. In a few years when he's 13-years-old, he will have mastered this skill.
My goal for him is that he'll never have to work for anyone. He can use those profits that he's obtaining to go on and start businesses.
Lela: What's coming up for Options Snipers?
Wasola: We're all about expanding our growth. We have what we feel can empower a lot of people to create generational wealth. We want more people to gain an understanding of what options trading is. Once the pandemic lifts a bit, we also have some live events that we're planning. For now, we're doing a number of virtual events.
Additionally, we want to also empower the youth. So, we're looking into creating educational courses for kids to learn through workshops at a number of schools from elementary to high schools. We also want to do summer camps.
We're also looking to start teaching about different types of investing. We typically like to see options trading as an entry into investments and then later going into things such as real estate and a number of other businesses.
Mentorship is also next up for us. We want to take people by the hand and lead them through the course of what it means to be an options trader.
So, workshops, tours, and more is coming up for us.
We are heavily invested in the youth and trying to instill the idea of financial literacy and financial freedom through the stock market and through options trading. Three out of the five of us have children, and we have already opened up investment accounts for our children. One of Mike's children is actually already a trader, as he mentioned. We want to pass down these tools into the younger generation so they can hone into it and be the forerunners. We want them to do even greater things than what we're doing.
Lela: Lastly, what separates you from other traders?
Deji: What separates us is what we focus on. Our community isn't just about us telling you to come in, and we feed you for the rest of your life. What we're trying to do is make sure that they can go and feed themselves. That's why we focus so much on teaching, training, and mentorship. We give our snipers the necessary sources to teach themselves. We want everyone that comes into our group to be self-sufficient. That's one of the main things we've always stressed to our community. You can go to the stock market and bring in profits. That's what we focus on and teach our community.
To connect with Options Snipers, be sure to contact them via e-mail at admin@optionssnipers.com or visit them online at www.optionssnipersacademy.com. You can also follow them on Instagram for more information.