15 Black Cookbooks For Throwing Down in the Kitchen This Thanksgiving 2021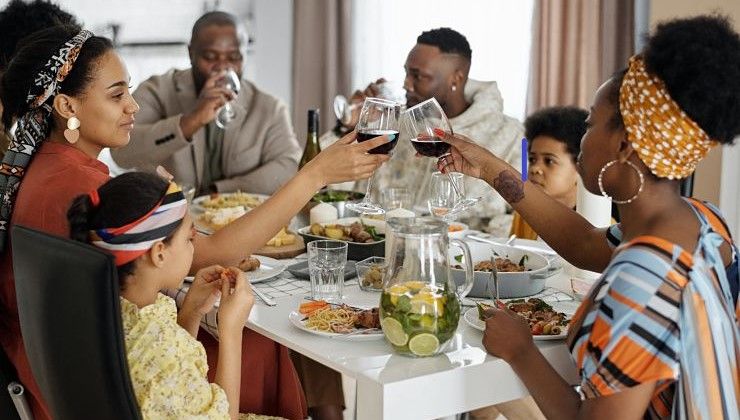 In Black culture, Thanksgiving might be a time to get together with our friends and family, but it's also an opportunity to throw down in the kitchen. And if you're not the one cooking up a few recipes, you'll probably be enjoying them. At the Thanksgiving table, you can always expect the staples - macaroni and cheese, collard greens, cornbread stuffing, and more. While you'll need these classics on your table, you might want to branch out and introduce a new recipe. If you're looking for the same amount of flavor and soul, this list will help you. With a combination of flavors from African, Caribbean, and Southern culture, here is a list of Black cookbooks you can use for inspiration.
Carla Hall's Soul Food: Everyday and Celebration by Carla Hall
Carla Hall is no stranger to food. Before the release of her cookbook, you might've seen her as a co-host on The Chew. She even appeared on the fifth and eighth seasons of Top Chef on Bravo. In 2013, the celebrity chef released her first cookbook, Cooking with Love: Comfort Food that Hugs You, but it's her second cookbook that landed her on this list. Carla Hall's Soul Food: Everyday and Celebration was released in 2018 and offers a fusion of African, Caribbean, and American South flavors. Some of her recipes include Ghanaian Peanut Beef Stew, Caribbean Smothered Chicken, and Sea Island Shrimp and Grits.
Soul: A Chef's Culinary Evolution in 150 Recipes by Todd Richards
Chef Todd Richards' love for food began with his parents and grandparents in his Chicago home, but it would later flourish after a move to Atlanta. After working at several well-respected establishments, he not only decided to branch into his own, but he would also share his knowledge with the masses. As recently as July 3, he has opened a new barbecue restaurant in Atlanta where diners can hope to experience some of his dishes from his 2018 cookbook Soul: A Chef's Culinary Evolution in 150 Recipes.
Sweetie Pie's Cookbook: Soulful Southern Recipes, from My Family to Yours by Robbie Montgomery
If you are a fan of the OWN Network, you should be familiar with the Sweetie Pie's franchise. The series follows Robbie Montgomery who used to be a background singer for Ike and Tina Turner. The former singer opened a St. Louis' restaurant, Sweetie Pie's, on the back of her mother's soul food recipes. In 2016, Montgomery released her cookbook of "soulful, Southern recipes" that features some of her favorite meals.
Why Vegan is the New Black by Deborrah Cooper
There is a stereotype that most Black food is heavy and unhealthy. That is untrue, and Deborrah Cooper is bringing light, vegan options to the table. Cooper began her career as an advice counselor for dating and relationships before branching into a new avenue. In 2014, she released her cookbook Why Vegan is the New Black where she shared over 100 easy-to-make vegan recipes.
My Life on a Plate: Recipes From Around the World by Kelis
Her milkshakes aren't the only thing bringing the boys to the yard. Kelis made her mark in the R&B and soul genre before turning to food and her 2015 cookbook My Life on a Plate. The singer-songwriter has traveled all around the world for her career that led to the inspiration for her book. Having been "molded by her culture, her travels, and all the people she met along the way," her cookbook combines recipes from all over the world from Sweden to Malaysia.
Caribbean Potluck by Suzanne & Michelle Rousseau
When many think of Caribbean food, they tend to think of the most popular dishes. Sisters Suzanne and Michelle Rousseau set out to show that Caribbean food is more than jerk chicken and patties. This well-traveled duo is combining their Jamaican upbringing with their travels around the world. Their cookbook Caribbean Potluck features recipes with influences from all corners of the Caribbean.
Jubilee by Toni Tipton-Martin
Toni Tipton-Martin's career has always been centered on food, but differently than most on this list. While many on this list began as chefs, Tipton-Martin is known as a culinary journalist. She has over 300 cookbooks displayed at the James Beard House, and one of her most recent being Jubilee. Her career has always been dedicated to showing the depth of African American food, and her 2019 cookbook introduces us to two centuries of cooking with a list of recipes that include sweet potato biscuits, seafood gumbo, and buttermilk fried chicken.
Son of a Southern Chef by Lazarus Lynch
Lazarus Lynch began his brand Son of a Southern Chef after growing up in the kitchen with his father. After his father founded his restaurant, Lynch traveled the world picking up knowledge and skill in the culinary field. Quite literally the "son of a southern chef," his brand would grow from there. Having won Chopped twice, he would go on to release his debut 2019 cookbook that includes recipes for Shrimp and Crazy Creamy Cheddar Grits and Dulce de Leche Banana Pudding.
Sweet Potato Soul by Jenne Claiborne
Jenne Claiborne is another chef who is bringing vegan food options to the forefront of Black food and culture. Sweet potatoes are a staple in Southern cooking, and she brings the flavors to life in many of the recipes in Sweet Potato Soul. And while all the recipes do not feature sweet potatoes, they all include some soul. The names of her recipes alone have us ready and willing to try them. Look out for her Sweet Potato Cinnamon Rolls and Bootylicious Gumbo.
Black Girl Baking by Jerrelle Guy
Some flourish as a chef while others are more fond of baking. In Black Girl Baking, Jerrelle Guy is giving you options if you prefer the latter. For the author, she sees good food as "the most powerful way to connect, understand, and heal." Her recipes provide a look into her history and youth ranging from her mother's life in Guam to Guy's summers spent in Florida.
Brown Sugar Kitchen by Tanya Holland
Chef Tanya Holland is sharing her knowledge and skills in her cookbook Brown Sugar Kitchen. What started as a restaurant in Oakland, California, soon transformed to include her cookbook. Formally trained in France, her down-to-earth upbringing and refined French palette combine into her featured recipes.
The Up South Cookbook by Nicole A. Taylor
Nicole A. Taylor's 2015 cookbook is an apt description of her life. The writer, podcast host, and cookbook author grew up in Georgia before making the move to New York City in 2008. Even as she lived in the Big Apple, she was essentially "chasing dixie" with her love of classic Southern flavors and the style of cooking. This would lead to her cookbook The Up South Cookbook where she creates new spins on Southern classics.
Afro-Vegan by Bryant Terry
Bryant Terry is a chef and author known for his meatless meal options. More recently, his cookbook Vegetable Kingdom was released in February 2020, but his 2014 cookbook Afro-Vegan helped him begin a standard in vegan and vegetarian dishes for Black eaters. His recipes combine African, Caribbean, and Southern flavors into farm-fresh vegan options that are enjoyable whether you eat meat or not.
Sweet Home Cafe Cookbook: A Celebration of African American Cooking by NMAAHC
The National Museum of African American History and Culture (NMAAHC) opened its doors in 2016 at the Smithsonian. At the museum, you'll find Sweet Home Cafe, their dining experience where you can pick your meal from a few options: The Agricultural South, The Creole Coast, The North States, and The Western Range. Many of the dishes offered at the museum have been combined into the Sweet Home Cafe Cookbook that offers classic recipes at the forefront of African American culture.
A Real Southern Cook: In Her Savannah Kitchen by Dora Charles
Dora Charles is no stranger to being in the chicken. The chef might be known for working for Paula Deen, but she's way more than that. With her line of teas, Dora Charles also released her cookbook A Real Southern Cook in 2015. Her recipe list will already have mouths watering. On the menu, you'd find Shrimp and Rice, Glory Potato Salad, Out-of-This-World Smothered Catfish, and Very Red Velvet Cake.
Now I'm hungry. Are you? Food constantly brings us together, and anyone of these cookbooks will have you eating well for Thanksgiving and beyond. And for the days when you can't take the heat in the kitchen, support a Black-owned business. Use   Official Black Wall Street to find local restaurants that will help you complete the menu for your next get-together.