This Black-Owned Bamboo Tissue Paper Benefits Your Health and The Environment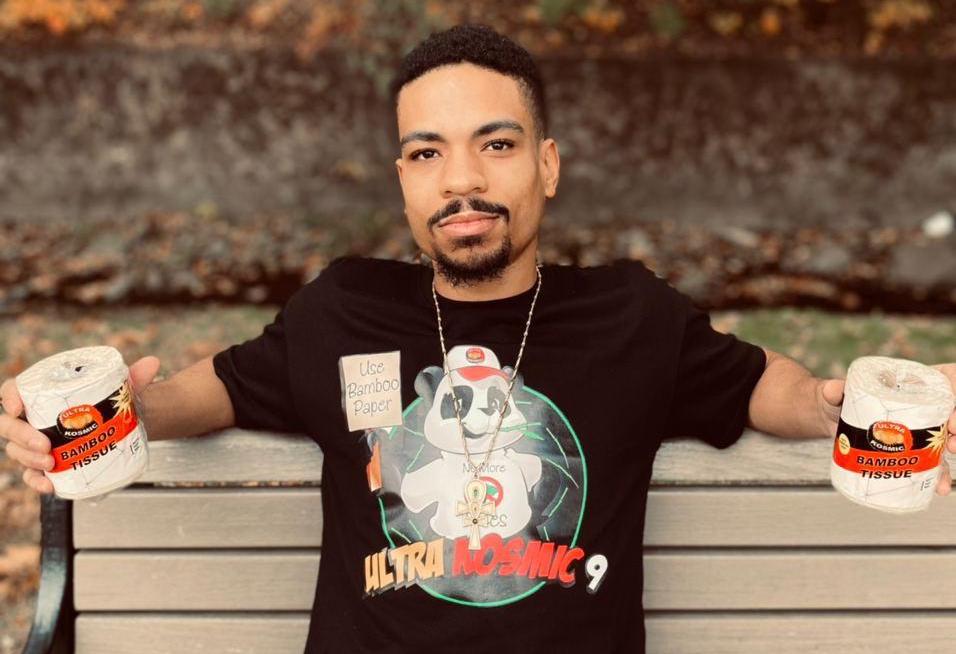 Christion Sims and his wife Tera were ahead of the game in late November 2019 when they decided to begin the production of their own toilet paper made by 100% bamboo, which they uniquely named Ultra Kosmic 9. With their new company, the vegan couple were creating the products based on their own lifestyle and needs. Little did they know, there would be a shortage of paper products just several months later when the world practically shut down due to the COVID-19 pandemic earlier this year.
Now, nearly a year later, the company is prospering and producing products for customers who also value healthy household products. In using these products, Ultra Kosmic 9 product users not only benefit themselves but also the environment. On an average day, people use toilet paper that requires about a quarter of a million trees to produce. According to reports, toilet paper usage, particularly by Americans, has become one of the leading causes of global warming. With products made by bamboo, the couple is on a mission to change this narrative.
Learn more about what led to Ultra Kosmic 9, the meaning behind the brand's unique name, and how you can aid in helping the company expand.
Lela: Take us through the journey of starting Ultra Kosmic 9. How did it all begin?
Christion: Well, I've been self-employed since 2017 doing handyman work, such as building furniture, independently. In the back of my mind, I always thought about how would I provide for my family if I were to get hurt since I did not have a traditional back-up plan, per se. That led to me looking into investing in myself and taking a step back to look at the state of the world. Lots of people were focused on getting rid of plastic around the globe in order to decrease the carbon footprint. That piqued my interest and led to me looking into different entrepreneurial routes to take.
My wife and I are vegan and very health conscious. So, we were already paying close attention to the foods we would eat, the clothes we wore, and even the products we were using. Therefore, we did some research into how we could help other people as well as the environment. In late November 2019, we came up with the idea of producing bamboo toilet paper, which is great for both. And that's how Ultra Kosmic 9 was created.
Lela: Outside of bamboo, are there any other products used in making your toilet tissue?
Christion: No, our tissue is made of 100% bamboo.

Lela: That's great. By chance, were you and/or your wife experiencing any issues with the toilet paper you were using at the time?
Christion: I must give credit to my wife, ultimately, for the idea of moving to bamboo products. Women use more toilet paper than men. So, I was able to hear her complaints related to the use of toilet paper from a woman's point of view, primarily how it affects the body and leaves dust and residue. With bamboo toilet paper, those things are no longer an issue.
Lela: How did you come up with the name Ultra Kosmic 9? That's very unique.
Christion: I like science and space, and I wanted a company name that would definitely stand out. With Ultra, I think of something grand, amazing, and magnificent. Cosmic or Kosmic is out of this world and originates in space. The number 9 is the highest numeral without having to add on another number. I felt like bringing all of those elements together made for a unique name and has now created a staple brand for us.
Lela: Now that we know the meaning behind the name, can you tell us what are the benefits to using healthier household products, particularly toilet paper?
Christion: Your average everyday tissue contains a variety of chemicals, including bleach and dioxins. Those chemicals can sometimes cause damages to reproductive organs, your mucous membranes, and your endocrine system because you can absorb them through your skin. With bamboo, you are using something that is basically pure. Pesticides, bleach, nor any other chemicals are needed to produce bamboo. It's naturally anti-bacterial and hypoallergenic, and users of bamboo tissue do not have to worry about the dust and residue that's sometimes left by other tissues. As mentioned, that was one of my wife's main complaints with other brands. Bamboo tissue is also just as soft as other tissue brands. And ultimately, the use of bamboo helps the planet.
Lela: That's amazing. Now can you tell us about the merchandise that is sold on the site?
Christion: I'm fairly new to the small business world, and I've witnessed other entrepreneurs ask for donations through crowdfunding sites, which is definitely not a problem. I just personally struggle with asking others for money. So, I wanted to find another way to help with the production of our products without having to take out a loan or having everything come out of pocket. I felt as if customers who support the brand should have something tangible to serve as a gift. With the purchase of a t-shirt, 50% of the profit will aid in Ultra Kosmic 9 producing more bamboo products. We're hoping to introduce our new products, bamboo paper towels, by the end of this year.
Lela: Great! And in addition to the production of bamboo paper towels, can we expect anything else from the brand in the near future?
Christion: In the future, I see us making everything that you can find in your household out of bamboo, particularly paper products. We're hoping to replace the use of plastic with our future products, and we want to be a household name for toilet tissue, paper towels, wipes, etc.
To purchase Ultra Kosmic 9 products, as well as their merchandise, be sure to visit www.ultrakosmic9.com. You can also follow the brand on Facebook @UltraKosmic9 and Instagram @Ultra_Kosmic9.