Meet Atlanta's New Black-Owned Grooming Destination For Men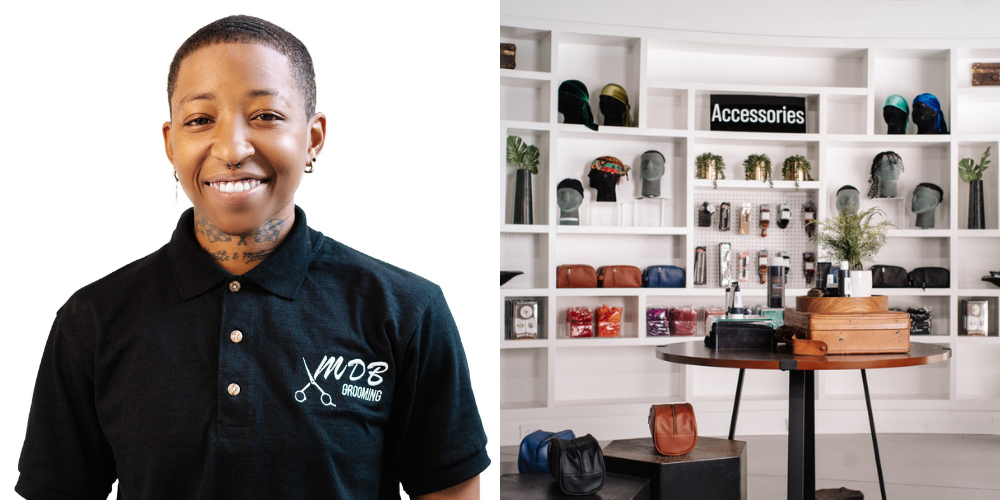 For the past several years, Mickey West-Potts, known professionally as Mickey Da Barber, has mastered the art of grooming. In September of this year, she served as the creator of actress Yvonne Orji's powerful hair design for her one-of-a-kind Emmy look. A little over a week after creating that special look, she pushed herself further as an entrepreneur when she opened MDB Grooming Store. Located in Atlanta, GA, MDB Grooming serves as a one-stop-shop for all grooming needs, particularly for Black men, including hair care, beard care, and skincare. Outside of selling products and offering barber services, the store also provides manicures and pedicures, tools, and knowledgeable information for clients.
Although women only account for about 23% of barbers in the U.S. according to statistics from 2018, Mickey Da Barber has broken down barriers as a dominant force in the industry and gained the trust of her peers and clients due to her vast knowledge.
Read on to find out how she got her start, why her store also focuses on skincare needs, her commitment to working with other Black entrepreneurs, and more.
Lela: How did you get into the grooming business?
Mickey Da Barber: I started off as a barber maybe 6 or 7 years ago. While cutting men's hair, I had a chance to see how so many weren't knowledgeable about what products they were using or should be using. Many weren't used to taking care of their own hair, instead allowing their barbers to handle their hair care. However, men have shifted to caring more for their grooming needs. So, I took my barber experience and created an environment where they can learn about products and see what works best for them through MDB Grooming Store.
Lela: What led to you focusing not only on hair and beard care but also skincare, particularly for Black men?
Mickey Da Barber: I noticed that a lot of the products on the market weren't being created for people of color. Many of the product creators weren't educated about our skin and were including ingredients that harm our skin. I wanted to intentionally focus on and use products made by people of color, especially Black people.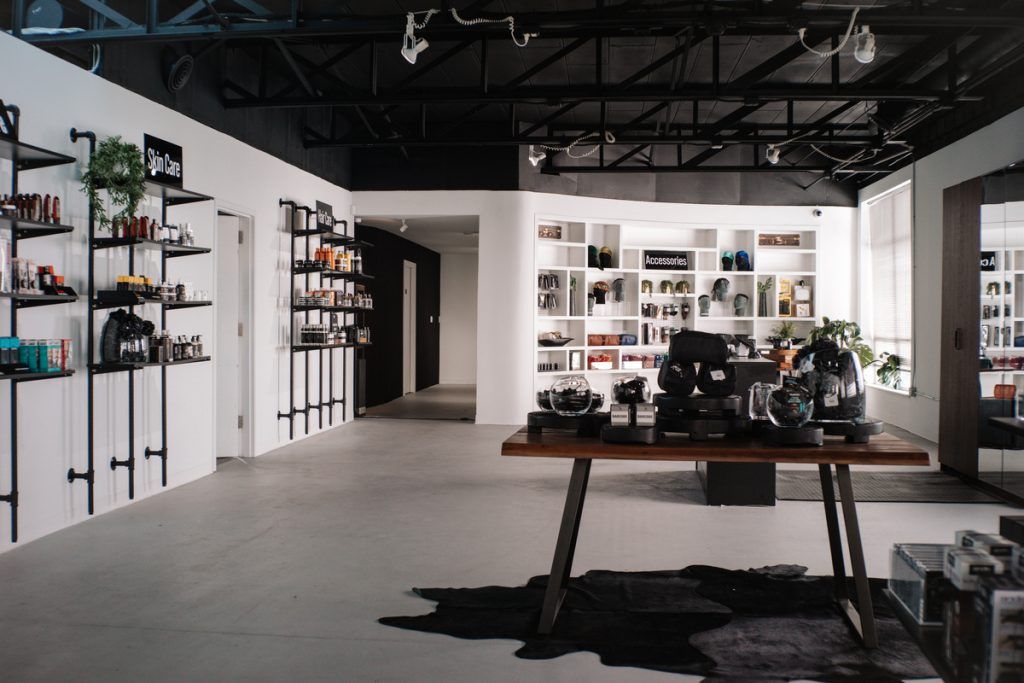 Lela: Outside of providing beard, hair, and skincare products at MDB Grooming Store, what other services do you offer?
Mickey Da Barber: We also provide manicure and pedicure services, as well as facials. In the near future, we are looking to add massage services for customers. Right now, we've been getting pretty good reviews and reactions from customers regarding the manicure and pedicure services. Little by little, I'm learning about what services men are comfortable with coming in and getting.
Lela: Has the pandemic affected MDB Grooming Store in any way?
Mickey Da Barber: Although, understandably, some people have been skeptical about going into certain places due to their health and safety, we've still maintained a good response since the store opened early last month. We abide by the guidelines set forth for the pandemic, and we continue catering to our customers as they come in for all of their grooming needs and products.
Lela: In terms of products, how do you decide which brands to work with and sell from the store?
Mickey Da Barber: I've always done my research with the brands that I use for myself as well as my clients. I'm a dedicated supporter of Black-owned businesses, especially those who focus on making the best products for our skin and hair. Although I do also carry a few popular brands that aren't Black-owned, I primarily support and carry our own. I'm able to hear what clients currently use and also introduce them to the products that we carry from amazing Black-owned brands.
Lela: That's amazing. Have you ever created your own products?
Mickey Da Barber: Not recently, but I did have my own product line previously. My product line focused on hair care and included curling creams, shampoos, conditioners, etc. Once I sold out of my products, however, I decided not to continue production and instead focus on other Black-owned brands. I want to ensure that my clients trust me and aren't just thinking I'm pushing my own products. I'm all about encouraging others to start product lines.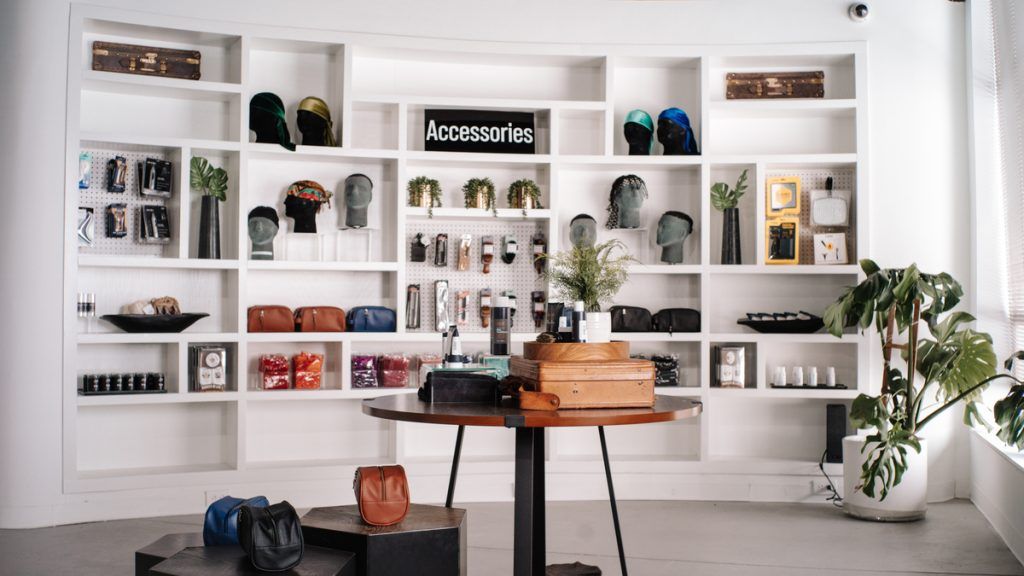 Lela: Are the products and services exclusively for men, or do they work for women as well?
Mickey Da Barber: Everything that we do and sell is literally for everyone. However, I do like to cater to Black men due to the fact they do not have many places and resources to educate them on hair and skincare. So, I wanted to create that space for them, but women are definitely welcome as well. As mentioned, we offer manicures and pedicures for everyone as well as hair services. So, we're here for everyone's grooming needs.
Lela: If you had to sum up MDB Grooming Store in one word or a phrase, how would you describe it?
Mickey Da Barber: I would say maybe a men's oasis or a mancave oasis.
Lela: What's one of the biggest issues affecting Black men and/or women as it pertains to hair or skincare that you've noticed through MDB Grooming?
Mickey Da Barber: Being educated regarding hair care is one of the major factors or issues for Black men and women. Everyone is different, and a lot of people aren't conducting their own research and finding out what works best for them. I can tell one person one thing related to their hair that will not pertain to another. Just because a product works for your friend or family member doesn't mean it will work for you. We all have different hair textures and skin types. It's all about trial and error. Research and try out products that work best for you.
Lela: What's one of your best-selling products?
Mickey Da Barber: One of my best-sellers is Scotch Porter. I wanted to carry this brand in my store because they're Black-owned, and quite a few of my male clients would constantly tell me about them. So, I did my own research, saw positive reviews about how it was working, went out, and ordered their products for the store. It's been selling out. Since it's sometimes hard to find outside of ordering online, men love being able to come to the store to purchase. The brand focuses on beard and regular hair care, but the beard care products are the ones that have been our best-sellers.
Lela: How can prospective clients purchase your products or book a service?
Mickey Da Barber: To book manicure and/or pedicure services at the store or to receive a haircut from the other talented barbers at the store, you can stop by our location at 1383 Spring St. NW in Atlanta or give us a call at 404-963-6232. For products, customers can either visit the store or purchase online at www.MDBGrooming.com.
In addition to doing consultations by phone, I'm also currently offering hair unit classes in Atlanta. I love teaching classes. Next year, I'm looking to expand my classes outside of just hair replacement services. But for now, those interested in the current class can register at www.mickeydabarber.com/classes.
I'm also looking to expand MDB Grooming Store and become a franchise owner in the future. I want to allow other Black people to have ownership in a location as well.
We look forward to seeing Mickey Da Barber and MDB Grooming Store continue to grow. To learn more about Mickey Da Barber and to get a glimpse into the services that she provides, be sure to follow her on Instagram and subscribe to her YouTube page. You can also follow MDB Grooming Store on Instagram and Facebook @MDBGrooming.