Black-Owned Grocery Stores in the United States to Support | 2022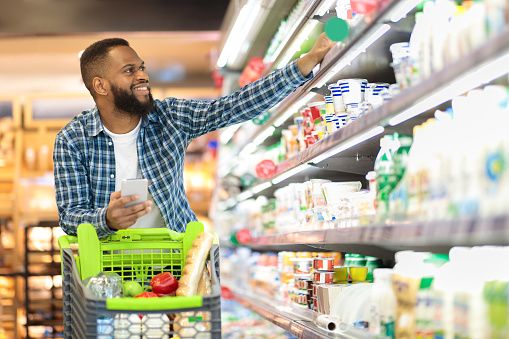 Eight years ago, Johns Hopkins University conducted a study that stated food deserts are a disproportionate reality for Black communities. Food deserts are areas that lack access to healthy and affordable food options — fruits, vegetables, whole grains, and more. When Black communities are left without the ability to afford these foods, what is the solution?
Black-owned grocery stores are beginning to emerge in the food industry. While the closure of Leon's Thriftway in 2019 was a blow to the Kansas City community after 50 years, we can only hope that another pops up in its absence. The Black entrepreneurs behind these businesses are on a mission to provide and serve Black, underserved communities.
With Houston, Los Angeles, and Chicago on the list, the goal is to watch this list flourish with stores all over the country. Until then, here are seven Black-owned grocery stores that locals can support.
District Market Green Grocer (Houston, TX)
One of the newest Black-owned grocery stores to open in the United States, District Market Green Grocer is serving the Houston area as the first and only Black-owned supermarket in the city. Robert Thomas, District Market's owner, previously owned a nightclub that was affected by the COVID-19 pandemic. In an interview with FOX26, he described the process as turning his passion for nutrition into a mission to "vegetate the Black community." District Market Green Grocer is open Tuesday to Saturday from 10AM to 9PM.

Circle Foods (New Orleans, LA)
Located in the Treme neighborhood of New Orleans, Circle Food Store is the one-stop shop for groceries. The store has been a part of the community since 1854, first as the St. Bernard Market which was a community gathering space that housed a grocery store, bakery, pharmacy, and more. They have served the 7th Ward and greater part of the New Orleans community as a specialty grocery since 1938. Open seven days a week, locals can shop at Circle Food Store daily from 7:30AM to 7:30PM.

Daddy's Neighborhood Fresh Market (Omaha, NE)
Nestled in Omaha, Nebraska, in the historic Benson Area, Daddy's Neighborhood Fresh Market sought to bring the community health food options at a reasonable price. In conjunction with providing better food options, the market also supports local farm efforts Nebraska and its bordering state of Iowa. Daddy's Neighborhood Fresh Market is open Sunday (12PM-5PM) and Tuesday through Saturday (10AM-6PM).

Daily Organics (Los Angeles, CA)
Founded by Renee Gunter, a former haute couture model in the 1980s, Daily Organics is a produce store where customers can find a curated selection of organic products. A network of farmers, co-ops, and distributors is used to source seasonal fruits and vegetables for the Los Angeles area. While Los Angeles residents can take advantage of the free delivery they offer to customers who live within a two mile radius, the entire community can see what Daily Organics has to offer every Thursday, Friday, and Saturday from 11AM to 6PM.

Grocery Outlet (Compton, CA)
Owned by Eugene Bennette, Grocery Outlet is a Black-owned supermarket in Compton, California. Bennette worked his way up the chain, having started as a cart pusher in his teens before eventually buying the store in 2019. The grocery store carries fresh produce and an assortment of organic and gluten-free foods, among the traditional store basics. Grocery Outlet is open daily from 7AM to 9PM.

Forty Acres Fresh Market (Chicago, IL)
Owned by Liz Abunaw, Forty Acres Fresh Market is bringing Chicago affordable, high quality fresh food. The market started up as a pop-up market at Sankofa Culture Arts and Business in January 2018. With a selection of fresh fruits and vegetables, Forty Acres Fresh Market now serves as a traveling pop-up, operating in the underserved communities of Chicago. Interested parties can follow their market schedule to see where the traveling market will be next.

Cleo's Bodega Grocery & Cafe (Indianapolis, IN)
Residents of Indianapolis can have all their food needs met at Cleo's Bodega - Grocery & Cafe. With an adjoining community garden, the grocery store sells fresh produce to customers. During the same visit, customers can head over to the cafe to shop Cleo's menu of salads, soups, smoothies, and more. The grocery store is open Monday through Friday (7AM-5PM) and Saturday (10AM-3PM).


We can't be everywhere so we need our community to help us out. If you know of any other Black-owned businesses around the country, let us know in the comments!