26 Black-Owned Health & Wellness Brands to Get Your Life Right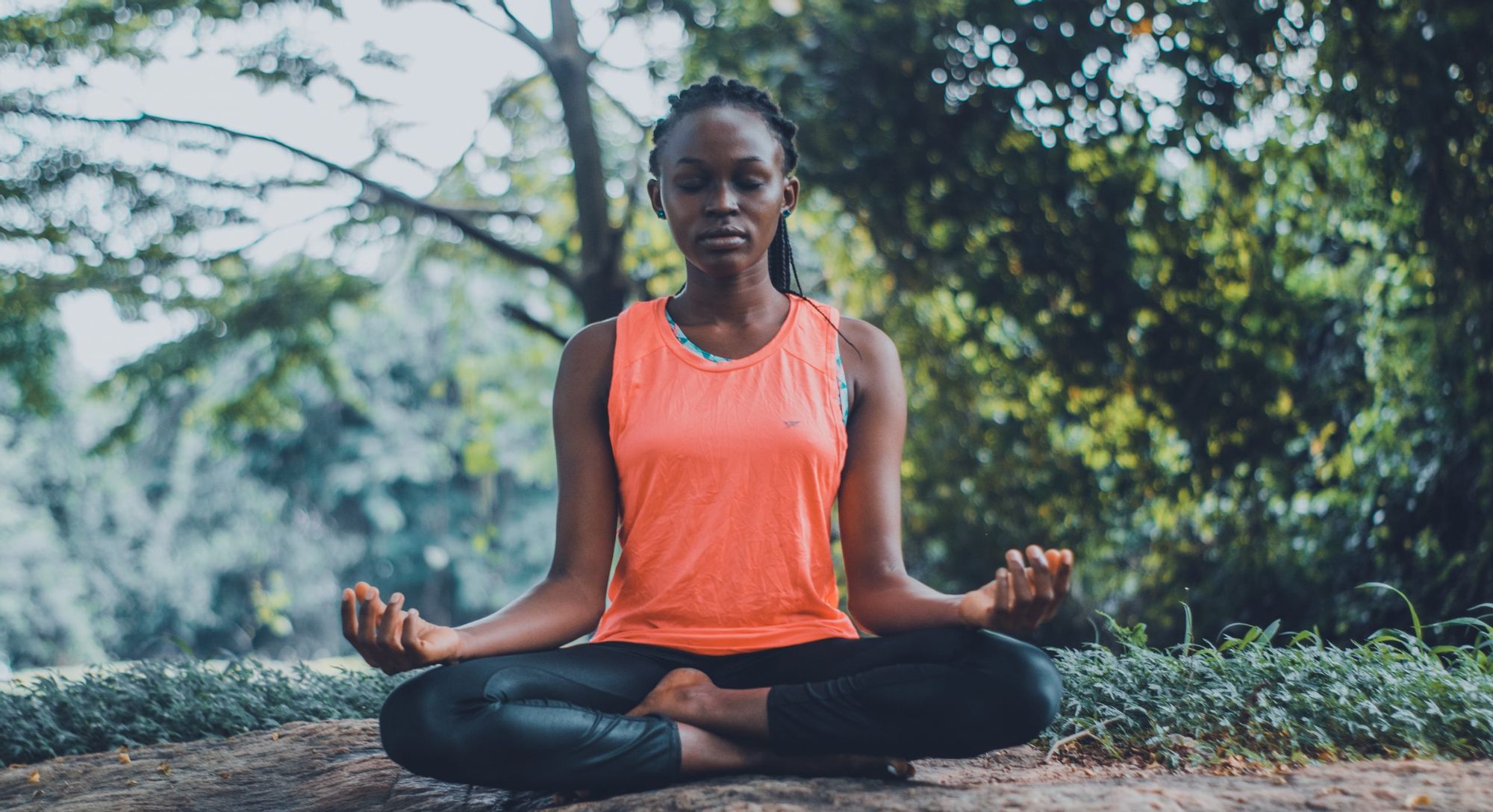 What do you think of when you hear "health and wellness?" Most probably think of physical fitness, and while that is essential, it goes beyond that. It spans to mental health. It includes feminine and internal health. Several Black-owned brands are emphasizing health and wellness and creating safe spaces for their community. They have managed to do this through meditation, wellness communities, oral supplements, aromatherapy, and more. The first in our "Get Your Life Right" Series, here are 26 Black-owned health and wellness brands.
Mental Health:
The Black community is finally putting importance on mental health. With options for men and women, the following five brands offer both free and paid services to help foster safe spaces for mindfulness and growth.
Black Girls Breathing
Black Girls Breathing is shattering the notion that Black women have to be strong. They aim to create a safe space for women that will allow them to grow. Through meditation and breathwork, they help women nurture their mental, emotional, and spiritual health.
https://www.blackgirlsbreathing.com/
Black Girl in Om
Sharing its name with their popular podcast, Black Girl in Om is working to help Black women gain peace through meditation and strengthening their mental health. Established in 2014, they are offering women free breathing exercises and healing opportunities through their podcast or their community, The Circle.
https://www.blackgirlinom.com/
Black Mental Wellness
Founded by four clinical psychologists, Black Mental Wellness looks to address the mental health and wellness concerns in the Black community while equipping them with the tools to survive and thrive. They offer an abundance of behavioral, health, and race-based strategies as well as apps, podcasts, and videos to help you along the journey.
https://www.blackmentalwellness.com/
The Nap Ministry
Founded in 2016 by "The Nap Bishop," The Nap Ministry is the creation of Tricia Hersey, a performance artist, activist, and community healer. Her brand is meant to explore the liberating power of naps and their belief that rest is a form of resistance.
https://www.instagram.com/thenapministry/
HealHaus
A safe space for accessible, inclusive, and community-oriented healing, HealHaus was founded by Darian Hall and Elisa Shankle. The idea for the brand came after they each went through their healing journey. Their company provides numerous offers such as daily classes, workshops, and private sessions to help their community find their niche of healing.
Feminine Health:
Physical health is literally at the core of health and wellness. The following two brands have a series of products and services that are catered to women to help promote feminine health and hygiene.
The Honey Pot Co.
While some only became aware of The Honey Pot Co. after their partnership with Target, the brand has been around since 2014. Founded by Bea Dixon, the brand can be described as plant-based feminine care. Their products cover all aspects of feminine health and are meant to help menstruating and expecting women cleanse, refresh, rejuvenate, and soothe.
Mama Glow
The birth child of founder Latham Thomas, the brand Mama Glow came after the birth of Thomas' son. An expert doula based out of New York City, she offers personal and virtual help to expecting and existing mothers. Whether one is on the search for prenatal assistance, yoga packages, or lifestyle coaching, Mama Glow offers women that much and more.
Wellness Communities:
Finding people with similar minds and goals is one ingredient that can help you thrive. Ethel's Club and OMNoire are two online communities that are centered on creating safe and productive spaces for people to learn and grow.
Ethel's Club
Founded by Naj Austin and named after her grandmother, Ethel Lucas, Ethel's Club is an online community. Their mission is to create a healing space to celebrate people of color whether they can thrive through conversation, wellness, and creativity. They offer several different clubs based on personal preferences including design, music, and writing where one can experience weekly sessions or discussions, collaboration, and camaraderie.
OMNoire
Christina Rice created OMNoire as a social community to allow women of color to come together to share their stories. Serving as a support system, the brand offers workshops, events, and retreats to help women find their terms of wellness. Understanding that no journey is the same, OMNoire embraces the differences in women while connecting them through their shared goal - health and wellness.
Food, Drink, & Supplements:
While most would blink twice at this category on a health and wellness list, many forget the therapeutic properties that drinks like coffee and tea can have. Additionally, supplements are a great way to ensure that you're receiving the proper amount of vitamins and nutrients. Here are nine food, drink, and supplements brands that will help promote healthier living.
Calabash Tea & Tonic
Founded by Dr. Sunyatta Amen, Calabash Tea & Tonic is the wellness brand for those who prefer naturopathic medicine. With Amen's belief that nature can help promote self-healing, her brand offers a series of teas, tonics, coffees, and more to help you along the journey. Their storefront is located in Washington, D.C., but potential customers can visit their website for at-home delivery.
Cxffeeblack
Maurice Henderson founded Cxffeeblack as "an entrepreneurial venture with specific social implications." His brand was born when he decided to pay less attention to his preferred coffee toppings and focus on the actual coffee itself. Now, if you're looking for your vanilla or pumpkin-flavored roasts, you won't find them here. Henderson is committed to serving his coffee black.
Ivy's Tea Co.
Herbalist and Tea Bae Shanae founded Ivy's Tea Co. in 2016. An herbalist with an urge to learn how to live off the land, she decided to help bring more natural health remedies to the forefront of her customers' lives. Tea isn't the only thing she infuses. By combining African holistic health remedies with her love of hip hop and Black culture, you can sample her peppermint and spearmint tea "C.R.E.A.M." which helps relieve nausea and headaches, or "Sister Sister," a blend of chamomile, rose, lavender, and cinnamon.
Candid Tea
The brand Candid Tea is conscious, clean, candid, and caring. Many of these words could also describe their founder, Courtney. As someone who has always enjoyed a nice cup of tea and regularly created new recipes, her push to pursue this avenue came in the form of her father, who jokingly called her a modern-day witch doctor. What started as a blog in 2016 would grow into her successful tea company where she donates 10% of her profits to non-profit, charity-based women organizations.
Golde
The hype over superfoods grew in the 2010s, and Golde co-founders Trinity Mouzon Wofford and Issey Kobori wanted to bring their benefits to the masses. Their superfood boosted blends can easily be added to teas, smoothies, and more. Whether you prefer matcha, turmeric, or cacao, you can reap all their benefits with just a teaspoon a day.
Muniq
While many of us probably don't think of it, gut health is important which is why it is the focus of the brand Muniq. With protein shakes available in vanilla creme, mocha latte, chocolate, and vegan chocolate, they have 15g of prebiotic fiber and 15g of protein. They also have many health claims that include improved gut health, promotion of healthy blood sugar, strengthened immunity, and more.
Red Bay Coffee
Founded in 2014 by Keba Konte, Red Bay Coffee has two missions. The first is to ensure that coffee production is both high quality and sustainable. Second, the brand strives for inclusivity and diversity by hiring and serving people from different backgrounds including women, people of color, the formerly incarcerated, and people with disabilities.
Sip Slow Tea
The founder of Sip Slow Tea got the idea for her brand while she was dealing with postpartum depression. After a cup of tea helped her relax and gave her a bit of comfort, she decided that she wanted to help others gain "confidence and self-improvement one cup at a time."
Naturade
Kareem Cook and Claude Tellis acquired Naturade in 2012 and are currently the owners of the business. The brand provides a journey to healthy living through recipes, articles, and their many products. From Vitamin C and zinc supplements to protein shakes, their customers have an abundance of options to push them towards healthier living.
Home:
Our homes should be a place of safety, comfort, and tranquility. The below brands can help achieve this.
Blade + Bloom
Aromatherapy is known to help enhance physical and psychological well-being, and Blade + Bloom is one brand that will help you achieve that. While they carry a collection of body products, their candles and fragrance oils will help create a soothing and calming atmosphere in the home.
Goodnight Darling
No one takes sleep for granted more than those who can normally get a good night's rest. Goodnight Darling is a brand that recognizes that sleep is not a luxury. It is "a normal, essential human need" that is necessary to stay healthy and happy. Through a collection of room sprays, candles, and sleepy teas, they are on a mission to help everyone sleep well through the night.
https://www.goodnightdarling.co/
Grounded Plants
Plants can have a transformative and tranquil quality which is why Grounded Plants can help with one's health and wellness. While they have many benefits, the brand centers on the idea that the influence of plants within an environment can help you stay grounded.
Harlem Candle Company
Teri Johnson's company came to fruition in 2014 when she combined her love of fragrance, jazz, and Harlem. After its 2018 launch into Bloomingdales, the brand has only continued to grow. With several collections, even one named after the Harlem Renaissance, one could find highly sought-after fragrances named for the greats like Josephine Baker, Langston Hughes, and Duke Ellington.
https://www.harlemcandlecompany.com/
Love Notes
There's an unforgettable feeling about receiving a love note, and Love Notes owner Nya Kam is bringing this feeling to life with her candle company. While the fragrance will help create the therapeutic aura that is often associated with candles, the packaging is meant to personify the brand's customers - those who love fashion, beauty, and sass while still caring about the environment and their health and wellness.
https://lovenotesfragrances.com/
Sacred Botanica
Not to be confused with the other Sacred Botanica, this Black-owned business was founded by Empress Karen Rose. Guyana-born, she is both a master herbalist and trained in Eastern and Western Herbal Medicine. While she opened her Apothecary in 2002, she more recently opened the Sacred Botanica in Brooklyn, NY, where one can shop her collection of spiritual and herbal products that are also available for purchase online.
https://www.sacredbotanicanyc.com/
Bath & Body:
While showers are the place where we plan our days, pretend we're in a music video, or rethink what we could've said in a heated conversation, baths are the opposite. They are a place to refresh, recharge, and most importantly, relax. Here are two brands that can help achieve this.
The Bubble Bistro
The Bubble Bistro is a bath and body brand that uses natural ingredients to make its collection of luxurious and unique soaps. With facial soaps and body bars on the list, they also have bath salts available to help you relax after a long day.
Homebody
The Homebody World sets out to make bathing an entire experience. The brand features a collection of brightly colored bath soaks. Not only do the visuals help the experience, but their products are said to have over 176 antioxidants alongside herbs, superfoods, vitamins, and more.
https://www.homebodyworld.com/
If you weren't before, it's time to take care of ourselves. Our bodies and minds need it. The first person that needs to prioritize your health and wellness is you, and any of the brands on this list will help you achieve that. Whether you're looking for a virtual space or a more personal experience, be sure to check the Official Black Wall Street app for an unmatched list of Black-owned businesses.