Entrepreneur's Battle With Mental Illness Birthed a Brand Celebrating Black Women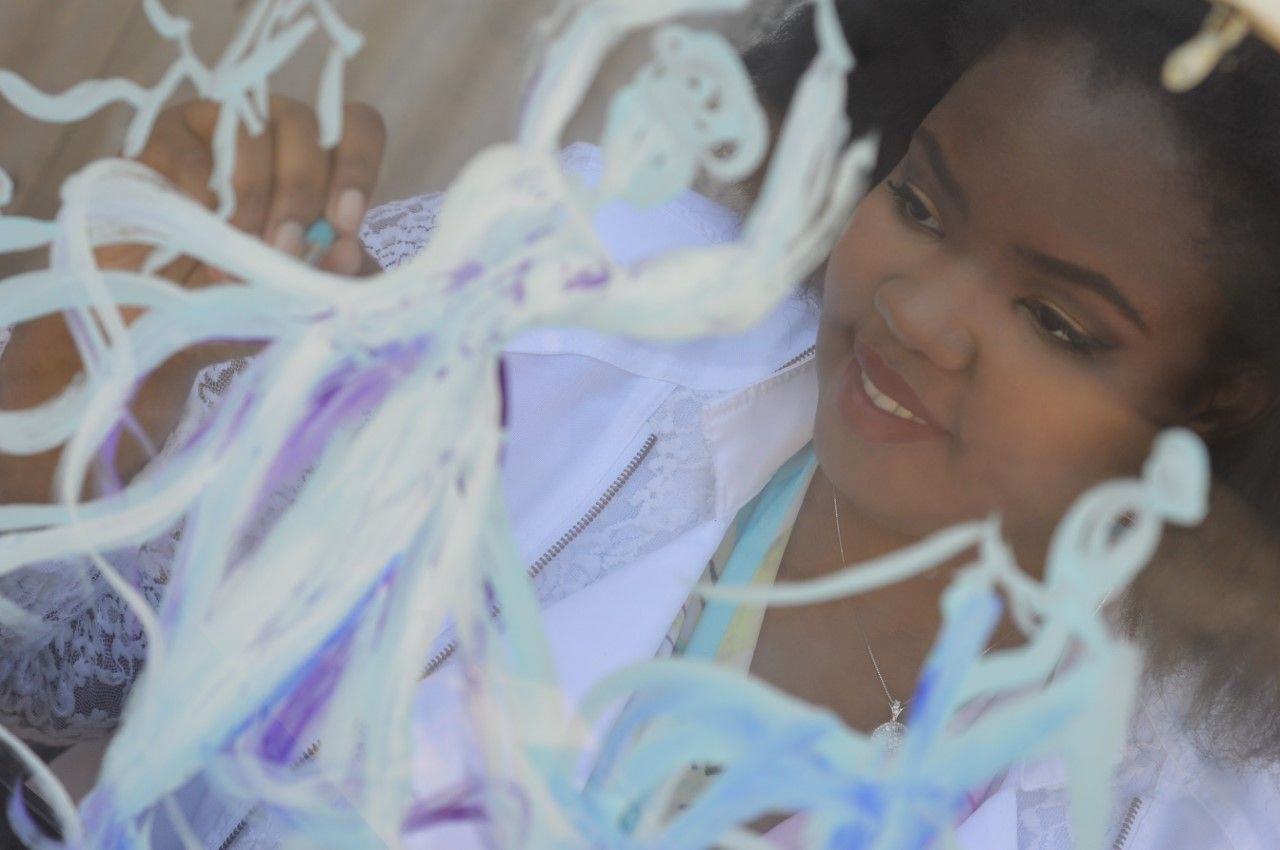 Entrepreneur Kristin Farmer is the perfect embodiment of the quote "when life gives you lemons, make lemonade." While in her twenties, the Birmingham-based graphic designer was diagnosed with bipolar disorder. With the odds stacked against her, she pushed through mental illness to create a brand that would celebrate the fullness of Black women. Curly Contessa is representation on many levels. After unsuccessfully searching for gifts that feature African American women with curly tresses, Kristin took matters into her own hands and launch Curly Contessa's first product: holiday wrapping paper that embraces girls with curly and kinky hair. Since then the brand has grown to also include apparel, Black Girl Magic wine glasses and pint glasses. Read on for more on the entrepreneur's journey with Curly Contessa.
Mandy: What influenced you to launch Curly Contessa? What is the story behind the name?
Kristin: Curly Contessa is the curly girl's guide to gift. She is the matriarch of curly tresses and a melaninated boss babe. We serve to help black women celebrate their triumphs in all areas of life. We are about celebrating one's tribe and self.
I created Curly Contessa out of a need to celebrate myself. I want to recognize all my wins and hard lessons learned. I was sitting on the side of the bed one night wanting to treat myself to something special but couldn't find anything to represent me. There in that moment Curly Contessa was born.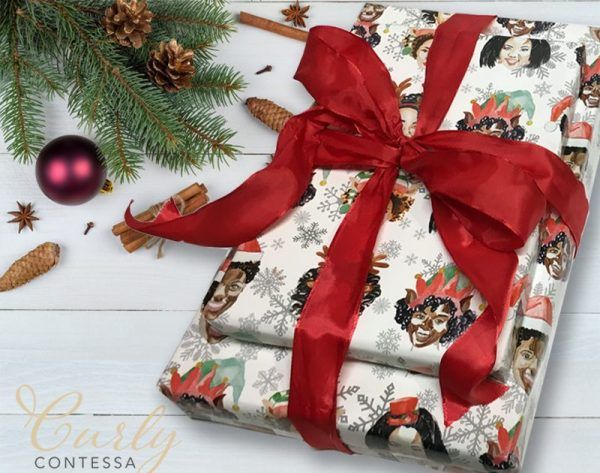 I am bipolar with a borderline personality disorder. That night on the corner of my bed I found myself wanting to celebrate my wholeness and all the craziness that came with it. I was an accomplished 28-year-old who had made it despite battling with mental illness since I was 18. Battling with a mental illness is tough, you have to retrain yourself to get through the day and week. I find myself celebrating the little things like being able to brush my teeth because there have been times where the thought of getting out of bed was hard. Now at the end of the day I get to pour a toast to myself in my own "my tribe wine glass" or "black girl magic pint glass".
Also I love celebrating my tribe. I send friends and loves gifts for holding me down when I've been through a bad spell and it's important for those gifts to represent them. To represent us. Our diverse hair textures and varying skin tones.
Mandy: How did you initially fund Curly Contessa?
Kristin: Investor and small business loan.
Mandy: What kind of products can consumers find under the Curly Contessa umbrella?
Kristin: Gift wrap, wine glass, pint glass and apparel.
Mandy: What role do you play in the production or designing of the Curly Contessa wrapping paper and apparel?
Kristin: Many might not know but I illustrate all of the images on my products. It's a work of love. It's become apart of my self care routine. Drawing and painting is a release to me.
Mandy: Are you currently a full time entrepreneur? If so, how did you make the leap? If not, what are some of the benefits and challenges you've found running two businesses while working in the corporate world?
Kristin: I am still employed full-time as a graphic designer. I am a night owl and weekend warrior. Curly Contessa is liberating for me. Whether it be by hand or on screen, illustrating is second nature to me. I transcend into another world when I am creating. When things get hectic I remind myself of my long term goal…helping women of color learn to celebrate the little things. Then I find joy in each moment.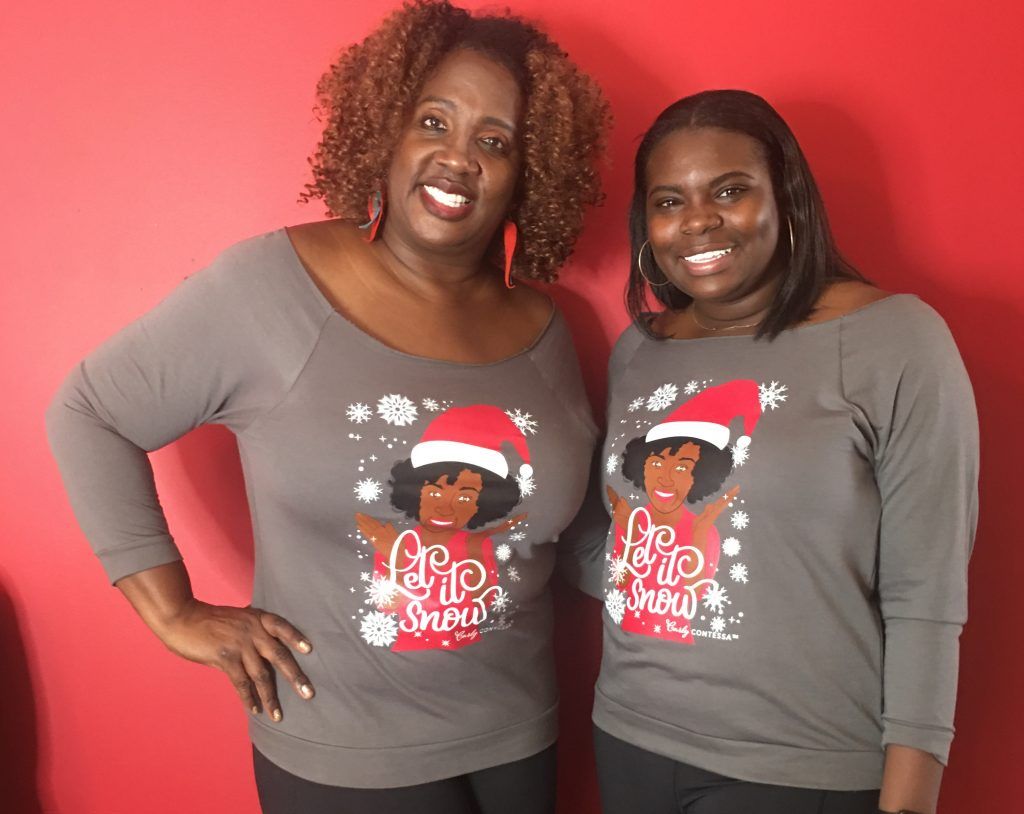 Mandy: What have been your biggest wins since launching Curly Contessa?
Kristin: I've enjoyed people seeing themselves in my illustrations.
Mandy: What can we expect from Curly Contessa in 2020?
Kristin: More evergreen gift options, apparel and expanded Christmas collection.
Purchase your Curly Contessa gifts and wrapping paper HERE.