Self-Made Entrepreneurs & Former Facebook Employees Take Expertise of $100 Million in Ads to Start Inflect Digital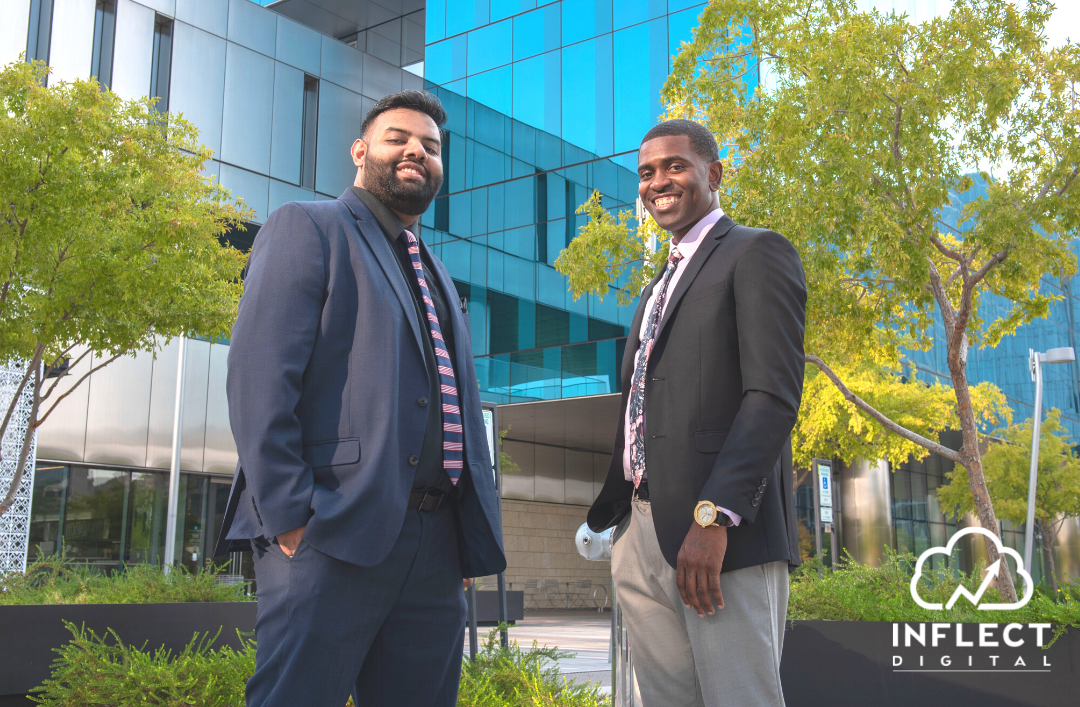 Goodbye Facebook, hello Inflect Digital! Lionell Ball and Anuroop Kumar hustled their way to success. While the taste of entrepreneurship captured Lionell while he was young and selling candy to his classmates, Anuroop saw it first hand in his father's restaurant business in Tucson, Arizona. Both men would grind their way to earning prestigious positions at Facebook, but that wasn't enough. Lionell Ball and Anuroop Kumar were destined to start their own business, and so they did. With a passion for helping others and years of experience, here's how both men started their marketing firm — Inflect Digital.

Jouviane: First, let's dive into both of your backgrounds. In both your personal and professional lives, what has led you up to this point?
Lionell: I grew up in Detroit and for as long as I can remember, I've always had an entrepreneurial mindset with wanting to create my own business. I also wanted the control of not having to rely on working for someone else. Even early on, I was finding ways to create my own sources of revenue whether I was selling candy to my classmates in school or later on selling clothes I went out of town to buy.
Down the line as an adult, I landed a job at Facebook. I started learning about advertising and creating marketing campaigns for businesses I would consult. Learning that and always having that entrepreneurial mindset when consulting high-level entrepreneurs watered the seed in my mind for starting my own agency — so that's what I did. And ever since then, we've just been moving forward.
Anuroop: My family emigrated from India, and my father started his first companies which were restaurants in Tucson. They were the first Indian restaurants in the city. After growing up in Tucson, some circumstances led to my family moving back to India when I was ten years old. By the time I was 17, I wanted to come back to the states, and I was also tasked with supporting my family. I came back by myself and ended up staying with a few of my relatives.
I put myself through high school and got a full college scholarship. I had a pretty strong transcript to pursue a job in the medical field, but I had the entrepreneurial bug in me. I joined a few startup groups in school and led a social entrepreneurship project. It helped create connections in the community, and I ended up getting my first job in the startup space when I was about 22 for a luxury fashion brand. It started as a part-time job, but I became their head of business development within a year. In that time, we were able to grow that company from about 6,000 to about 360,000 in sales.
I came back to America when I was 17. By the time I was about 22, I had earned a full ride to college, represented Arizona in a national leadership conference, and led a social entrepreneurship project. It just came down to a point where I decided to pursue it professionally. I enjoyed doing innovative things and making an impact. My success at that company led to my job at Facebook where we consulted the top 10% of emerging companies in the US and Canada.



Jouviane: So you both landed jobs at Facebook. How did that lead to starting a business together?
Anuroop: Lionell and I had a chance encounter where seats were moved around, and we winded up next to each other. We both had unexpected backgrounds, and that level of unconventionality plus our interest in entrepreneurship bonded us together. We were both working on separate tasks and projects, but we eventually joined forces.
One thing that we had in common was that we had a strong tendency for community service and a desire to impact the community. We also wanted to level the playing field for people with different backgrounds, similar to ours. We met incredible people while at Facebook and identified a gap in the market between high-caliber ad agencies and who they can help.
That was one of the founding principles for Inflect Digital. We wanted to provide incredible value and a level of transparency, which you don't normally find. And so we started that journey in 2018.



Jouviane: For any business owners looking to know more about Infect Digital, what would your company offer them?
Lionell: Inflect Digital would provide a robust, holistic approach to their marketing strategy across several avenues including social media, email, text messaging, and more. In short, we enable growth and profitability. That's our key focus. We also have systems implemented for businesses at a high degree of measurability for their marketing to customer analytics and then leverage that data through digital marketing channels.
Anuroop: We also offer an aspect of efficiency. We've managed over $100 billion in Facebook ads. We've worked with different types of companies ranging from startups looking for launch strategies to established companies looking to scale up. Paying for someone who has been that high-caliber consultant gives you a more data-driven tech approach. It's more so a way for them to save money in both our fees and also what they're doing in terms of ad return. Inflect Digital offers a high level of expertise at an affordable rate.



Jouviane: Earlier you mentioned bonding over your unconventional backgrounds. As minority men, what does it mean to you to be leaders of a minority-owned company?
Lionell: For me, it means empowerment. Just being able to create something from nothing and owning a business is an example for others who come from similar backgrounds. They can create and be profitable in the spaces they create and help the people and businesses in their community.
Anuroop: We understand the specific struggles that a minority business would have — both in our own business and the businesses of the entrepreneurs we've consulted. There are solid businesses with great ideas that lack access to high-tier resources. So how do we go and bridge that gap? Because we've worked with so many different companies, our goal is to bring our knowledge and experience to entrepreneurs who don't have these resources. This is where some of that aspect of community and service comes from. In doing this, we also create a network for ourselves and other entrepreneurs. We have the ability to then make introductions and facilitate overall growth for the entrepreneurs that we work with.



Jouviane: What is your working dynamic and how has that changed from working at Facebook to starting your own company?
Lionell: Working at Facebook, you have a set of parameters that you work within. There are goals that the company has and then there are goals for the clients you are consulting. That may not always align, but of course, you have to follow those guidelines. You're not as involved outside of the Facebook and Instagram platforms. With your own business, Facebook and Instagram would be our calling cards, but the dynamics change because we become an internal part of our clients to ensure their growth.
Anuroop: I'm going to be cliché here and quote Jay-Z. He had this great line where he was asked about comparing himself to other businessmen and executives. He said, "They've read a lot of books, but I've lived a lot of life." A lot of the bonding between Lionell and myself and having professional chemistry is because both of us had life experiences that were out of the realm for typical Facebook people.
Both of us also have a lot of overlap in what we do. It helps us to stay lean because now we're not individually burdened with things. Between the work we do, we probably have around 80% overlap, and we can kind of just hash things out. We do most of the work ourselves because we know that when clients hire us, that's what they're expecting. They're not expecting us to pass the work off.
The 20% difference I would say comes from the dynamic that Lionell is really good at building relationships, and I'm good at solving problems. It works out that way because some of the things we have to do to connect with people, he's more skilled with. At the same time, I can be more agnostic on those details and focus on data and solving issues.


Jouviane: You previously mentioned that this journey began for you in 2018. What has been your favorite part of this journey?
Anuroop: We were featured in an Australian best-selling business book. It came about from the unique story and approach that we had. Essentially the book was about storytelling in your business. Some of the unique elements that we were using in terms of discussing business with people caught the eye of the author. As a company that was only two years old, we got featured in this business book. It's in print and it feels as if we're almost immortalized because there's always going to be a copy of that book that has ours and our company's name.
Lionell: Whenever you take a leap of faith, where you're both confident but unsure about the future, you develop that grit. No one expected the pandemic, but you try to work it out. Being able to have relationships and connections with entrepreneurs where we can watch them grow is a great thing to be a part of. Just appreciating the process and being able to reflect on it, even with these questions, has been a great part of this journey.


Jouviane: With Facebook being one of the largest companies in the world, many would consider working there a dream job. What would you say to someone who works a "dream job" but is feeling hesitant about striking out on their own?
Lionell: Something we've all heard is "trust the process." If you have an idea where you've taken the time to hone your skills, do your research, and have the confidence to take that leap, do it. You may not know exactly how it will turn out, but it's always better to try and go after your goals. Taking that leap and doing your due diligence is important. You don't want to regret missing out on your passion.
Anuroop: You want to do what's going to make you happy. You shouldn't do anything for the sake of doing it. You should have a genuine passion for it. As Lionell will tell you, the work can get grueling, and as he said, trust the process. There have been times where we've gone days with three hours of sleep. Of course, that's because we were also coming from a place of limited capital where that kind of grind was required.
Also, evaluate your idea and determine what it needs. Does it need more time? Does it need more money? If there's a capital requirement, you don't want to quit your job and dive headfirst. Rather, make sure your bills are taken care of, cut down on expenses, and take that extra cash to push into your business.


Jouviane: Last question — what would you say is the ultimate goal of Inflect Digital?
Anuroop: The ultimate goal is to create a business ecosystem where we have the ability to support and grow these companies. We are able to do that with our expertise in growth marketing. We build relationships with people who can help these companies with financing and so forth. We're going to be able to start investing, with Inflect Capital, into companies and essentially give them options. It will take time, but ultimately, the goal is to have companies come to us and figure out what they need to give them that launchpad to lead to growth.

To learn more about Inflect Digital, visit: https://inflectdigital.com/