Maybe Drinks? Shoot Your Shot with the Black-Owned Community Dating App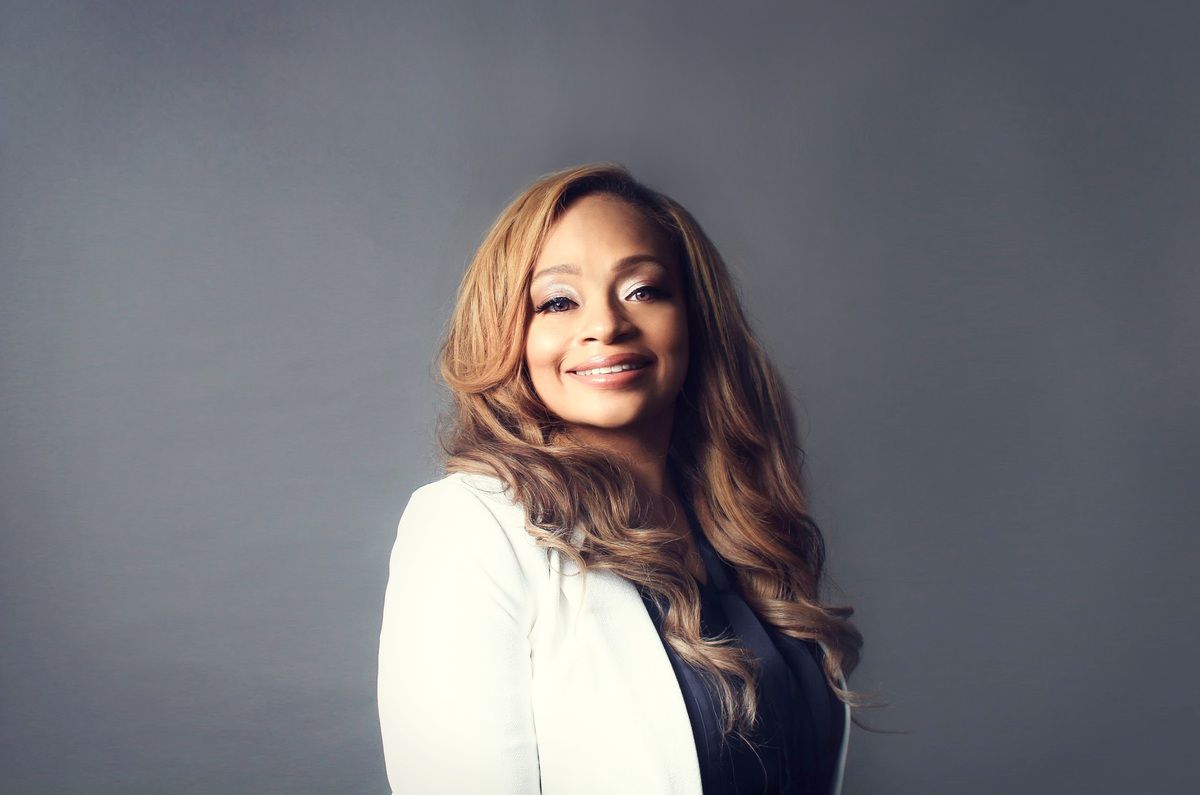 For Stephanie Thomas, her online dating app, Maybe Drinks?, has been a work-in-progress for several years. While working on this passion project, the FAMU graduate always maintained a successful career in tech with several Fortune 100 companies. After being laid off from one of those companies, she decided to purchase the Maybe Drinks? domain and sat on it until the time was right, even using her background in technology to begin the coding process herself.
After enlisting help to finalize the coding, she focused on the business side. In November 2020 right around Thanksgiving, she did a soft launch of the app. Fast forward to 2021, Maybe Drinks? is now going full force and ready to take online dating to the next level.
Read on to find out about the inspiration behind Maybe Drinks?, how it works, what other cool apps and ideas are in the works for Stephanie while she still maintains a career in technology, and how you can join the app and officially "shoot your shot."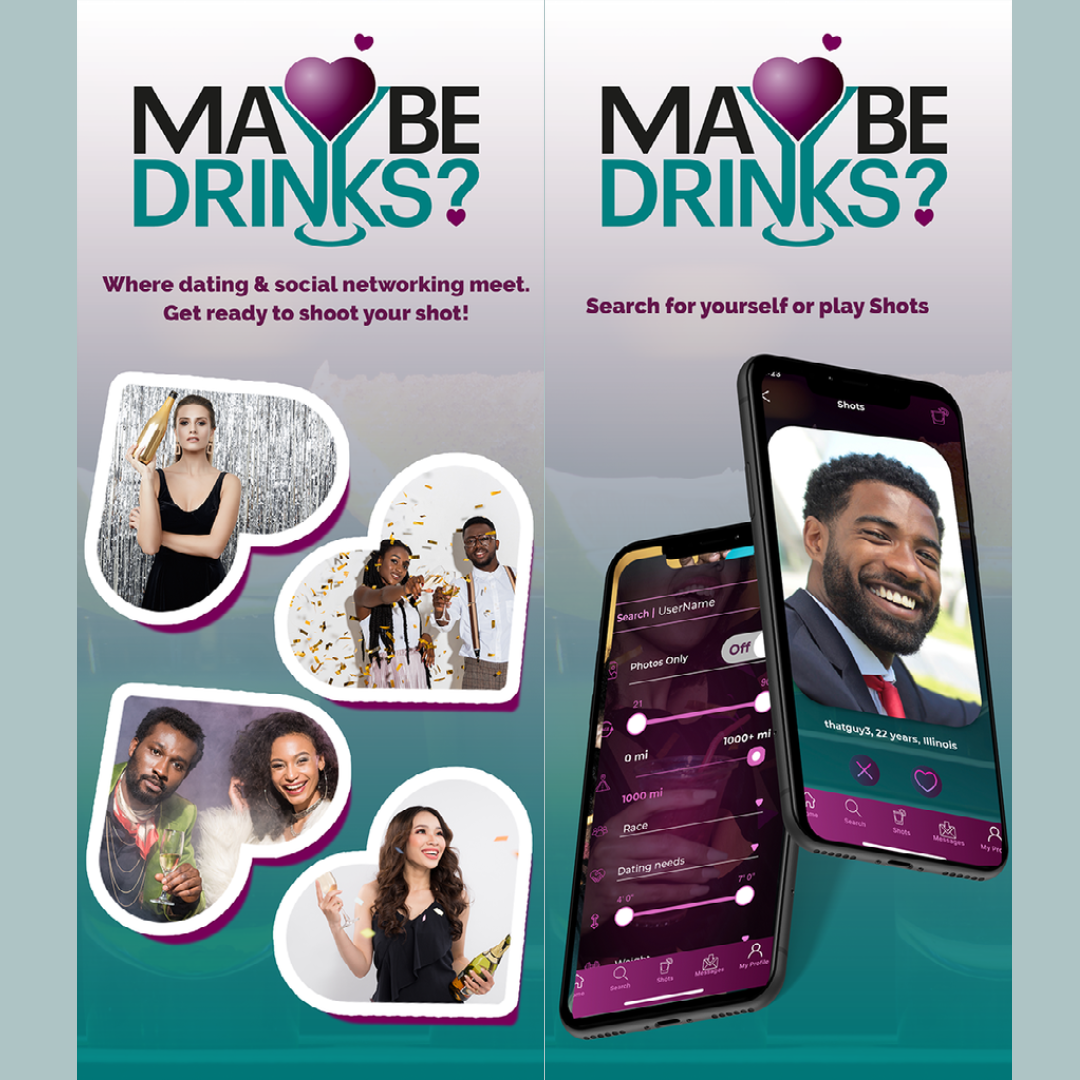 Lela: What prompted the creation of your app Maybe Drinks?
Stephanie: I was reluctant to go on the online dating scene, and then I decided to give it a try. I found myself doing things like sending potential guys to friends and asking should I contact this person? So, while talking with my brother and best friend, we actually came up with the concept of doing a community dating situation where you can get your friends involved.
One of the major reasons for starting this app was I also wanted to fill a void. I am a graduate of FAMU and have been working in corporate America in the technology space my entire career. Therefore, I know what it's like to be underrepresented, especially as it relates to e-commerce and online technology. So, I really wanted to fill a void and show young Black girls that you can do more than just use online technology. It's great that you're always on Instagram, but you can also create your own Instagram. I really wanted to have a different narrative, especially for Black women, to show us that we can create something that can be used by the masses. So, it's for everyone, but it's from the culture though.
Lela: That's amazing and definitely needed. Can you explain how everything comes together for those who join Maybe Drinks?
Stephanie: Absolutely! So, when you join, you have two options. You can either search for people on your own, or you can go and Take a Shot. With Take a Shot, you can swipe left or right on random profiles that you may see. We open it up for you to see any and everyone that's on the app. If you search, you can search within not just distance and miles but also specific locations and even by school.
That was something we wanted to tie in simply because I've had other efforts that I launched previously that didn't work. However, eventually we're going to be launching other platforms that will potentially tie together. I once owned a site called Buppie Networks and another one called Greek Suite because we wanted to create a network where people can find that perfect someone based off of more than just looks. If you don't see anyone that matches for yourself, that's where your friends come in. You can invite your friends to join the app. You can befriend them. Then, they can try to play matchmaker for you. For instance, if I see a guy on there that I think would be perfect for you, I can introduce you to them. If you both reply with a YES, it opens up a chat for you and that individual. So, then it comes from a reputable source.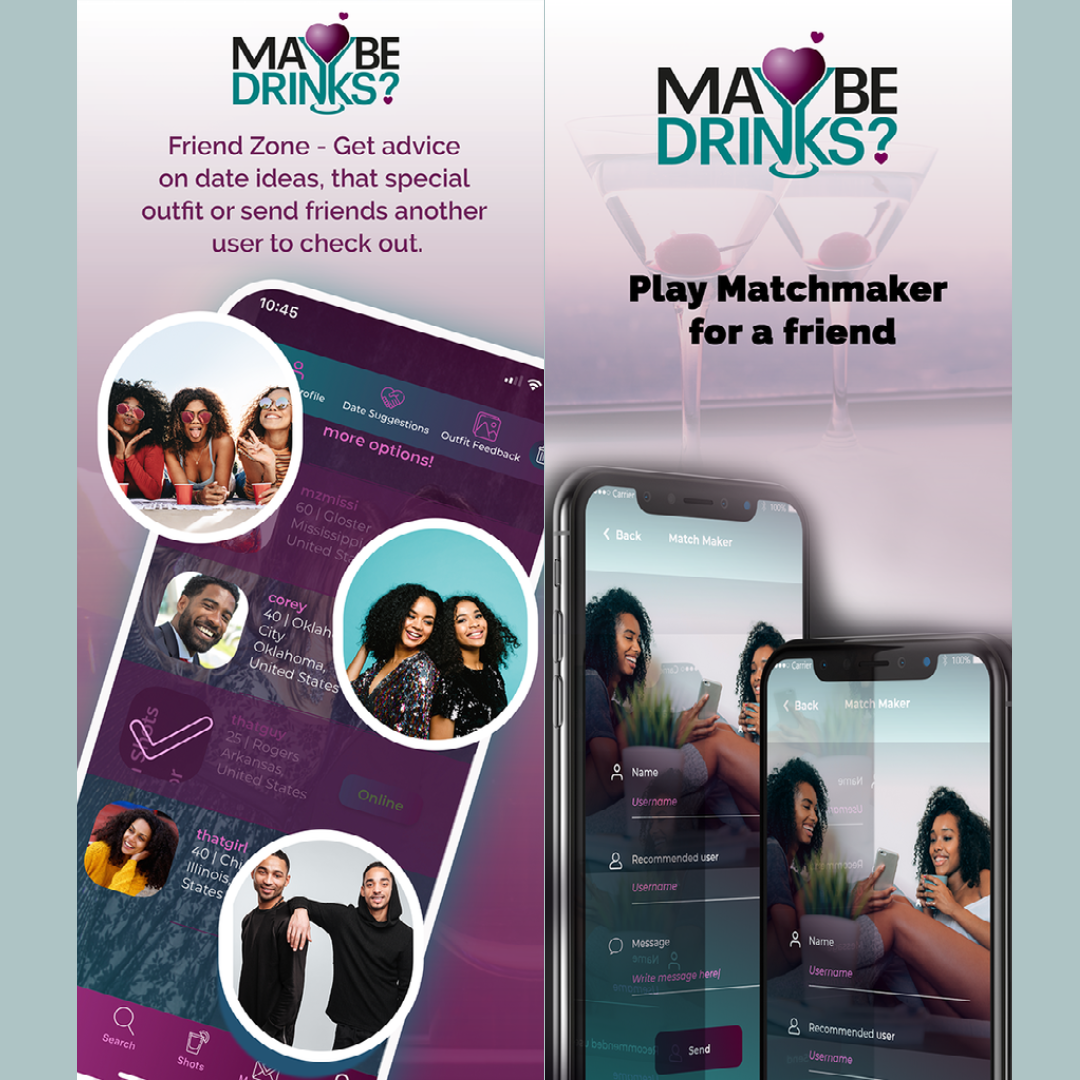 Lela: Are there any special features?
Stephanie: One of the features that makes us unique is that we have an area called the Friend Zone. With the Friend Zone, you can invite your friends onto the app, share profiles, date outfit ideas, get recommendations on dates, etc. You can even fix up your friend with a profile you see that may not be for you, but you feel would be great for them.
Another one is our matchmaking feature, which is really something that we hope takes off because that's what sets Maybe Drinks? apart from other dating apps. We want our users to feel safe and almost as if you have a business reference – but in a dating space, which is something you do not always get. That's one of the reasons why when you look at a person's registry, it can even say if you're married or engaged. That's for your friends who join so they can help you out. Regardless of their status, they can come on the site and help you out with your dating life.
Our different types of memberships are another thing that sets us apart from other online dating apps. As you will see, everything is a play on alcohol. There's the Standard Membership where you can see who has contacted you. With that membership, you can take what we call '25 shots' throughout the day. Then, we have our Top Shelf membership. If I'm a Top Shelf member, and you're a standard member, then I can pay your tab. For $5, a Top Shelf member can talk to a standard member for seven days. However, that only opens it up for the standard member to talk to the Top Shelf member who has paid their tab, not everyone else on the app. It doesn't prevent others from paying your tab, but it ensures that communication is now open for you and whomever has paid your tab. That communication could even involve video dating with one another, which is a feature we decided to add due to launching during the pandemic.
We also have a Plan a Date tool. Here's how that works. If I see a guy that I'm interested in and we've been chatting, I can actually schedule a date with him and pick a location for the date. One cool thing is that we're integrated through Google APIs so you can populate the address, or you can pick something that we will be launching soon called a Safe Spot. With that, we're looking to partner with different restaurants and bars and have them featured on the site. We'll send them a decal for their window with the Maybe Drinks? logo so our users will know that it is a safe spot for them. They can choose one of those places for an in-person date as restaurants and bars begin opening back up. Scheduling a video date is also possible with the Plan a Date tool. Once that's scheduled, it can be added to the calendar on your phone as a reminder. With the Plan a Date tool, it's just another level of security for our users because we are aware of all dates that are planned.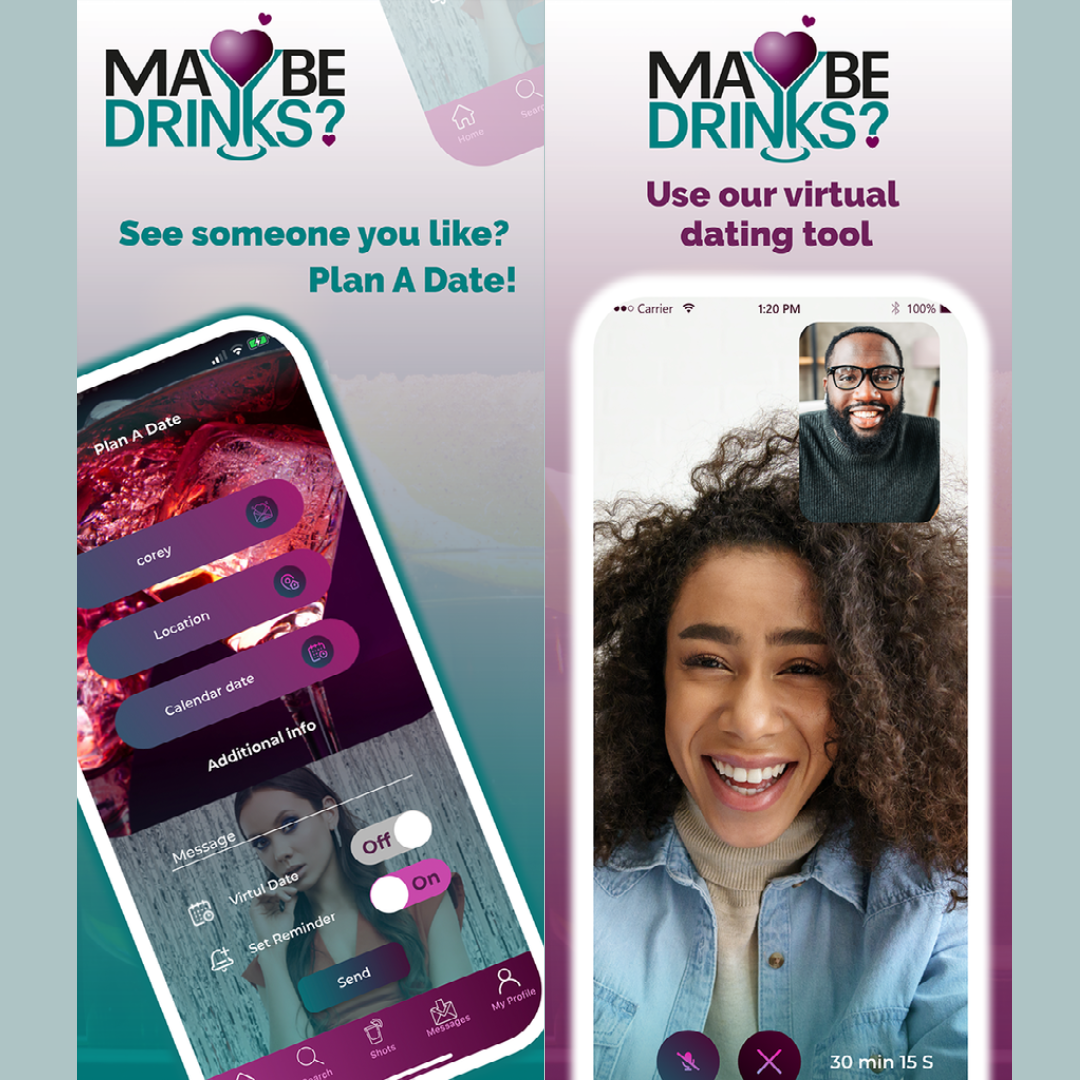 Lela: Nice! Switching gears for a bit…in your opinion, what do you view as one of the biggest dating challenges these days, outside of the constraints due to the pandemic?
Stephanie: I think the biggest dating challenge is getting people to shoot their shot, which is one of our taglines. Especially from a woman's point of view, we often may see someone, but we'll sit back and decide not to be the aggressor. However, there's nothing wrong with us being the first to engage. One thing I've learned from having a younger brother who I'm so close with is that men get nervous too when it comes to having to approach someone. And they get tired of it always just being them.
So, that's one of the things when building the app that I really wanted to do was make it easier for our women users to also be able to shoot their shot as well. I've noticed even with friends and myself, I've missed out on opportunities where I didn't want to take that leap and approach someone. So, I'm working on changing that for myself and others.
Also, it boils down to expectations as well. A lot of times, at least for my friends and I, we sometimes go on a first date and will start planning a wedding in our head. We can sometimes have a one-track mind and don't consider having other options. At the end of the day, there's nothing wrong with just dating until you find that right person and have a ring on your finger. Dating a few people, having dinner here or there, and getting know different people until you meet the right person is perfectly fine. You do not have to feel as if you have to settle for the first person who shows you attention.
Lela: You are so right about that. Now in terms of costs for the app, can you breakdown the costs for the different membership levels?
Stephanie: We have a few different packages including monthly, quarterly, bi-annual, and annual packages. For those interested in becoming a monthly user, that would be $24.99. A quarterly subscription is $50 while a bi-annual subscription is $77.
We also do auto-billing. So, for example, if you're a monthly user, we'd bill you that $24.99. However, you could cancel at any point and potentially upgrade to another package, like the annual package which is only $131 for a year. Compared to some other sites, we're a little on the cheaper side and offer a great deal for long-term members.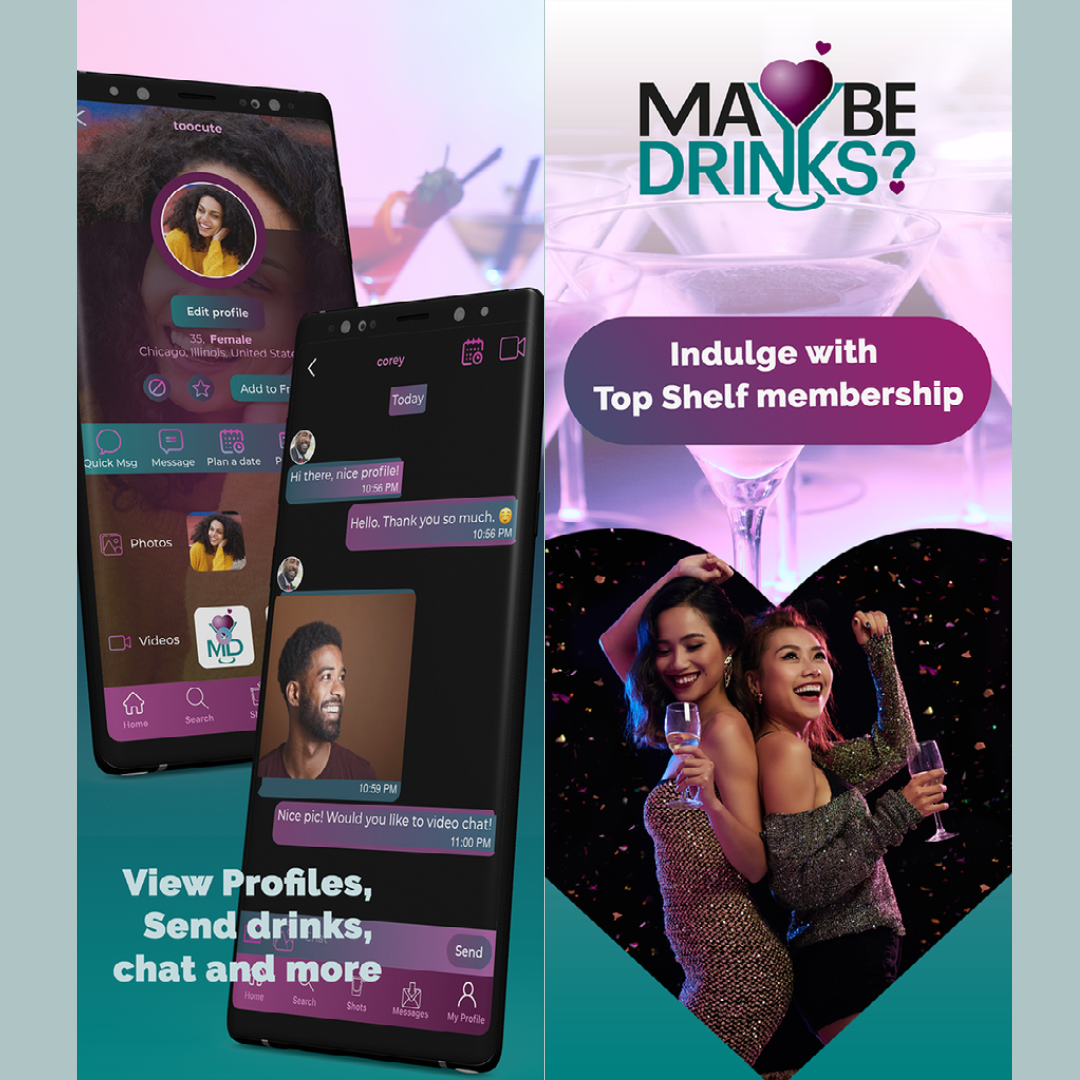 Lela: Great! Now I know the site is still fairly new, but have you received any testimonials yet from friends, family, or other users?
Stephanie: No, we haven't had any luck just yet but stay tuned. What I will say is that we have been pretty popular with the women so far in terms of who has signed up. So, we'd love to have more male users join us.
Lela: Did you hear that, guys? SIGN UP! So, in addition to Maybe Drinks, what's up next for you?
Stephanie: We are actually planning on bringing back Greek Suite, which I mentioned operating in the past. I first released it in 2007 as a website for the Divine 9. Members could go in and register based on their chapter of initiation. So, we're planning on bringing that back - a social network for Black Greek letter organization members. As a member of Alpha Kappa Alpha Sorority, Inc., that's a project that's near and dear to my heart.
We also have a few that we're toiling over including an overall social networking site exclusively for Black people. We want to be able to create a safe space, and that's not saying that other social networks are not. But it's just a passion of mine to have something created by the culture for the culture.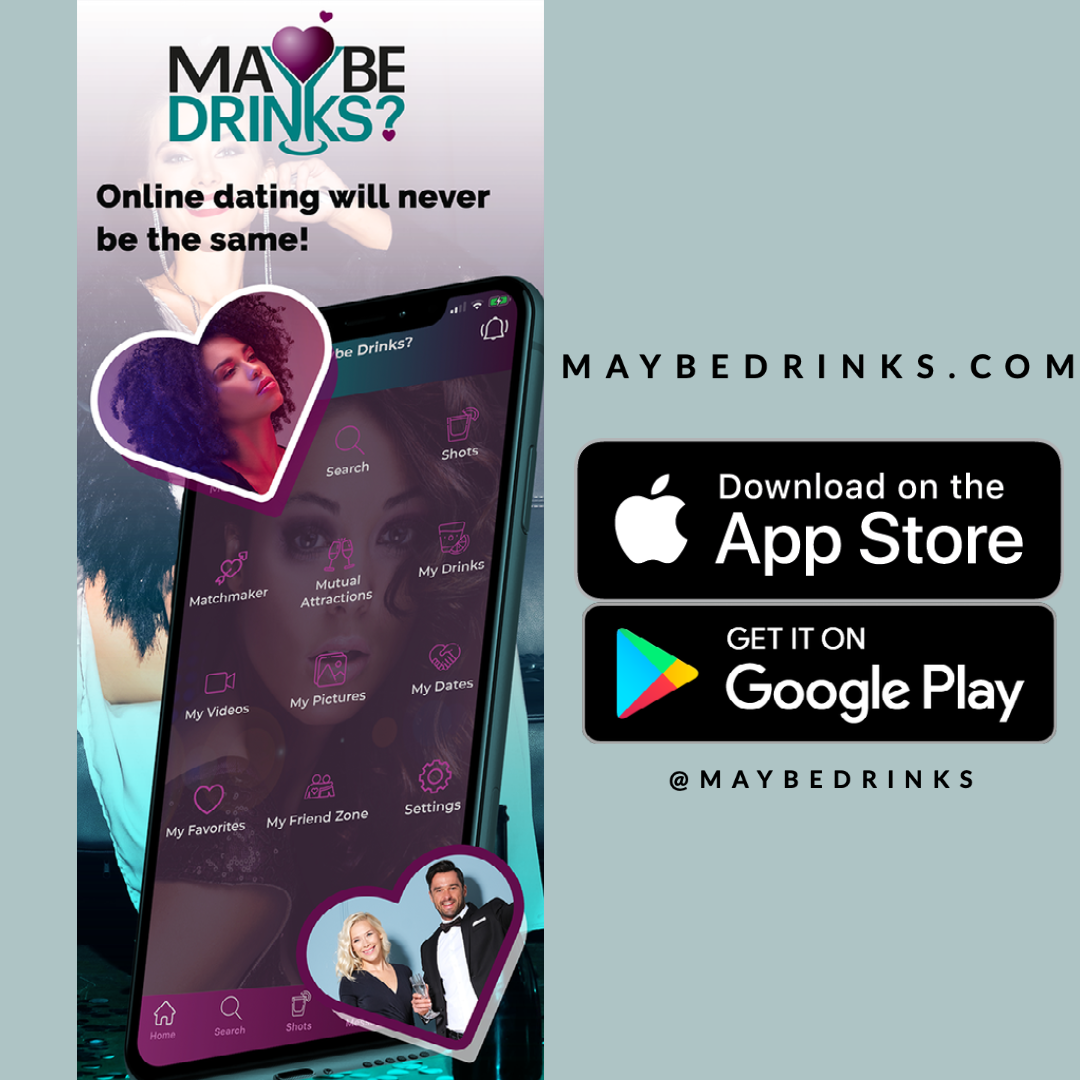 Lela: We'll be on the lookout for those in the near future? In terms of Maybe Drinks?, where can the app be found?
Stephanie: We can be found on Apple in the app store as well as the Google Play app store. We also have a website, www.MaybeDrinks.com,  where you can utilize all of the features except for the video dating feature.
Be sure to download Maybe Drinks? on the Apple and Google Play app stores. Also, check them out online and @MaybeDrinks on Facebook, Instagram, and Twitter.