This Woman's Passion For Natural Skincare Has Grown Into a Lucrative Black-Owned Business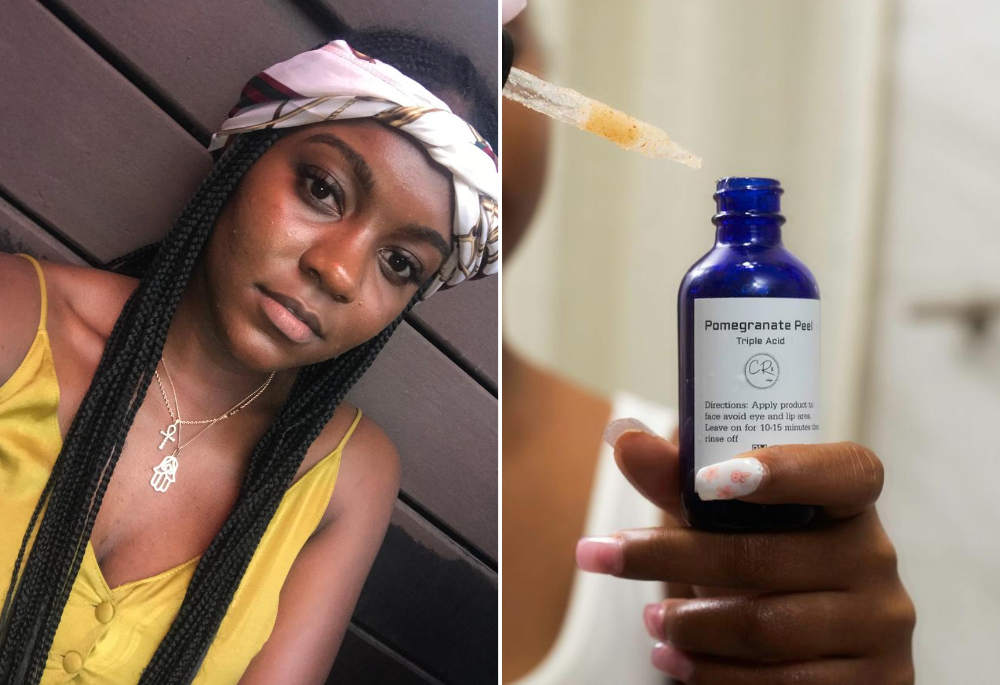 For one 29-year-old single mother, being her own boss was always her dream. She wanted the opportunity to provide jobs for those who may be judged or looked over due to their gender, sexual orientation, or simply the color of their skin. And now Claudell Allen, a licensed medical esthetician, can do just that as the owner of CRx Skin and Med Spa.
Find out how her passion for skincare has now grown into a lucrative Black-owned business and how she's changing skincare and "saving lives one face at a time."
Lela: Tell us how did you get into the skincare business and get started with CRx Skin?
Claudell: I decided to go to esthetician school because I started dealing with adult acne. While I was in school, I also had issues finding products that worked for me that weren't super expensive. Before I finished, I decided to dive into product ingredients and how to make products. And when I completed esthetician school, I ventured out and started testing formulations.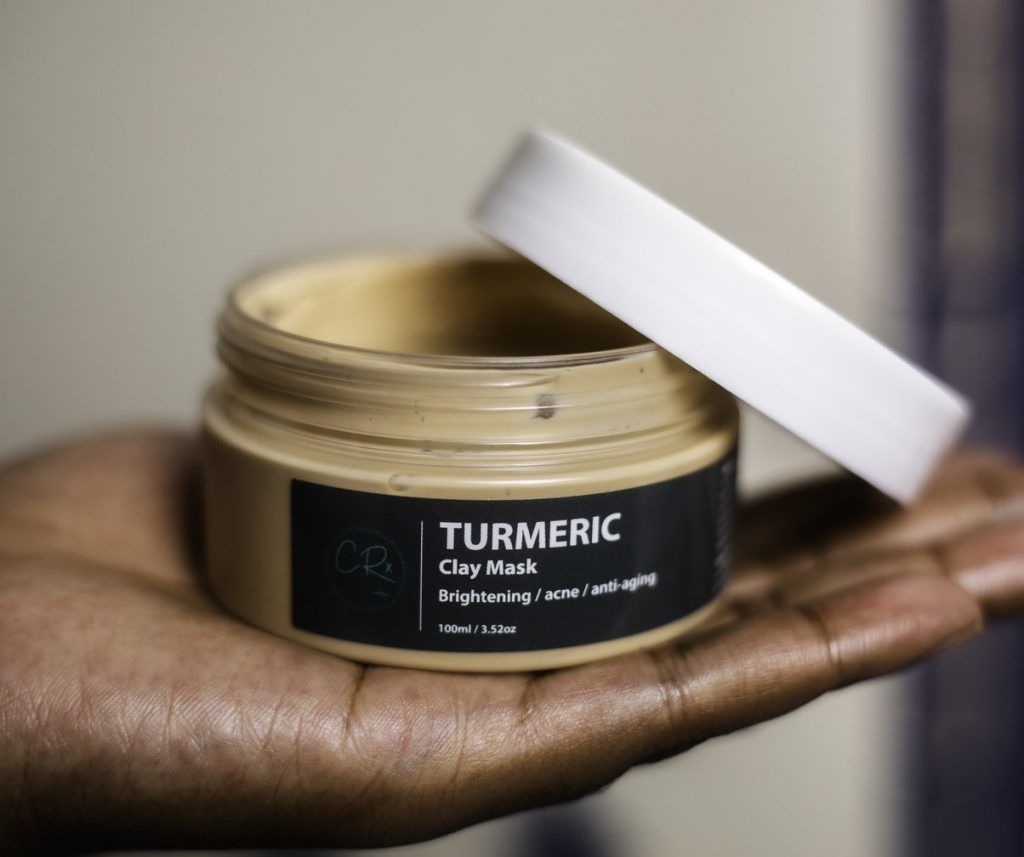 Lela: Finding the right formula definitely takes time. How long was the process for you, and when did you know that it was just right?
Claudell: It took me about a year to find the right formulations. I tested it out on myself and my mom and also had a female friend that I tested it out on to know that it was just right.
Lela: What would you say sets you apart from other skincare lines?
Claudell: The rawness of the entire brand is what sets me apart as well as the affordable prices. Other companies have similar price points, but they do not have that combined with the rawness of CRx products. It is truly a natural skincare line.
Lela: Brightening, anti-aging, oily/acne, and seasonal are the categories listed on your website for the products. What made you focus on those particular categories for skincare?
Claudell: Being in esthetician school and working on clients, I noticed that those were the main skin issues affecting clients, especially Black people and other people of color. Adult acne is also on the rise. So, I wanted to be able to focus on giving customers what they actually need and what they're looking for right now.
Lela: With us being inside so much this year due to the pandemic, I'm sure everyone's skin is reacting differently. What would you say have been some of your bestsellers during this time?
Claudell: Some of my bestsellers are the Licorice Bar for cleansing and brightening the skin, the GREEN Clay Mask for oily and acne-prone skin, and the at-home Pomegranate Peel, which is rich in vitamin C.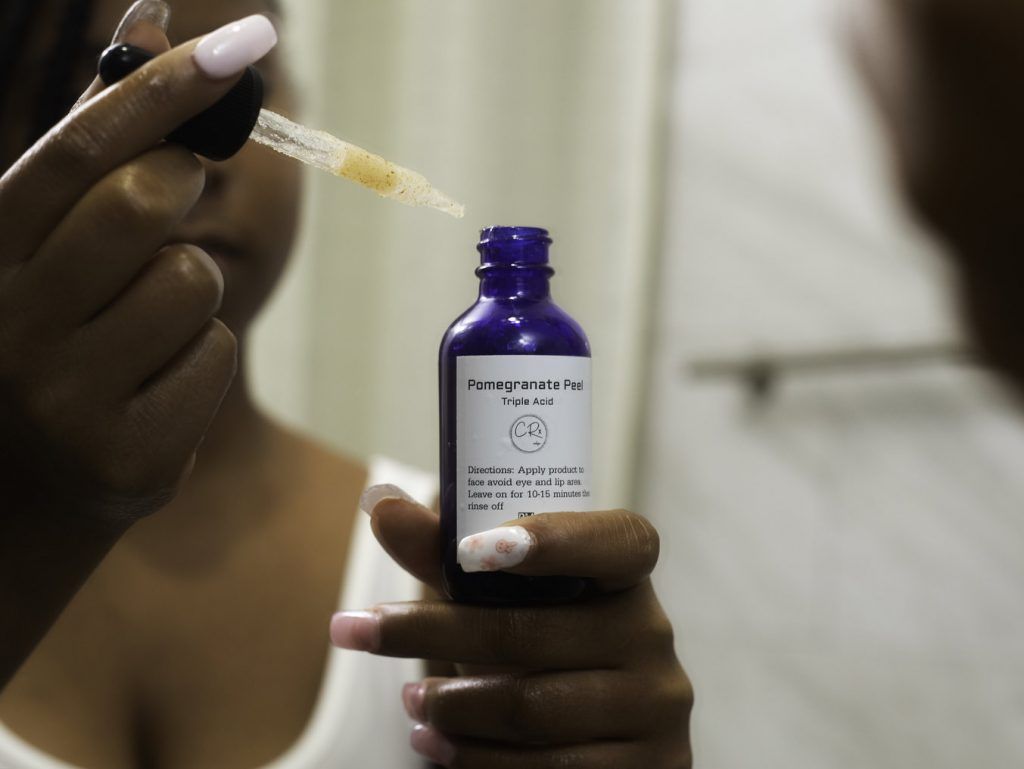 Lela: Why is an important to maintain a good skincare routine, particularly for Black people?
Claudell: It is vital that we protect our skin. As Black people, we do not age as fast as our white counterparts, but we still experience skin issues and need to protect our skin from that. So, it's important to at least do the basics. Properly cleanse your face with products that are not harmful and can cause other issues with your skin, especially since products can get into your bloodstream. Also, we must exfoliate to keep the skin nice and fresh. Then, moisturize to lock everything in and protect the moisturize barriers and all of the natural oils on the skin. Lastly, we must use sunscreen to protect our skin from the sun's UV rays and the environmental harm on the skin.
Lela: The Skin Scrubber is new to the CRx line. What are the benefits of the scrubber combined with the other products?
Claudell: With the Skin Scrubber, it's good for people who are trying to rid of blackheads as well as comedones. Getting rid of them can be harsh on your skin is you aren't sure of what you're doing. Therefore, the Skin Scrubber makes getting extractions out at home easier and safer. It also allows the products to penetrate deeper into the skin instead of just staying on the skin's surface.
Lela: You're quickly approaching your one-year anniversary. In what ways are you looking to grow over the next few years? And also, do you think you'll reopen the CRx Med Spa this year or in the near future? [closed due to COVID-19]
Claudell: Thankfully, I have some help now, including a marketing team. I also added a photographer to the team, which will help with marketing products across social media platforms and on the website and capturing more content. I plan on coming out with more products such as supplements and juices, which will be available for pick-up in the Central Florida area, where I'm from. And yes, the spa will also be back up and running again this year.
To learn more about CRx Skin and to purchase products, be sure to visit www.crxmedspaskin.com. You can also follow the brand on Instagram and Facebook @Crxmedspaskin.