Former Ebony Fashion Fair Model Launches Beauty Brand to Transform, Strengthen, & Grow Black Hair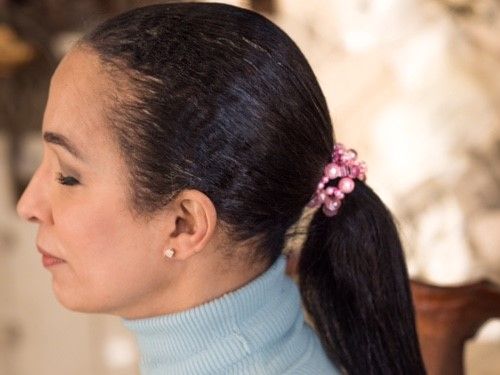 Hair is an important part of the Black community, and Michelle Faison is tackling the challenges Black women and men face with maintaining healthy, strong hair. The former fashion model launched Shelly's Nourish in May 2021 and she hasn't looked back. A venture that has been in the works for years, Michelle Faison is ready to introduce the world to her products and help the Black community transform their hair.
Continue reading to learn more about Michelle Faison and the amazing products her brand has to offer.
Jouviane: Behind every Black-owned business is the Black entrepreneur, and I'd love to learn more about you. Can you tell me a little about yourself both personally and professionally?
Michelle: I've had a lot of different lives. To start, I was born and raised in Detroit. After graduating from high school, I went on to Parsons School of Design in New York City where I earned a degree in illustration. I spent the next 20 years living in New York as an illustrator as well as in fashion and advertising. I'm an award-winning floral designer here in Michigan and also a former Ebony Fashion Fair model.
Jouviane: That is very impressive. Was there something specific during this journey that inspired you to start your own hair care brand?
Michelle: I think it started decades ago when I was in the Fashion Fair. When I came off the tour, my hair and skin were in horrible shape. After doing stage shows every night which required heavy makeup and applying heat to the hair, there was a lot to do to recover. And that was years before I started thinking about this brand. That was the first time I suffered any significant damage to my hair. Back then there were very few products that had benefits for hair.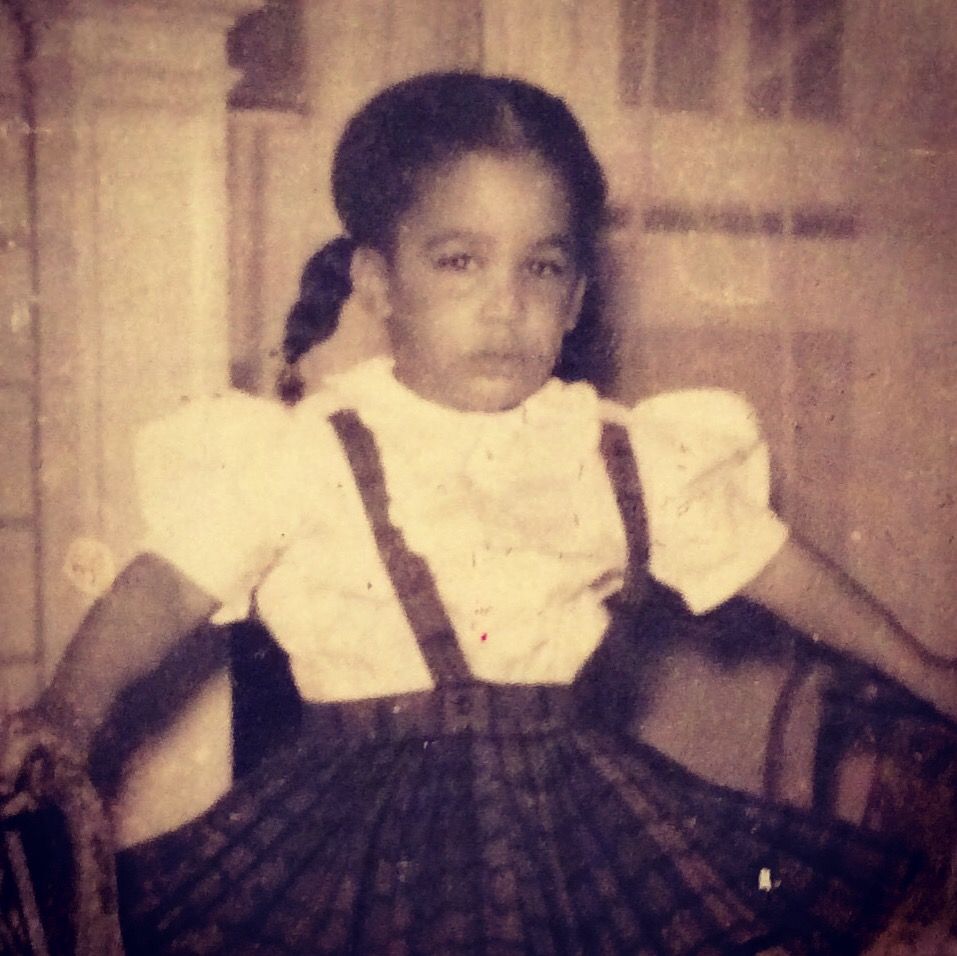 There was just damage that accumulated over the years that led to breakage. As a child, I never had hair that grew past my shoulders. I made a promise to myself to find a way to improve the health and length of my hair. By then, I was in my 50s.
I started researching ingredients, but I could not — try as I might — find any quality products on the market that would address the needs of my hair. There was nothing in the beauty supply and drug stores so I started experimenting with my own formulas. And that eventually led to the creation of Shelly's Nourish.
It was 2014 when I started tinkering with the idea of Shelly's Nourish Hair Balm. Using myself as a guinea pig, it took several years to perfect it. Soon, friends and family wanted to know what I had done to my hair because it looked so healthy and had grown so much longer. They wanted some, too!
The pandemic caused a delay, but Shelly's Nourish Hair Products, LLC was officially launched in May of 2021.
Jouviane: After the journey that led to establishing your brand, what are three words you'd use to describe Shelly's Nourish?
Michelle: I think I'll refer to the products versus the overall brand and say moisture, oil, and balance. Healthy hair thrives on a proper moisture and oil balance. Protein aside, our hair is very dry largely due to the fact that oils don't travel down the shaft as they do with other races. We really need to apply moisture to our hair, and that's something that our community used to rise up in arms against.
That's the message that I really have to drive home especially with people in my generation.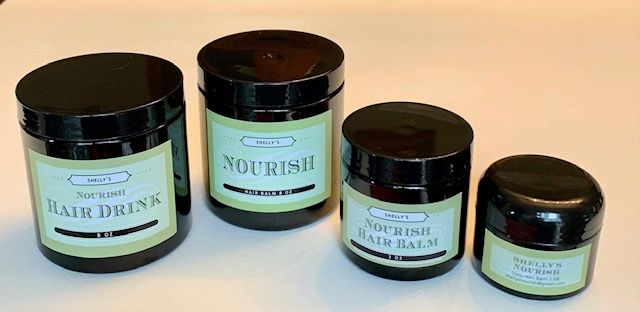 Jouviane: With those three words describing the products at Shelly's Nourish, what type of products can customers find on your website?
Michelle: I've kept it very simple. I started with the oil-base hair balm and really wanted to add a moisturizer to it. It took me a while to come up with that formula.
Right now — and I may keep it this way because I don't ever want a huge line of products — I have two products that can be used by both men and women. Shelly's Nourish Hair Drink is a light, whipped, water-based moisturizer. Shelly's Nourish Hair Balm is a light oil balm. Each product contains ingredients that are proven to penetrate the hair shaft to strengthen hair and prevent hair breakage.
The two products are designed to work together. The hair drink (moisturizer) goes on first and that is immediately followed by the balm which seals that moisture into the hair shaft. Both products can be used individually, if you prefer, but I strongly urge people to use them together. On my website, I provide an introductory set that includes an ounce of the moisturizer and balm each so customers can get used to the products at a great price.
And lastly, the products have a light, herbal scent — a little citrus and rosemary — that can be used by both men and women. One of the things that I dislike about hair care products is that many are overly scented. If you're a fragrance fan like I am, it would just overwhelm whatever perfume I was wearing for the day. For Shelly's Nourish products, I just use a a couple of essential oils to provide a pleasant scent that both men and women can enjoy. Plus, the scent dissipates throughout the day into nothingness which makes it even better.
The two products create a synergy that creates stronger, longer, healthier, and shinier hair. The ingredients in both Shelly's Nourish products penetrate the hair shaft to prevent the protein loss that comes from manipulating our hair.
Jouviane: Since this idea came to life, what would you say has been the biggest obstacle in trying to build your business.
Michelle: It would absolutely be my apprehension about social media and putting myself out there. I am an introvert by nature, although many would not think so. I think my history of modeling helps me get over that, but I'm a rather private person. However, I understand that if you're going to run a personal care business these days, it requires you to regularly connect with customers and with the public.
The way I'd say I overcame this was by taking deep breaths and remembering to be myself. And you must absolutely believe in your product and its ability to help people. I think that's the driving force that keeps me going when I'd rather read a book and close the door.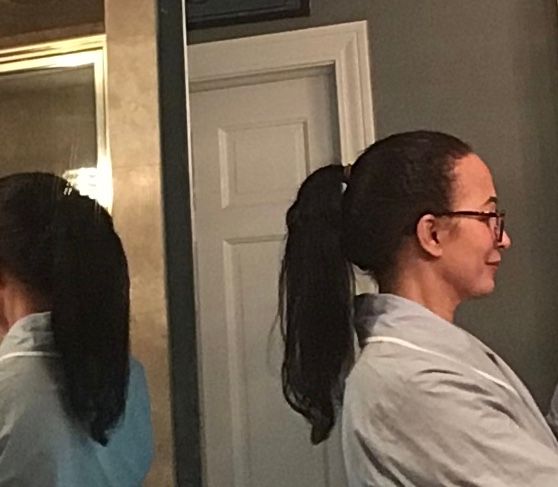 Jouviane: Alternatively, what has your favorite part of this journey been?
Michelle: Selfishly, it has been seeing the dramatic change and improvement in my own hair. It's also been the feedback that I've received from my customers of how Shelly's Nourish products have helped them.
It's the satisfaction of knowing that I've truly helped my customers.
Jouviane: It's safe to say that everyone in the Black community understands the importance of hair. As a Black woman, how do you feel about the importance of hair and its ties to the Black community and Black culture?
Michelle: I find that the first thing I think about is that for centuries we were made to feel bad about our hair and its texture. Of course, there were no hair care products geared towards us until Madam CJ Walker came along. We also didn't have many options other than to straighten our hair in order to fit in and prosper.
Fast forward to today, I truly believe we've gotten to the point where we celebrate our hair. There is so much more knowledge available about how to care for it.
I was concerned for a while about this natural hair versus relaxed hair debate a few years ago. To me, that was just one additional unnecessary way for us to divide ourselves. Fortunately, the debate seems to have subsided and we're celebrating our hair now no matter what we do. So, I say "yes" to that!

Jouviane: Not to divide you on your own products, but if you could recommend only one, what would it be?
Michelle: Because I have to answer, I would say the balm. It was my first product, my first love, and my first invention. The product is very versatile in the ways it can be used. It can be used as a hot oil treatment. It can be a pre- and post- chemical treatment for coloring or relaxing hair. It can also be used as an overnight pre-shampoo treatment.
Jouviane: You've mentioned your product formulations a few times now. Who's the mastermind behind the formula? Is it you? Do you have a team you're working with?
Michelle: Right now, it's just me. I do have help with manufacturing the products, but in terms of the formula, I'm the only one who's been involved in that since the beginning.
If the business grows, I will probably have to expand and have more people involved, but right now, it's just me.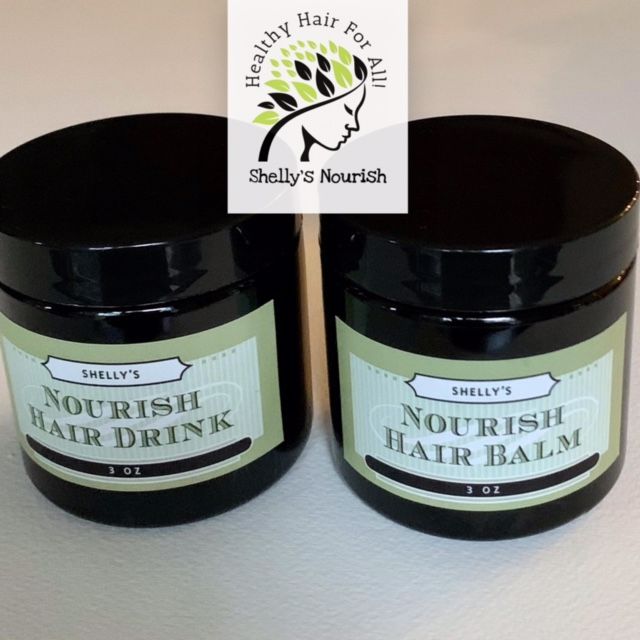 Jouviane: As you talk about growth, where would you like to see Shelly's Nourish in the next 5 to 10 years?
Michelle: I'd like to continue with a robust eCommerce and online business. Eventually, I'd like to be in major beauty supply chains like Sephora and Ulta. In ten years, I might actually be ready for a buyout at my age, but we'll see.

Jouviane: To follow up, if you were leaving Shelly's Nourish behind ten years from now, what would you like the legacy of the brand to mean?
Michelle: I think the synergy of the products is one thing that makes it unique. There are other manufacturers who have an oil and moisturizer, but I've never seen them work so well together. All the ingredients in the balm are also in the moisturizer. That isn't often the case. I think that's the thing I've created.
I like to keep things simple. There are tons of great shampoos and conditioners out there that I don't think I'll ever create one. My hope is that my company will become successful enough that I don't ever have to expand into all kinds of other products to keep it going.
I'd like the legacy to be: she did it simply and she did it best. And it works.

Jouviane: If you had to leave our readers with just one thing about Shelly's Nourish, what would it be?
Michelle: Like most entrepreneurs with a mission, I really put my heart, soul, and entire being into these two products. As a result, I was able to completely transform the health of my hair and grow it to waist length. It contains only the finest ingredients. It's proven to penetrate the hair shaft and improve the health of your hair. It transformed my hair and it can transform your hair too.
Also, as a woman in my 60s, the last thing I want to stress is that Black women at any age should follow their entrepreneurial dreams.

To learn more about Michelle Faison and Shelly's Nourish, visit:
Instagram: @shellysnourish
Facebook: Shelly's Nourish Hair Products, LLC
Email: info@shellysnourish.com
Website: www.shellysnourish.com
Customer Service 313-713-7495