35+ of the Best Black-Owned Vegan Restaurants in the Country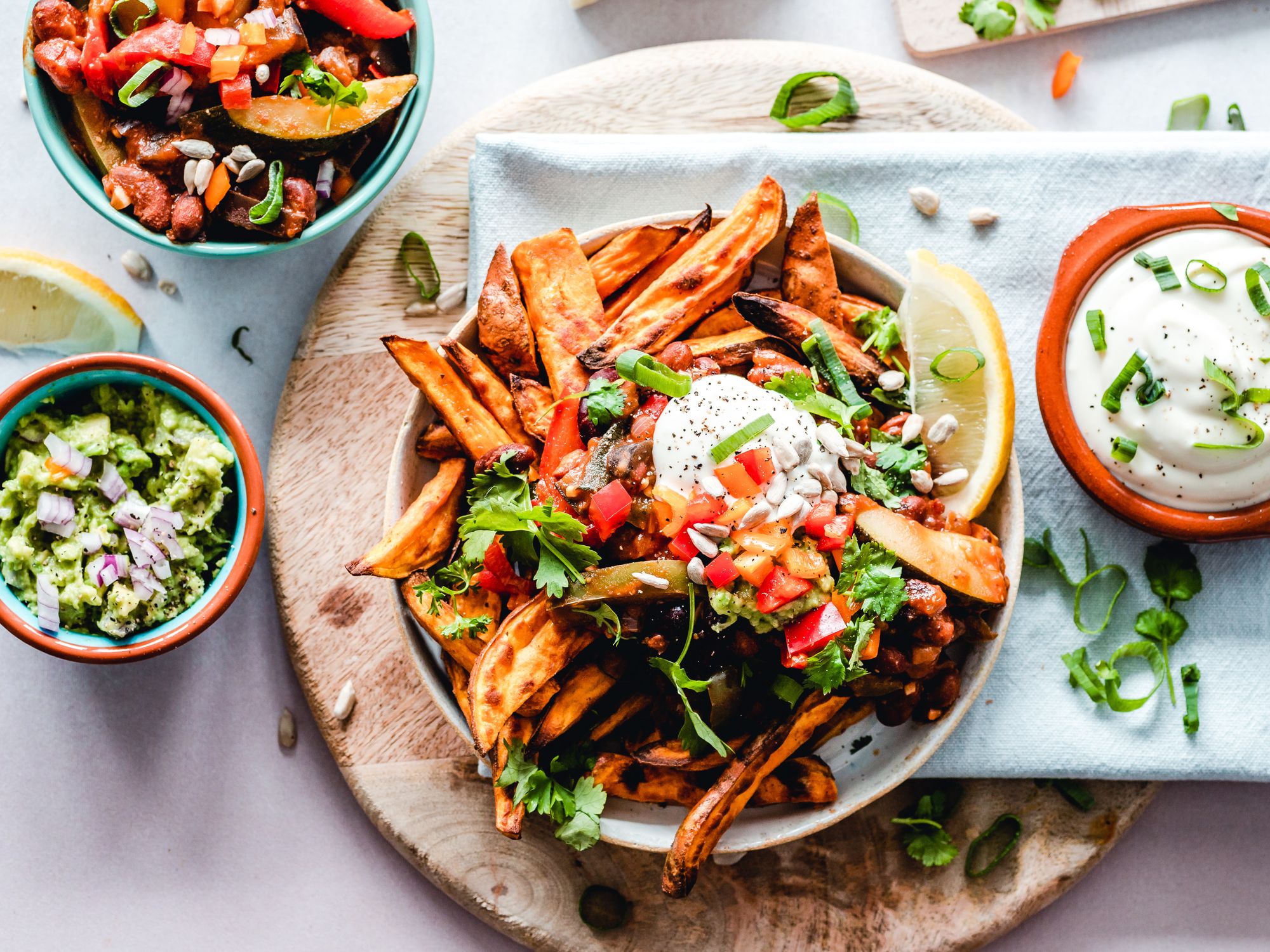 What some have started as a fad or experiment, others have adopted as a lifestyle and promise. When considering the word vegan, most assume that the only driving force to adopting this way of living is to protect animals. While this is at the heart of a plant-based diet, it goes beyond this singular reason. A vegan diet is rich in fruits, vegetables, and grains - foods that help promote a healthy lifestyle. Whether you're vegan, vegetarian, or an omnivore,  you can find delicious and satisfying meals at any of the Black-owned vegan restaurants on this list.
DOWNLOAD the OBWS app and register your business to be on the largest discovery app for Black entrepreneurs and for consideration in OBWS-related content.
NEW YORK CITY
Seasoned Vegan (@seasonedvegan)
For those living in or passing through the Big Apple, Seasoned Vegan is a popular stop for plant-based bites. Under the direction of Brenda 'Chef B' Beener, you can travel uptown to their flagship store in Harlem to enjoy popular menu items like "Baked Mac & 'Cheese'," "BBQ 'Crawfish'," and the "Po' Boy Sandwich."
https://www.seasonedvegan.com/
Urban Vegan Kitchen (@urbanvegankitchen)
Who said vegan food couldn't be soulful and comforting? Founded in 2016 by Pamela Elizabeth, you can find Urban Vegan Kitchen in the heart of Greenwich Village. With dishes to satisfy both the traditional and non-traditional vegan eaters, their menu spans all meals of the day. From Belgian waffles for breakfast, quesadillas for lunch, and lasagna for dinner, you'll be left full and satisfied.
https://urbanvegankitchen.com/
Natural Blend Vegan Café & Juice Bar (@naturalblendvegancafe)
You can hop on a train to Bed-Stuy to experience the vegan eats at Natural Blend Vegan Cafe & Juice Bar. Not to be confused with the Natural Blend near Prospect Park, the location on Malcolm X Blvd provides both popular dishes and smoothies like their 'Quinoa Waffles' or 'Kale Mary Smoothie' made with kale, banana, pineapple, and spinach.
TRI Lounge & Cafe
Owned by Javonte Thompson, TRI Lounge & Café is a Staten Island-based restaurant that offers up the experience of food and music for their customers. A home for local musicians trying to gain exposure, the restaurant focuses on offering plant-based comfort food that includes classic and new dishes like pancakes or quinoa chili with cornbread.
A Live Kitchen
For those not only looking to eat vegan, but organic as well, we're traveling to the Laurelton neighborhood of Queens. While their brunch menu is reserved for pancakes, grits, and the like, their daily menu offers Avocado BLT Wraps and Broccoli Alfredo. And for those of you currently on juice cleanses, their growing list of options include the 'Glowing Detox,' a combination of turmeric, ginger, carrot, apple, lemon, and parsley.
https://a-live-kitchen.business.site/
LOS ANGELES
Compton Vegan (@comptonvegan)
Located in Los Angeles on Santa Monica Blvd., Compton Vegan is offering "affordable and healthy alternatives to everyday food." With cashew-based cheese at the center of many of their dishes, the menu features their take on Buffalo Mac 'N Cheese, Grilled Cheese, and more. And if you're missing the taste of classic comfort foods, you can still find it within their baked beans, collard greens, and potato salad - all served as sides.
Stuff I Eat (@stuffieat_inglewood)
While it might not be in LA, we're staying in Los Angeles County with Stuff I Eat. Opened in July 2008, the Inglewood restaurant has a mission to bring its community quality food. With the promise to never serve any animal products, their menu is described as being catered to the transitional eater who is moving from an animal-based to a plant-based diet. Some might be drawn to their quesadillas, tacos, or burritos, but if you love soul food, you'll be eyeing their "Organic Soul Food Platter" that's serving up yams, black-eyed peas, cornbread, potato salad, and more.
The VTree Hollywood (@thevtreehollywood)
Chef Velvet is the mastermind behind the Hollywood restaurant, The VTree. A mouthwatering mix of soul food classics in vegan form, you'll find all your favorite southern recipes. While Chef Velvet's unique take on food makes this restaurant worth visiting, it's their menu that makes repeat customers return. With their menu that changes daily, you can always expect something new every time you visit.
https://www.thevtreehollywood.com/
T&T Lifestyle (@tandtlifestyle)
While many restaurants will create vegan dishes out of southern classics, T&T Lifestyle is bringing Ethiopian cuisine to Los Angeles. Plant-based dishes might be the heart of the menu, but the restaurant also emphasizes on offering its customers "super foods and super flavors." With their 'Superfood Combo' as a popular dish on the menu, diners can enjoy red lentils and a kale salad with a side of teff injera.
https://www.tandtlifestylelosangeles.com/
Jackfruit Cafe (@jackfruitcafe)
If you've never heard of jackfruit, it won't be long before you're searching to try it. Often described as a combination of flavors from mango, pineapple, and banana, it lies at the heart of Jackfruit Cafe's menu. Most might feel the sweet flavor would only fare well in a dessert, but the café is mixing the sweet with the savory in their Jackfruit Bowls that combine the fruit with vegan mac and cheese, grilled plantain, and cornbread.
https://jackfruitcafe.com/welcome-1
HOUSTON
Soul Food Vegan (@soulfoodvegan)
Chef Taliek brought his passion for healthy, clean eating to life when he partnered with Chad Cossey in April 2015 to birth Soul Food Vegan. Bringing the Cajun flavors of Louisiana cuisine to their Texas customers, their menu has kale salads, pasta melts, and meatless burgers as options.
Green Seed Vegan (@greenseedvegan)
Located about a dozen blocks from Hermann Park, you'll find Green Seed Vegan on Almeda Rd. Owners Matti Merrell and Rodney Perry started their restaurant as a food truck before they were able to grow into a brick-and-mortar. Whether you're trying their flavor combinations of peanut butter and plantains or jackfruit and barbecue, you'll realize how this restaurant has grown to be so popular.
https://www.greenseedvegan./com
ATLANTA
Go Vegan Grill (@govegangrill)
The South might be known for its soul food and fried meat dishes, but Go Vegan Grill is bringing 100% plant-based food to the Atlanta metropolitan area. Located in Decatur, their menu will have you salivating over their breakfast and main menu options. Don't let the names fool you. Their platters of shrimp and grits, oxtails, and jerk chicken are all meatless and vegan-friendly.
Life Bistro (@lifebistroatl)
Some might question whether vegan food can truly be satisfying, and Life Bistro is setting out to prove that it can be that and more. With dishes to help Atlanta meat-eaters transition to a plant-based diet, their goal is to present them with delicious options. From the 'Bob Marley Wrap' with jerk jackfruit and mango salsa to the 'Oyster Mushroom Po'Boy,' there are options for every type of eater.
Plant-Based Pizzeria (@plantbasedpizzeria)
At Plant-Based Pizzeria in Atlanta, pizza toppings go beyond pepperoni, sausage, and the like. What this restaurant lacks in meat, they compensate for with a colorful, eclectic, and delicious array of fruits and vegetables. While some might be familiar with a Hawaiian-style pizza that features pineapples, others might be drawn to the 'Georgia Peach' pizza that is topped with jalapenos, red onions, peaches, and more.
https://www.plantbasedpizzeria.net/
Soul Vegetarian
The way veganism grew in the 2010s, most viewed it as a fad or trend. Soul Vegetarian in Atlanta was focused on bringing the city of Atlanta plant-based foods before it was cool. Opened in 1979, the restaurant now has two locations where you can sample their take on popular southern dishes or try their kale bone - an exclusive super protein recipe, infused into numerous ingredients.
Tassili's Raw Reality (@tassilisraw)
Founder and owner Tassili Ma'at first set out to make the best kale ever before her dream materialized in the form of Tassili's Raw Reality in Atlanta. Describing themselves as the city's raw vegan cafe, they offer several options that are infused with flavors from around the world. Whether it's the 'Pad Thai Noodles,' 'Moroccan Couscous,' or 'Way Better Than Ok-Ra,' everyone can find something they enjoy on their extensive menu.
https://www.tassilisrawreality.com/
CHICAGO
Majani Soulful Vegan Cuisine (@majanivegancuisine)
For those looking to eat clean in Chicagoland, you might find yourselves at Majani Restaurant. Swahili for 'green,' the vegan restaurant focuses on healthy, plant-based options. Open since 2010, customers have the option of snacking on 'BBQ Cauliflower Tacos' or sitting down for a meal with a 'Black Eye Pea Burger.'
Can't Believe It's Not Meat
Owned by Rico Nance, Can't Believe It's Not Meat is a vegan café that opened in the Hyde Park section of Chicago in early 2019. While it's small interior mostly allows for to-go options, you can enjoy their 'Chicago St. Hot Dog' or 'Philly Cheese Steak Egg Rolls' from anywhere in the city.
https://cantbelieveitsnotmeat.business.site/
Original Soul Vegetarian (@soulveg)
While their name might cause some confusion for those who need a clear distinction between vegan and vegetarian, Chicago's Original Soul Vegetarian is 100% plant-based and animal-free. Open for over 25 years, their mission is to serve their customers healthy food without skimping on taste.
https://www.originalsoulvegetarian.com/
Conscious Plates (@consciousplates)
Conscious Plates in Chicago surpasses veganism and brings the level to 'alkaline.' This relatively new term means that not only is their cuisine vegan, but it's also soy-free, wheat-free, and starch-free. Founded as a popup and catering restaurant in 2018, their brick-and-mortar location now sits near Washington Park. You can choose to sample their chicken and waffles recipe or enjoy their Saturday-only pizza menu.
https://www.consciousplates.com/
The Cultured Vegan (@theculturedvegan)
Owned by Chef Rain Truth, The Cultured Vegan brings healthy and delicious vegan food to Chicago. The chef brought the restaurant to life after losing her father to brain cancer. Having been a vegan for over 30 years, she frequents The Vegan Paradise Market at The Plant where she offers an array of meatless dishes like "'Beef' and Broccoli" and "Sweet & Sour Chik'n."
https://the-cultured-vegan.square.site/
For those who aren't in the New York, Los Angeles, Houston, Atlanta, or Chicago areas, there are numerous options scattered around the entire country. Here are a few more Black-owned vegan restaurants in other major cities:
Judahlicious (San Francisco, CA)
Souley Vegan (Oakland, CA)
Konata's (Miami, FL)
Nola Vegan (New Orleans, LA)
Oasis Vegan Veggie Parlour (Boston, MA)
The Greener Kitchen (Baltimore, MD)
Detroit Vegan Soul (Detroit, MI)
Trio Plant-Based (Minneapolis, MN)
Sweet Art (St. Louis, MO)
Blueberry Cafe Juicebar & Vegan Grille (Newark, NJ)
Simply Pure (Las Vegas, NV)
Two Vegan Sistas (Memphis, TN)
Vege-licious Cafe (Nashville, TN)
Bam's Vegan (Dallas, TX)
Plum Bistro (Seattle, WA)
Nu Vegan Cafe (Washington, D.C.)

The list doesn't end here! There are dozens of more Black-owned vegan restaurants around the country. To find a local eatery, use the Official Black Wall Street App as a resource. New businesses are being added every day, and you never know when a new restaurant will pop up in your neighborhood.