Caribbean-American Entrepreneur Uses Experience of Selling In Walmart, Whole Foods to Help Clients Start Businesses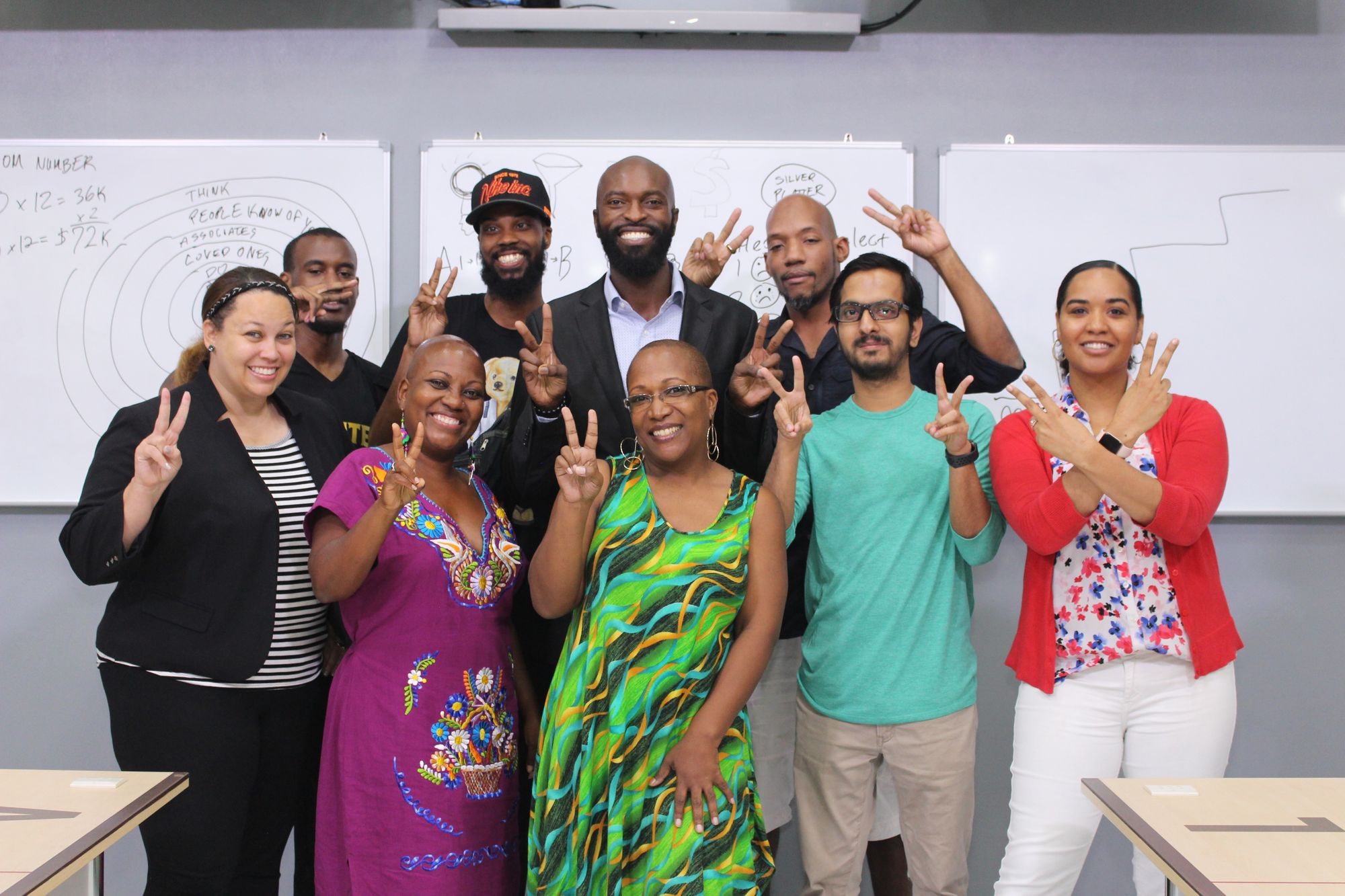 Michael Baptiste was raised by a single teenage mother in the inner city of South Miami. His ticket out of the inner city was through a basketball scholarship, but after undergoing two knee surgeries, Baptiste fell into depression and dropped out of college after losing his NCAA scholarship. One year later he pulled himself out of depression, focused on recovering physically and mentally, and enrolled in Florida Memorial University, an HBCU in Miami. Michael Baptiste made up his mind to pursue entrepreneurship as his career versus his previous love of professional basketball.
Fast forward to the present, he's the founder of High Ticket Freedom and co-founder of Banana Wave Bananamilk. The success of his online ventures has allowed Baptiste to fulfill his dreams, and Official Black Wall Street had the opportunity to talk to him about how he reached this point.
Jouviane: Hi, Michael, I hope you're doing well. To get started, could you give us a one minute elevator speech about your company High Ticket Freedom?
Michael: We believe everyone has a super power, and so we help people discover their super power, own it, and package it into their own digital or retail products that can sell online or in stores. More people are desiring to become their own boss, but did you know that 20% of small businesses go out of business within the 1st year? Or the fact that nearly 50% of small businesses go out of business within the first five years? This is a big problem.
To solve this, we created an innovative online education solution to show people how to produce, package, launch, and effectively promote their super power ideas into the online marketplace. Our mission is to educate, empower, and inspire people to successfully create their own conscious, sustainable online businesses worldwide. The e-learning market is expected to grow into a $243 billion dollar industry worldwide by 2022. Our solution shares how to capitalize on this growth industry through online product creation, sales funnel development, digital marketing & advertising, sales strategies, scaling, mindset, & lifestyle architecture. This is what we do in High Ticket Freedom.

Jouviane: Okay, you definitely make me want to start plans for a business myself. How did the idea for High Ticket Freedom come to you and how long ago did this venture start?
Michael: In 2015 I began my journey to solve the problem of helping people bring their ideas to life. Most people are sitting on great ideas, but don't know how to package them into digital or retail products that sell online or in stores. The core idea was to help people own their ideas and give them the expertise to package these ideas into premium products that can sell online or in retail stores.
I experienced this problem first hand. I solved it for myself after creating nine of my own digital products, as well as being a co-founder of Banana Wave Bananamilk - a non-dairy milk alternative beverage that I co-created with my fellow business partners as college students. Banana Wave Bananamilk was then successfully launched into big box stores like Walmart, Whole Foods, and other well-known retailers. Other people took notice of my results, and began to ask me if I could share some of my product creation and marketing strategies with them. I began to offer coaching as well as courses to educate others on what I was doing at that time to get results. Within a few weeks those people started achieving real, life-changing results. That's when I knew I had a real, unique, and highly valuable solution that more people, experts, and entrepreneurs could benefit from.
Jouviane: It's clear that your success from Banana Wave Bananamilk led to High Ticket Freedom. If you could describe this new venture in three words, what would they be?
Michael: Three words to describe High Ticket Freedom are legacy, impact, and lifestyle.
High Ticket Freedom helps you create a legacy-based business that you will be proud to stand behind today and pass on to future generations of tomorrow. I believe it's important for us as people to find or create work that is meaningful, lucrative, and gives us a sense of purpose. The majority of people aren't focused on creating sustainable businesses that they can pass on because they don't know how to or the generation before them didn't have many assets to pass on to future generations. This is a real problem that we are helping to solve by educating our students and clients on how to create a conscious, sustainable online or retail product-based business that can produce a thriving legacy.
Second, High Ticket Freedom helps you figure out your strengths and super powers so you can create a lasting impact in the lives of those you serve. I believe that the work we do must solve real life or business problems for other people in order to thrive. This impact leads to creating more fulfillment. We also teach our students and clients how to contribute to social causes, charities, and organizations that they believe in. We help our students and clients create their own online businesses that impact thousands of lives worldwide.
And lastly, with lifestyle, High Ticket Freedom teaches you how to create the lifestyle that you dream about. I believe that while you are building your business, you deserve to enjoy life too. Once the business is getting real results, the fruit of your labor allows you to be able to live out the lifestyle that you envisioned by consciously creating it with the tools in our platform. We empower people to 'create freedom your way' through the path of high ticket online business. We help our students and clients become the architect of their own life and business.
Jouviane: As with all successful businesses, I'm sure there were some bumps in the road as you built High Ticket Freedom from the ground up. What is the biggest obstacle you had to overcome and how did you do it?
Michael: The biggest obstacle that our company has had to overcome was stepping into an industry where we lacked two things - many years of experience in the corporate setting and a million dollar budget for business development like other existing companies. While I had experience with digital marketing, affiliate marketing, offline consulting, ecommerce, and product creation, I had to learn how to start and run my own online coaching and course business. There were many distractions, lots of noise in the marketplace, and too many online marketers who sold products with little value. I overcame many of these challenges when I found my first mentor who changed my life.
She is the legendary and honorable Mrs. Ann McNeill, "the master builder," who grabbed my hand and showed me the right way to create real companies that can thrive during any economic situation. I followed her advice, launched my online and retail product ventures, and did my own marketing. I remained consistent, and after starting my own seminars and webinars, I was fortunate to get early results in my entrepreneurial career.
Jouviane: Hearing you speak about High Ticket Freedom, it is very obvious how passionate you are about it. What aspect of High Ticket Freedom are you the most passionate about?
Michael: The thing that I'm most passionate about with High Ticket Freedom is seeing our students and clients actually transform their lives and businesses through the work that we do. My clients feel good knowing that we share our best strategies and tools with them to help them to get results. I am very passionate about helping our students and clients reach that lightbulb moment for themselves throughout our courses and coaching programs. It provides me with fulfillment knowing that I'm helping experts own their expertise and enhance the quality of their lives once they get results.
Jouviane: After all this great information about High Ticket Freedom, if there was one thing that you want to make sure reaches our readers, what would it be?
Michael: At High Ticket Freedom we are on a mission to educate, empower, and inspire people to successfully create their own conscious, sustainable online businesses worldwide. We are helping people shift to creating generational wealth and generational impact via online business. Through the adversity you will face, please don't quit, don't give up, don't stop. Just keep pushing forward towards your dreams because progress is better than procrastination. You have to work smart and hard for the results you want. So, unless you have a unicorn business - a startup company valued at over $1 billion, don't stop when you face adversity on your journey. It will take time to realize the vision you have in your mindsight; however, with consistent actions being taken over time, you can move closer to the results you desire.
Jouviane: And lastly, where do you see High Ticket Freedom in the next five to ten years?
Michael: In 5 years, I see High Ticket Freedom innovating to help over 1,000 clients create results online. We are currently adding to our innovative retail products blueprint to show students and clients the steps we took to get a product from idea to the store, how to master their mindset, consciousness elevation to unlock your inner power, and other upcoming departments to expand our platform. I see our platform being able to impact over 50,000 people through our social media content, email list, books, merchandise, courses, and coaching.
In 10 years, I see High Ticket Freedom being able to scale commercially to thousands of people worldwide. I see myself expanding our team to help service and impact more people around the world at a high level, while removing myself from the day- to-day operations to focus on the big vision. Through High Ticket Freedom, I see myself becoming an investor into other startups. I also see myself becoming a philanthropist so I can impact more lives in the inner cities of America where most African Americans are not provided with an abundance of generational wealth-creating opportunities. Lastly, I see High Ticket Freedom being able to contribute more to international causes in the Caribbean and Africa.
Michael Baptiste is currently open for new, self-motivated students and coaching clients that are interested in learning more about how to create their own online business as well as how to successfully market and grow their business from anywhere around the world. To learn more about High Ticket Freedom, visit: https://highticketfreedom.com/free-training
The success of Michael Baptiste's online ventures has allowed him to travel the world. During his travels in Thailand, he was spotted by a local basketball manager who would later help him get drafted to play professional basketball in the country. He went on to become a nationally recognized athlete and a top 10 leader in their 2019 league.
More recently, Baptiste is now developing a new platform called the Online Business Activator that is truly an innovative experience. He shares his secrets on the mindset of a professional athlete and how to use it to win in life and in business. The platform also includes the blueprint on how to get a retail product from idea to shelves, how to build digital products that can scale online, building digital funnels and systems, lead generation and marketing, sales, and consciousness elevation.
To learn more about the latest platform, the Online Business Activator, visit: https://onlinebusinessactivator.com/
High Ticket Freedom | Online Business Activator