James Samuel Creates ANJEL Tech - Body Cam App That Livestreams to Family & Friends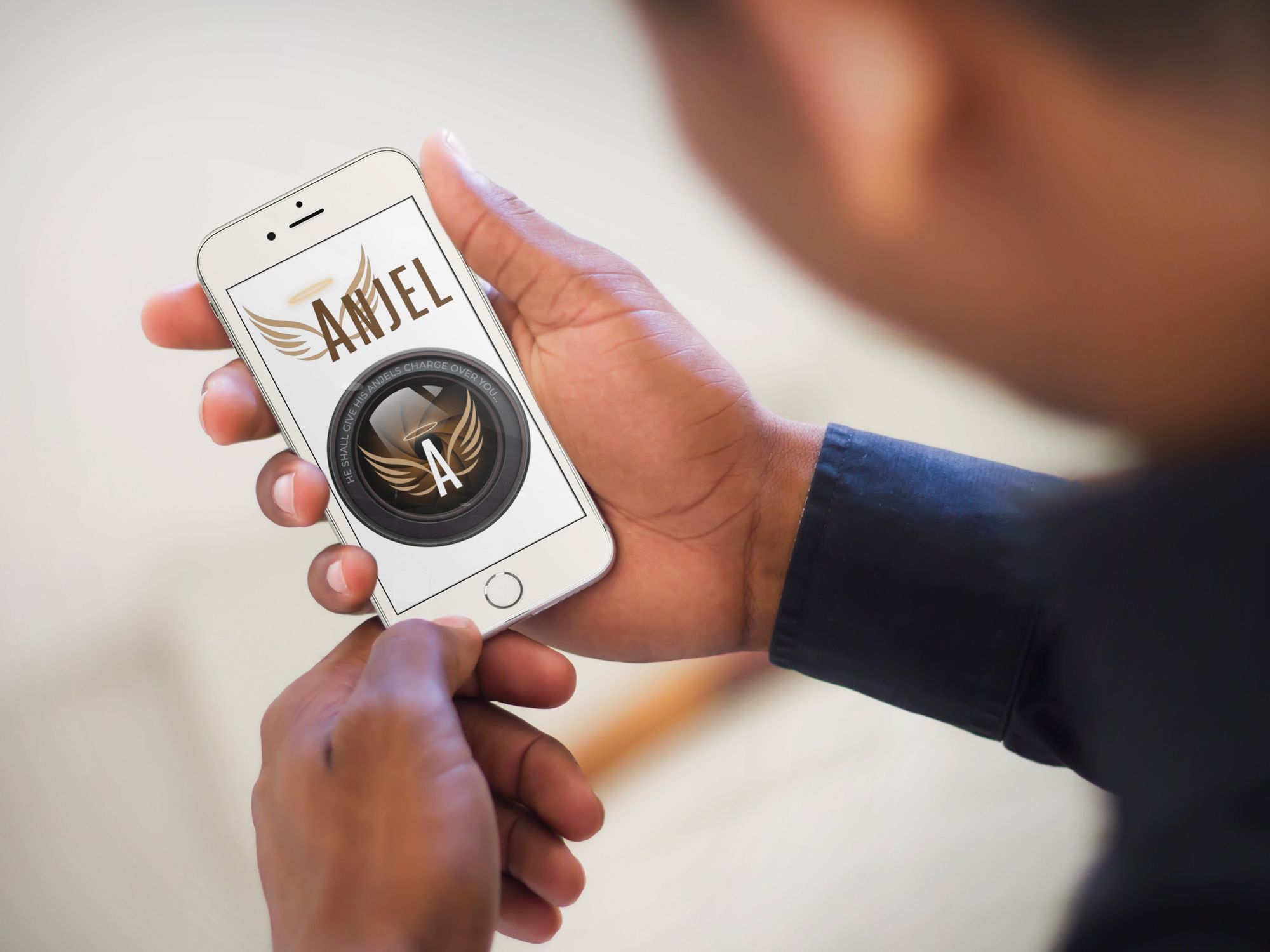 Over the last few years, we learned an important but devastating fact - Black people and other people of color are killed at a disproportionately higher rate by police than white people. Unfortunately, in situations like these, the only footage we normally have access to is police body cams, when they actually offer it to the public. Those days are over. James Samuel and his team at ANJEL Tech are equipping us with a means of protecting ourselves. ANJEL is essentially the every man and woman's body cam that allows us to live stream potentially dangerous situations to our loved ones.
We sat down with James Samuel to discuss ANJEL Tech and this app that has the potential to save countless lives.

Jouviane: Hi, James. Let's jump right in. Could you give a "elevator pitch" of who you are and what got you to the point of creating ANJEL Tech?
James: Hi, of course! Thank you for the interview!  It's a pleasure to speak with you today!  Before I tell you about me, my amazing team and ANJEL Tech, I want to "level-set" with your audience. The first thing I want to do is give all praise, honor and glory to my Heavenly Father, His Son and my Savior Jesus Christ and His Holy Spirit… without Whom I wouldn't be here today, ...on so many levels! So, about me - I'm the husband of the world's most incredible woman and the father of our two brilliant, beautiful, brown boys!  I'm also a former Air Force engineer and fighter pilot. When I saw Mr. George Floyd slowly, agonizingly, and emotionlessly compressed into the pavement and asphyxiated on May 25th 2020, something irrevocably changed in me, and I knew I had to do something, anything. And, because of my 30 years of experience in US national security, I also knew I had the requisite knowledge, skills and ability to get it done!  So, I discussed it with my team and we got to work!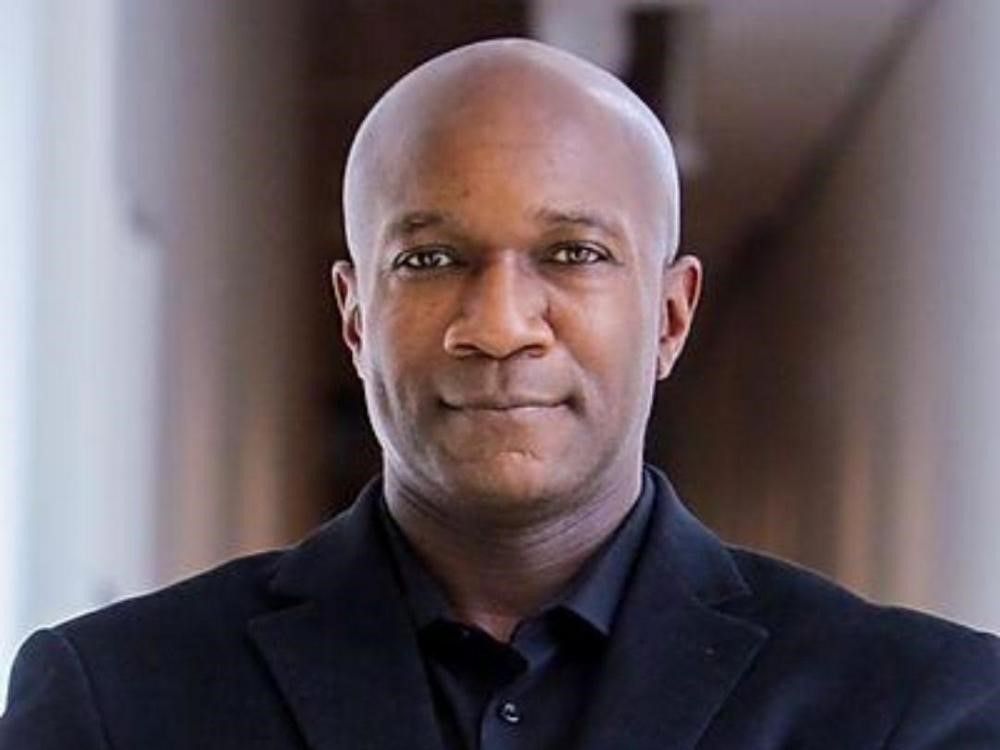 Jouviane: What pushed you to create ANJEL?
James: It was my love for my children, for all our children. In that moment, when I saw Mr. Floyd being murdered, I realized I MUST do something to change the world my sons would inherit and occupy. I saw myself and every other Black man in the anguished face of Mr. Floyd, and I knew I must change our circumstances, too.  I also saw how Mr. Floyd cried out for his (deceased) mother in his last moments, and I understood his fear for his life and his realization that it was coming to a close. Finally, I noticed how bystanders used cell phones to record this crime, and I realized the power in that moment which ultimately led to the conviction of his murderer.  Now, my incredible team of software developers, scientists, and technologists were already creating another software application which housed ANJEL as a feature.  When this event happened to Mr. Floyd, I decided to take the ANJEL feature out of the application we were already developing and make it a stand-alone application because the need was clearly more pressing than for the other product we were (and still are) developing. So, we did!  We started ANJEL's development process on June 1st 2020, and we worked around the clock to get this technology to the world as fast as possible! We completed its development in 105 days and began beta testing it with a select group of users. Then, we launched version 1.0 in the App Store in October 2020 and in the Google Play store in January 2021!
Jouviane: This app is an absolute necessity. Diving further into it, where does the name ANJEL come from?
James: Well, the name ANJEL comes from Psalm 91:11: "For, He shall give His angels charge over you, to keep you in all your ways." (NKJV). I decided to change the spelling of angel to ANJEL to be different (and because my name is James). We started calling it "ANJEL Tech" because that's the domain that was available (anjel.tech), and we see it as a technology of, from, and by the angels!  We see our technology as being a "digital angel," and another type of angel that God was providing to help protect, save, and keep us!
Jouviane: Now that you've given us some background into ANJEL and how it started, could you give a quick walk through of how it works?
James: Naturally! ANJEL is the only live-streaming, cloud-based personal security system that works on both iOS and Android phones all over the world! When a user live-streams with ANJEL, their stream goes to (and is securely stored in) the cloud and it is simultaneously re-broadcast out of the cloud to the user's pre-selected family and friends. ANJEL immediately notifies these family and friends of the user's emergency situation via text, email and in-app notifications, and it allows them to view this stream in real time. It also provides the precise GPS location of the steaming user on a map, along with routing directions and instructions to help navigate the family and friends to their loved one in need. Through this, they can immediately see what's happening, come to their aid, and/or send help. Finally, ANJEL securely stores all streams and location data in the cloud, so that family members can have immediate access to this "personal body camera" footage during and immediately after the event, regardless of what happens to the user's cell phone during/after the event. This last piece is a critical component of the technology, because all-too-often, we don't know what happened to our loved ones, where it happened or have a *record* of the event…uncut, unfiltered and in the word/perspective of our loved ones.  This keeps everyone accountable from jump.
If Official Black Wall Street users want to see some of our user testimonials and more information about how ANJEL works, I would encourage them to visit www.anjel.live and www.anjel.tech.  We also have lots of information on our YouTube channel and other social media platforms!
Jouviane: What are some features of ANJEL that make it worth using?
James: I just covered a lot of its key features, but you should know that the precise GPS location of the streamer is updated every 10 seconds when viewing their stream on the map within the app. This is very helpful in the event the streamer is moving during the event. This way, the viewer(s) have a trail of "breadcrumbs" to help locate their loved ones, especially in the case of missing persons, etc. There are several other distinctive and personalized features within the app like the ability to match the ANJEL iris color to your and/or your loved ones' eyes. This little feature/option is a big deal when it comes to the social-emotional aspect of the application and how it supports and works with the familial bonds of affection.  We not only wanted to provide a world class, innovative, first-of-its-kind technology to the world, we also wanted it to be very "human" and warm because we truly and deeply care.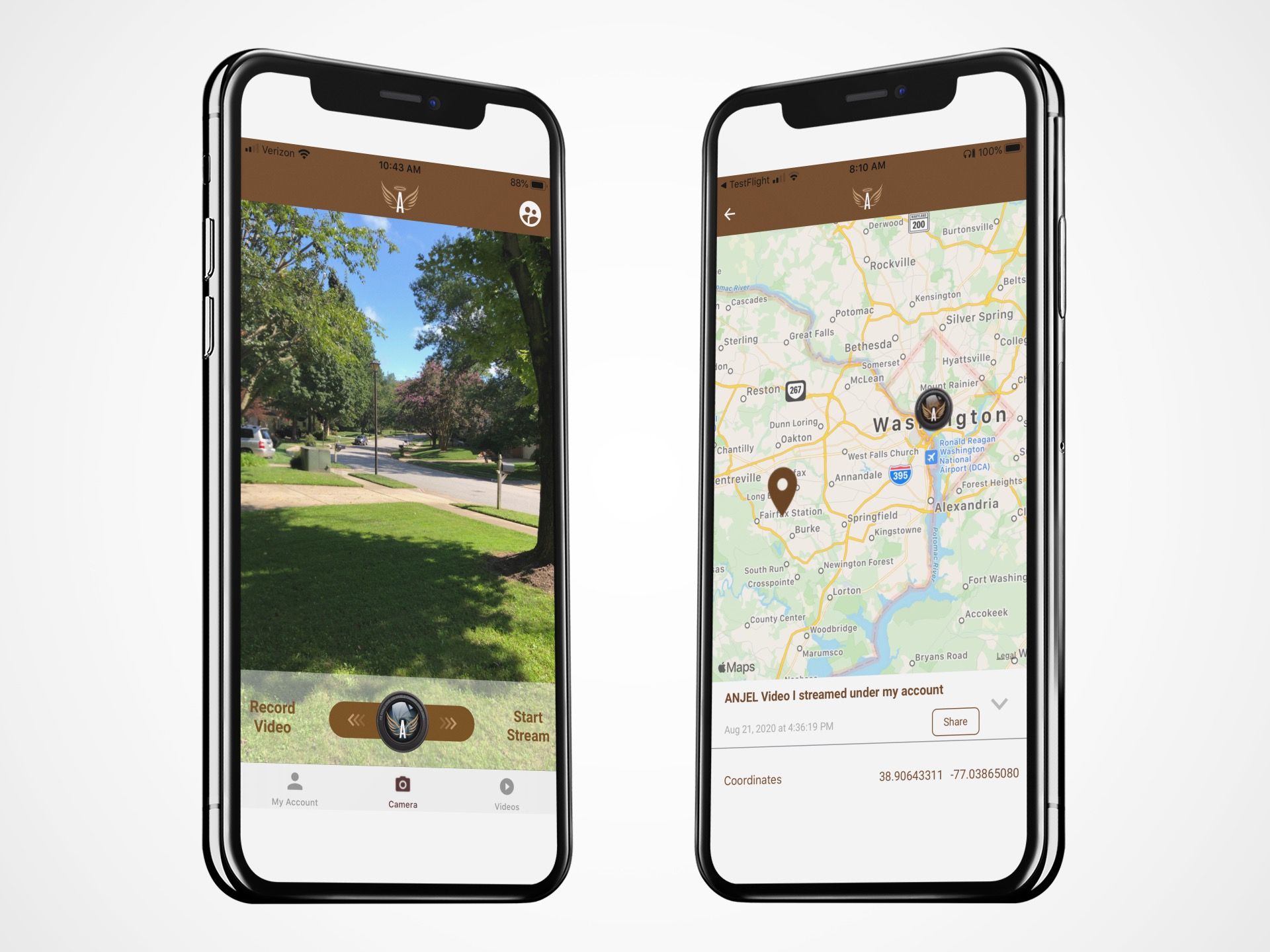 Jouviane: With all the features it has to offer, how should someone interested in ANJEL go about choosing which plan is best for them?
James: We have nine subscription plans from which to choose, ranging from a single person to a family of nine!  And because we designed ANJEL to work "cross-platform" (on both iOS and Android phones), ANJEL seamlessly integrates all family members into a single operating unit, regardless of which phone type they have!  We also have several plans that offer a 30-day free trial!
Jouviane: Do you have any stories you could tell us where customers have shared how beneficial ANJEL has been to them?
James: Yes!  Here's one that recently came to us. It was submitted by one of our newest ANJEL Tech community members, Lori, who sent us this feedback and shared this post on her Facebook page:
"If you're brown, Asian, female, or Human....please read this! It can save your life, or that of someone you love. [My son] and his friends were going on a trip last night. With everything going on in the world (and these kids being all shades of brown), I asked him to download an app onto his phone. It's called "ANJEL Tech". It was invented by a black couple. Basically, if you feel like you're in an uncomfortable or dangerous situation, you swipe the app and it livestreams the situation, sending a text and email to the contacts you provided. They can click the link, see what's going on, and can race to the scene or send help. The livestream contains the exact location (gps points and a map), so the receiver knows exactly where you are. So, we put it on our phones at around 7-7:30pm.  At 11:19pm, I get a "[Your son] is sending you a livestream" text.  For a second, I thought "He's testing it out. They probably stopped for food." I clicked on the link and I see [my son] and his friends in a stopped car with blue lights flashing. They'd been stopped for speeding. Everyone was respectful and they got off with a warning, but for a few minutes, I was very nervous! 4 brown kids driving through Alabama late at night-yikes! I wasn't shocked that they'd been stopped. I was shocked that the app was in our phones for less than 4 hours, that it was being used, and that it worked!!! I'm so glad that [my son] put it on his phone, and I'm sure that he felt safer in the situation because of it! If you're in one of the groups that's being targeted these days, or if you know any females that you worry about, I highly recommend getting this app! There's a 1 month free trial period, then it's about $5 per month. Save yourself. Save your family and friends! We love you all!!!"
I have to tell you, when I read this note from Lori, I cried. Like her, I felt the terror in that moment when she saw the video, but I also felt the relief she experienced by being notified and shown what was happening with her son!  I was also overjoyed that she immediately saw and experienced the power of ANJEL Tech, because she knew exactly where her son was at that moment, and because of ANJEL, she has a video file of the incident on *her* phone as well!  
And like Lori, we've heard from numerous users that they now have a greater sense of peace and comfort, knowing they have a tool like this at their disposal!
For even more testimonials like these, visit www.anjel.live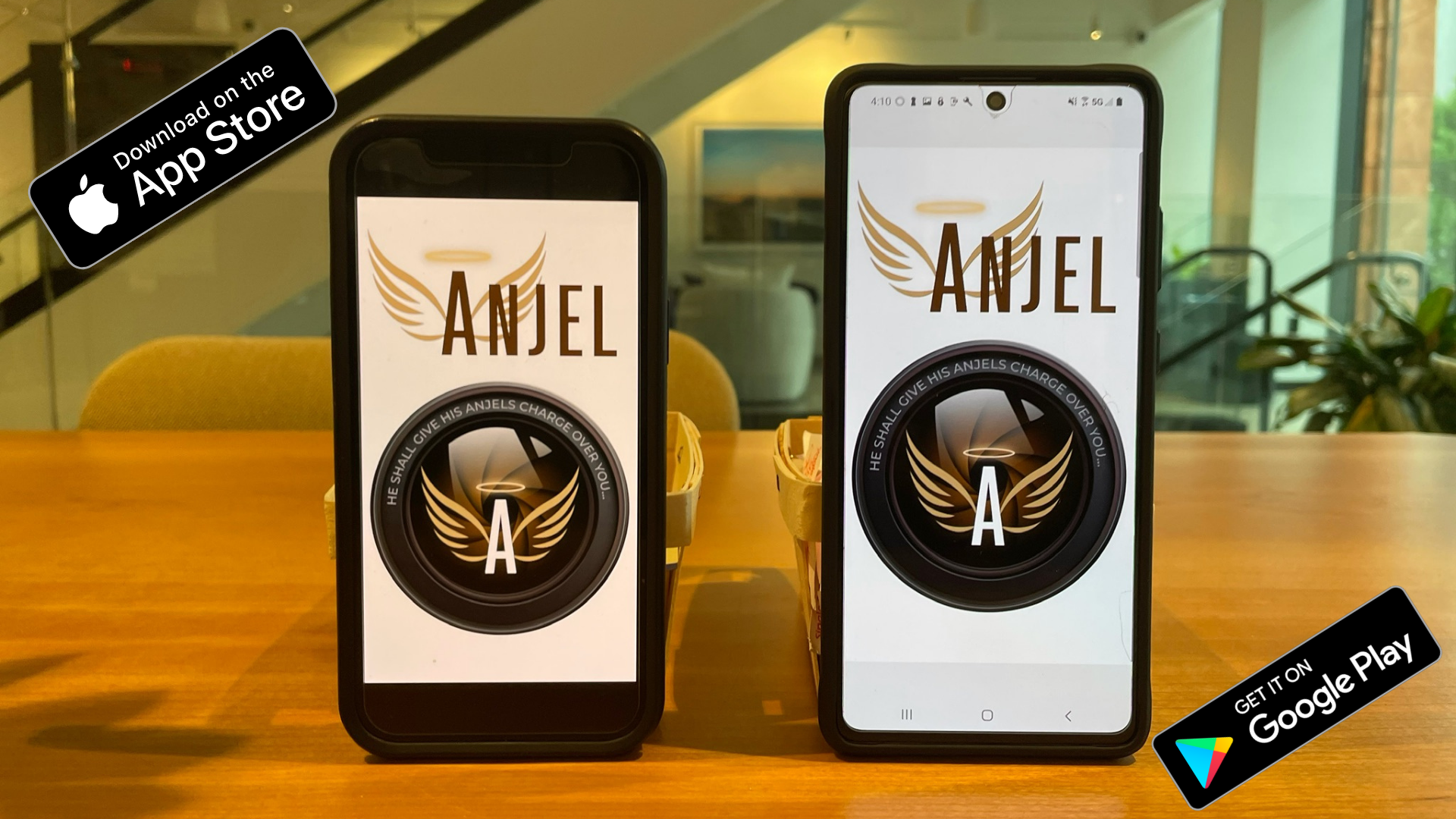 Jouviane: I imagine it wasn't easy creating such a comprehensive app like this. What was your biggest challenge with trying to set up ANJEL? How did you work through it?
James: Our biggest challenge was creating both versions of ANJEL at the same time: iOS and Android. These operating systems are very different which required double the development team. It also required significantly longer to get them approved through Apple and Google for hosting and sale in the App Store and Google Play store. Why? Because we couldn't transfer knowledge and learning between these two, dual-tracked, different processes. So, what we would learn on one platform didn't necessarily apply to the other. Developing one app is hard by itself, but developing two simultaneously was more challenging than we expected. To work through it, we just redoubled our efforts because we knew the fierce urgency of "now" and how desperately the world needed (and still needs) this technology!
Jouviane: If you could tell our Official Black Wall Street readers one thing about ANJEL, what would it be?
James: I would tell them we made ANJEL for YOU, and especially for Black Moms because we want our children, your children, their children to LIVE. We want them to make it to all those life moments that count, to restore her/their peace and sleep…because they deserve to be FREE from the pain and anxiety that comes with raising Black children in America. They deserve to be FULFILLED with all the joy and happiness that life has to offer.
Jouviane: Lastly, is there anything else you'd like to mention about ANJEL Tech or tell our readers?
James: I would tell your readers to protect their children, their lives, their joy and their peace with everything they have. If you don't have or cannot protect these things, nothing else really matters. So, for the price of a cup of coffee each month, you can have your own personal body camera, and God knows we need this more than ever!
Visit www.anjel.live and www.anjel.tech for more information. Also, please like, share and follow us on social media @ANJELTech on Facebook, @ANJELTech on Instagram, and subscribe to our Youtube channel.  Thank you and may God richly bless, protect and cover you all!