This Black Physician Created An Organic Elixir Proven To Combat Hair Loss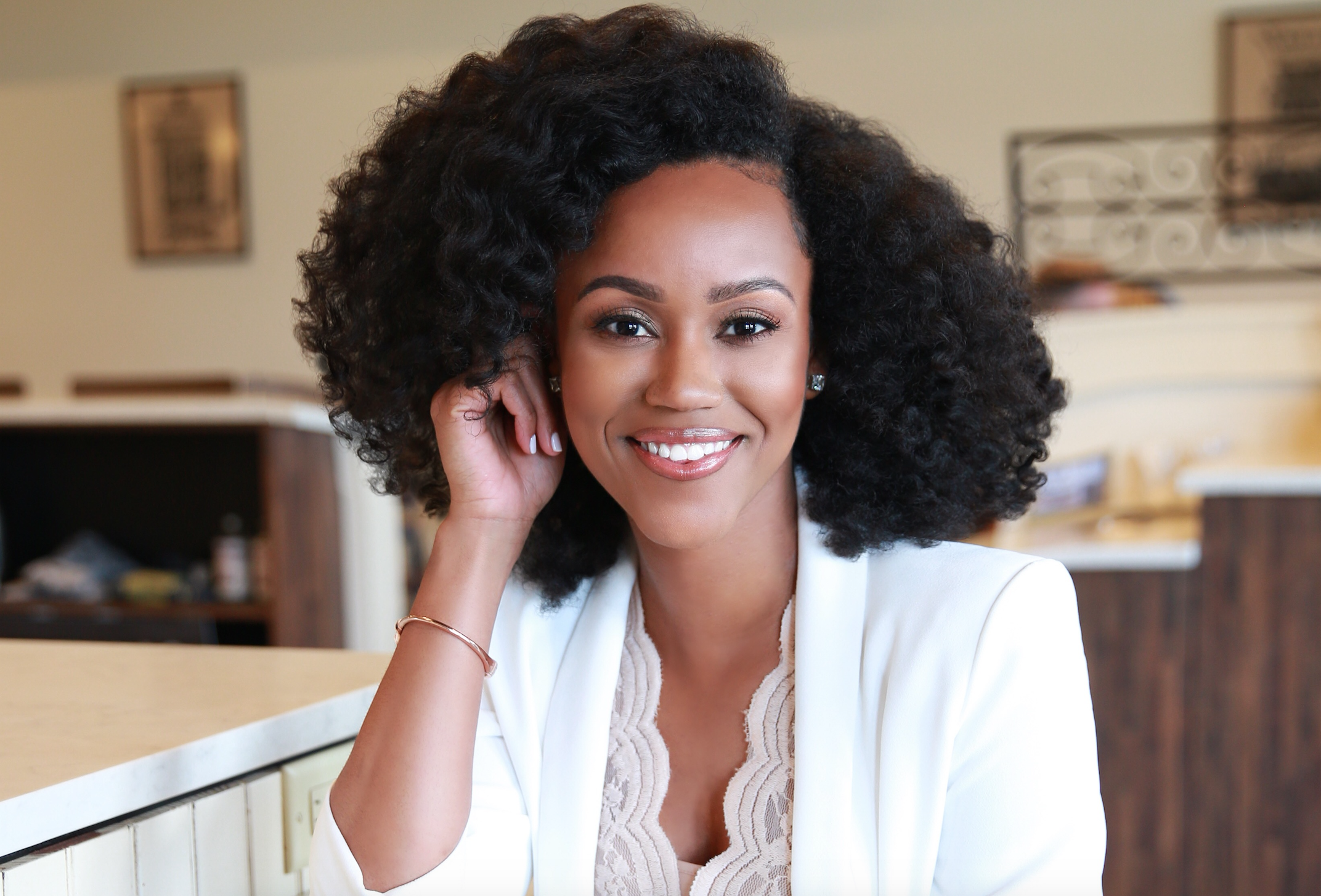 Like many women in our community, Alison Mitchell, MD suffered from both postpartum hair loss and Polycystic Ovarian Syndrome (PCOS). After struggling to find products that would help alleviate the hair loss, she took matters into her own hands. Through extensive trial and research, Alison created an elixir that gave her noticeable results in just 30 days. Alison later founded Renewed Hair Co. and set out to help other women suffering from similar issues. What began as a personal health and hair journey turned into a brand that would help restore the confidence and hair health of women around the country.


Mandy: What motivated you to start Renewed Hair Co.?
Dr. Mitchell: Renewed Hair Co started from a personal struggle with hair loss after a diagnosis of PCOS about 6 years ago (very prevalent in black women) and postpartum hair loss 2 years ago. It was throughout he years of research and prayer, that God gave me the formula for the Renewing Hair Elixir. It was an instant game changer for my hair health and that is when I felt compelled to share this one of a kind product with others.


Mandy: How has your medical background influenced the development of your products?
Dr. Mitchell: I have researched the clinical efficacy and safety of each of the ingredients to achieve the highest level of results to penetrate the hair shaft, stimulating follicle growth, and preventing future hair loss all while doing so in a non-toxic and safe way.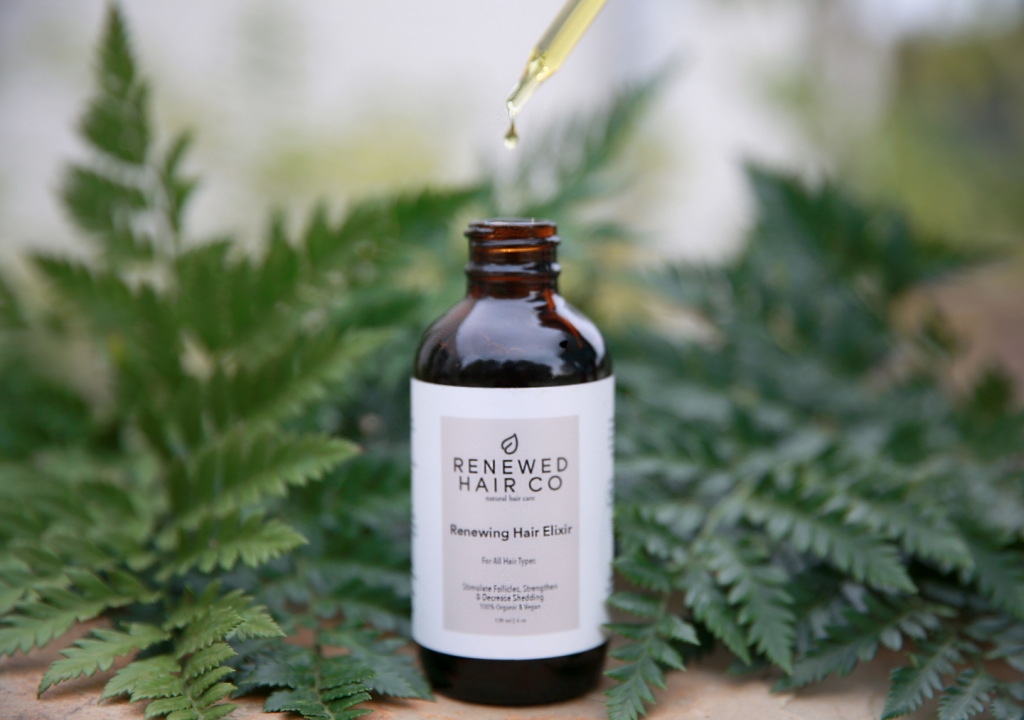 Mandy: In what ways do they differ from other brands in the market?
Dr. Mitchell: Renewed Hair Co. differs from other brands in that we do not use any synthetic ingredients or additives to compromise the potency or safety of our Elixir to bring customers the highest organic quality and results. Our Elixir is infused with clinically studied Ayurvedic herbs over a 3 day period that combats the greatest challengers of hair health and growth.


Mandy: What are some of the main health issues Black women face when it comes to hair? How does Renewed Hair help combat some of these issues?
Dr. Mitchell: Many black women have been exposed over years to micro-doses of ingredients that contribute to hormone dysregulation, allergies, skin issues and even cancer. The continued exposures contribute to Endometriosis, Fibroids, various types of Alopecia, Psoriasis, Cancer, Fertility issues, Thyroid abnormalities and more. These small doses may not seem much in any one given exposure, however with their prevalence in just about every hair product over a period of years, the additive effects are astounding. It is important to Renewed Hair Co that we prioritize health all while providing transformative results.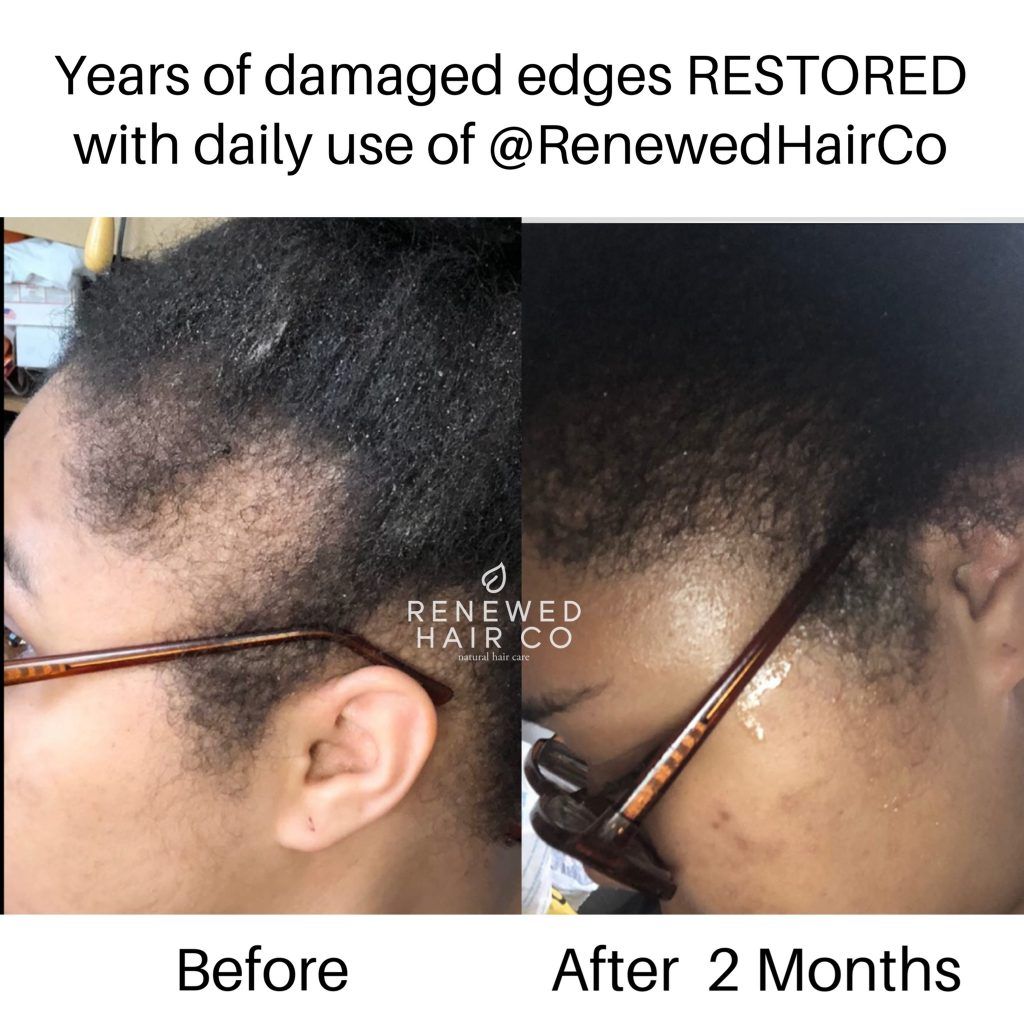 Mandy: What has been the overall reception of Renewed Hair Co. since launching? There are so many amazing before and after review images. What has been your most memorable review or transformation?
Dr. Mitchell: The response from our customers has been beyond amazing. We have grown organically through word of mouth and shared reviews to thousands of customers and almost 50k followers in 1 year. Our customer's results hit home in so many ways, in that their account is more than superficial gain, but an outward transformation that reflects an internal healing.
One of our most memorable testimonials came for a woman who had been domestically abused resulting in scarring of her scalp from chemical burns and traction alopecia after repeated pulling. She had been wearing wigs for countless years, as nothing had hoped her hair grow. However, after using our Renewing Hair Elixir consistently for some months, she saw huge improvements and had a new level of confidence in her healing process. This is why Renewed Hair Co was started, to help others who were struggling find transformation.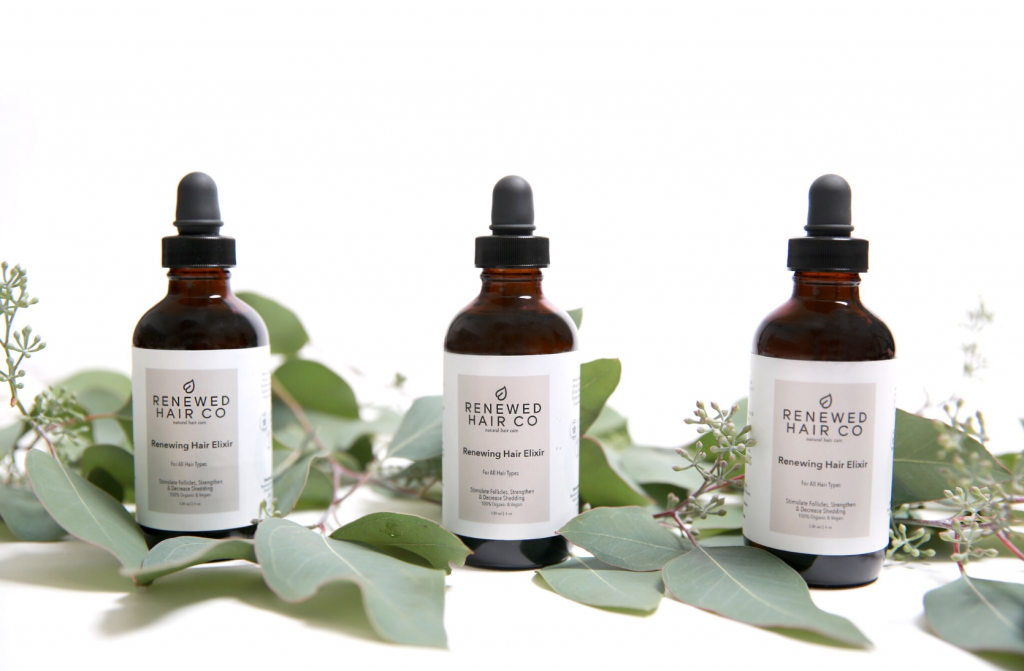 Mandy: As a medical professional, how did you learn the ins and outs of the beauty and business industries?
Dr. Mitchell: Before going to medical school and becoming a physician, I was "all about hair". Throughout undergrad, I was the "go to" beautician for all things hair. I immersed myself in styling and hair health because growing up, going to the hair salon was a rare luxury. As I began to learn about hair through online research and then experience terrible hairless after going natural, I made it a personal mission. Many people just don't know the best way to cater to their hair type/texture/porosity. Knowledge is power and I was determined not to lose my once beautiful mane.


Mandy: So you're also a mom, in addition to being a physician and an entrepreneur! How do you stay on top of everything? What keeps you motivated?
Dr. Mitchell: It takes a village, lol. We have a great support system in our family and friend network that greatly contributes to my ability to do it all. I have a tremendously supportive and active husband, parents who have always encouraged/supported through action, and friends who do all they can to help. My motivation is God, Purpose, and my son. I want to leave a legacy of work ethic and tangible fruit. It's important that we teach our children through modeling in real time the individuals we desire them to be. I do my best to prioritize each day, each action and each decision from a faith filled perspective. And it's only because of God's perfect instruction has it landed me here.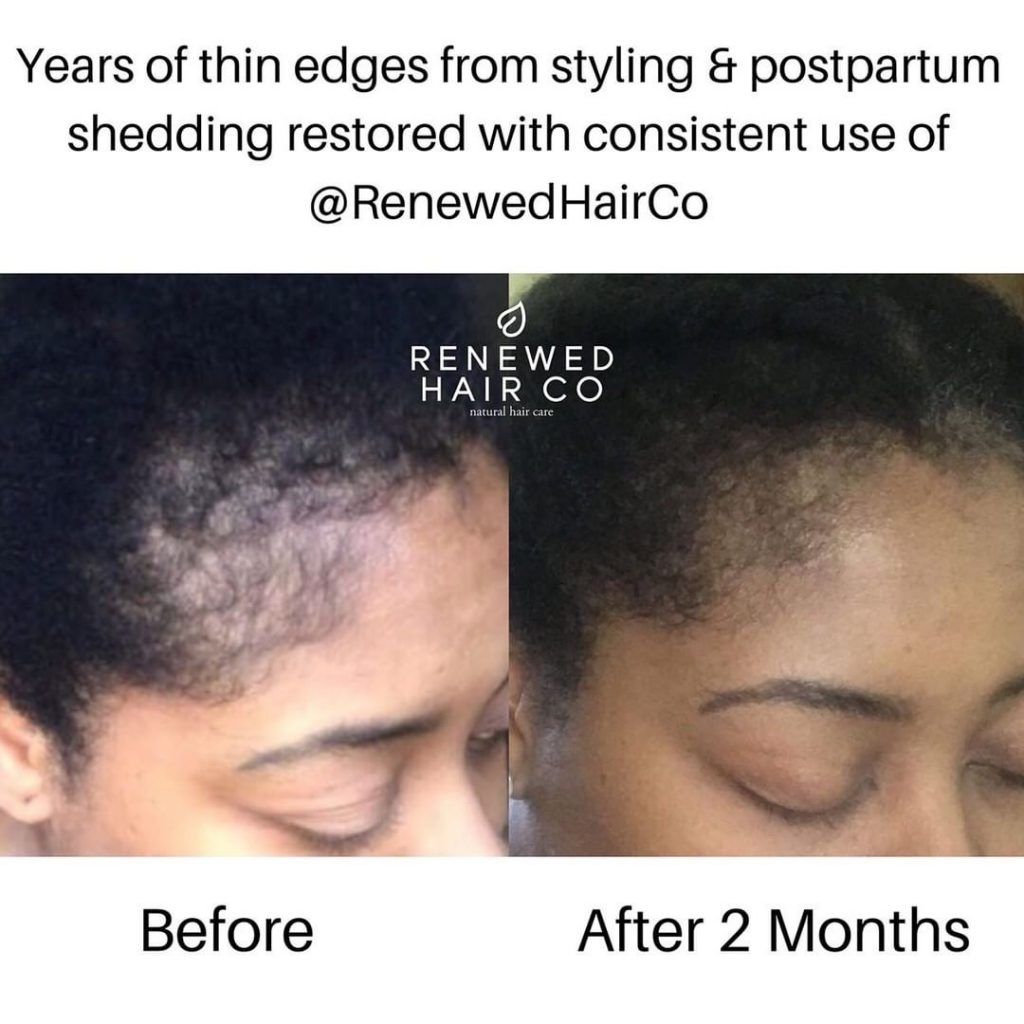 Mandy: What advice would you give other aspiring entrepreneurs who are looking into getting into the hair care industry?
Dr. Mitchell: Firstly, do't discount your idea, brand, or lack of paper experience due to a seemingly over-saturated market. Every individual has a unique perspective and gift to deposit in the Earth, therefore whatever you do wholeheartedly will have impact. Next, do your homework, research, and buckle down to iron out all the details. Rushing will not get you a great outcome, so never take the first option. Always weigh and pray on the options. And lastly, solicit help from others whom you have connection with when you can. Building up others around you, as you grow will yield an eternal satisfaction that lasts far longer than any temporary gain.


Mandy: What's next for Renewed Hair Co in 2020 and beyond?
Dr. Mitchell: This year, I'm super excited to FINALLY be launching a one-of-a-kind Treatment System that will include an organic Shampoo and Conditioners specific to your hair porosity type all infused with our Ayurvedic Renewing Hair Complex! This system is like nothing else I have seen and tons of research, trials, and time have been invested to make sure it is perfection for our dear customers. Ahead, we also have plans to have a full product line that caters to each individual's hair from start to finish.


Mandy: Where can we find and purchase Renewed Hair Co products?
Dr. Mitchell: Currently, our product can be purchased on our website at www.RenewedHairCo.com