VOTE NOW for the 2021 Black Entrepreneurs of the Year - Voting ends August 29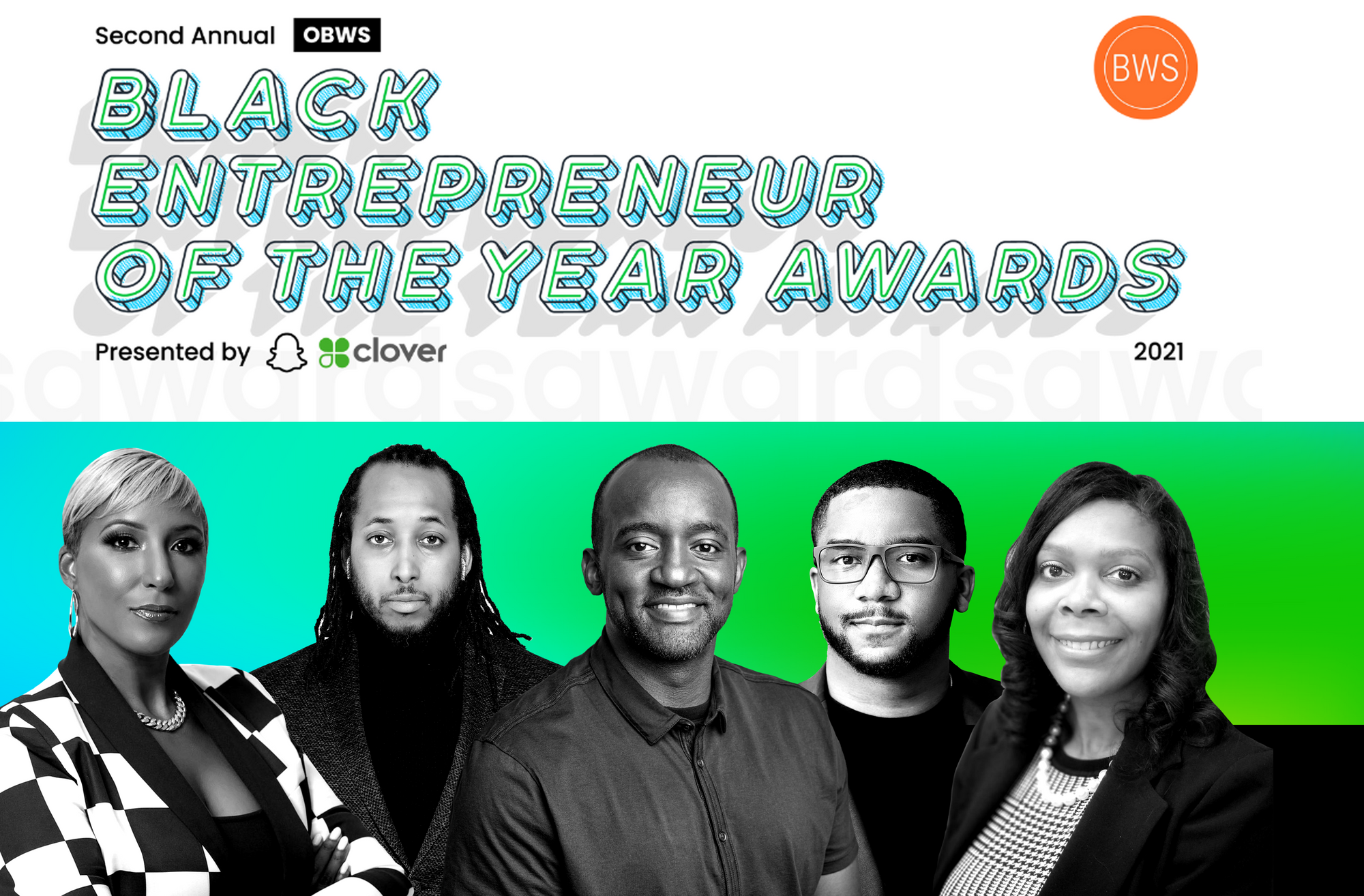 Last month, we kicked off the 2nd annual Black Entrepreneur of the Year Awards. In partnership with Snap Inc. and Clover, Official Black Wall Street opened a call to action for Black entrepreneurs all around the country to win up to $55,000. With nearly 800 applicants, this year's judges narrowed it down to 15 deserving finalists. Now it's your turn to vote!
Voting daily for your favorite Black entrepreneur to win! Voting ends on August 29 at 11:59PM ET.
VOTE NOW at: https://awards2021.obws.com
Keep scrolling to find out more information on this year's finalists.
Black Entrepreneur of the Year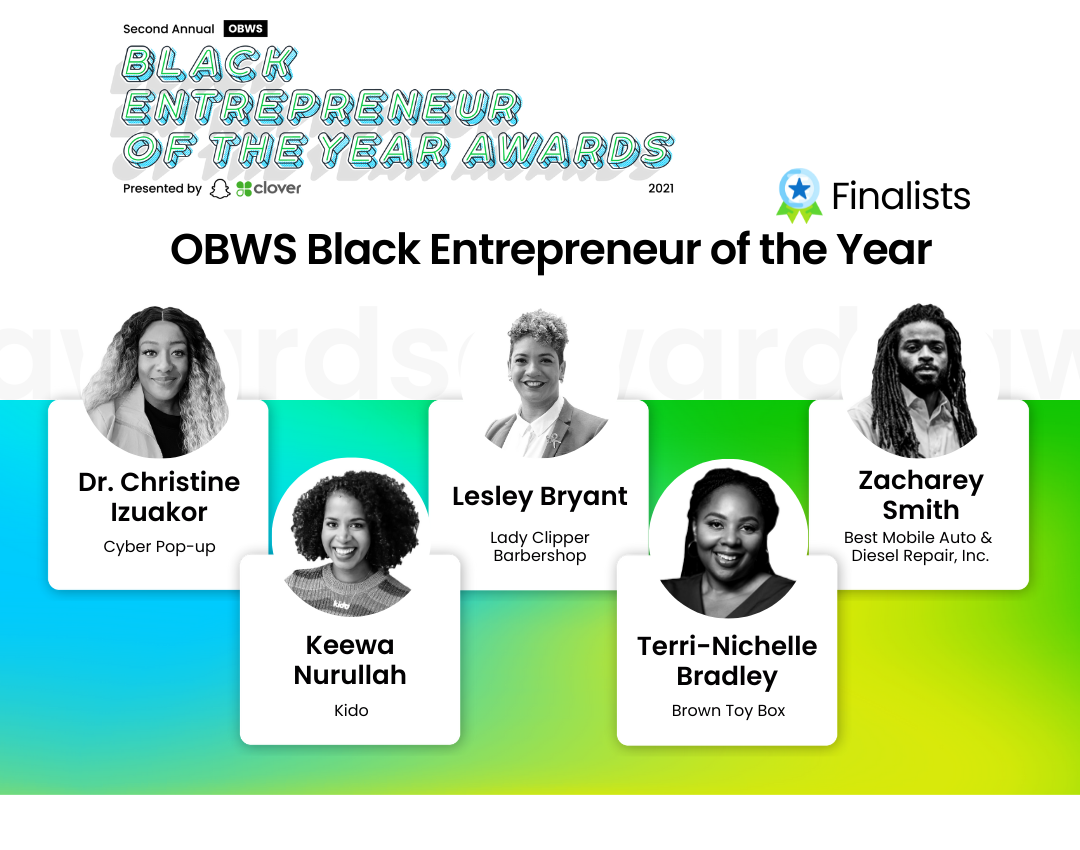 Dr. Christine Izuakor (Cyber Pop-up)
Cyber Pop-up helps businesses get secure through an on-demand cybersecurity platform powered by vetted, highly skilled freelancers. Their model also does good in the world by removing barriers to entry in cybersecurity for underrepresented groups and forging an intentionally diverse global talent pipeline for the future.
Keewah Nurallah (Kido)
Kido is an award-winning children's shop focused on representation, inclusivity, and building community on the Southside of Chicago.
Lesley Bryant (Lady Clipper Barbershop)
Established in 2017, The Lady Clipper is Washington DC's premier, full-service, women-owned barber shop.
Terri-Nichelle Bradley (Brown Toy Box)
Brown Toy Box produces educational toys, games, and content that center and celebrate Black children in an engaging way that all children can enjoy.
Zacharey Smith (Best Mobile Auto & Diesel Repair, Inc.)
Best Mobile Auto & Diesel Repair, Inc. provides a comprehensive mixture of services tailored around transportation, logistics and project management. They service commercial, government and non-profit businesses in CO and FL.

Black Innovator of the Year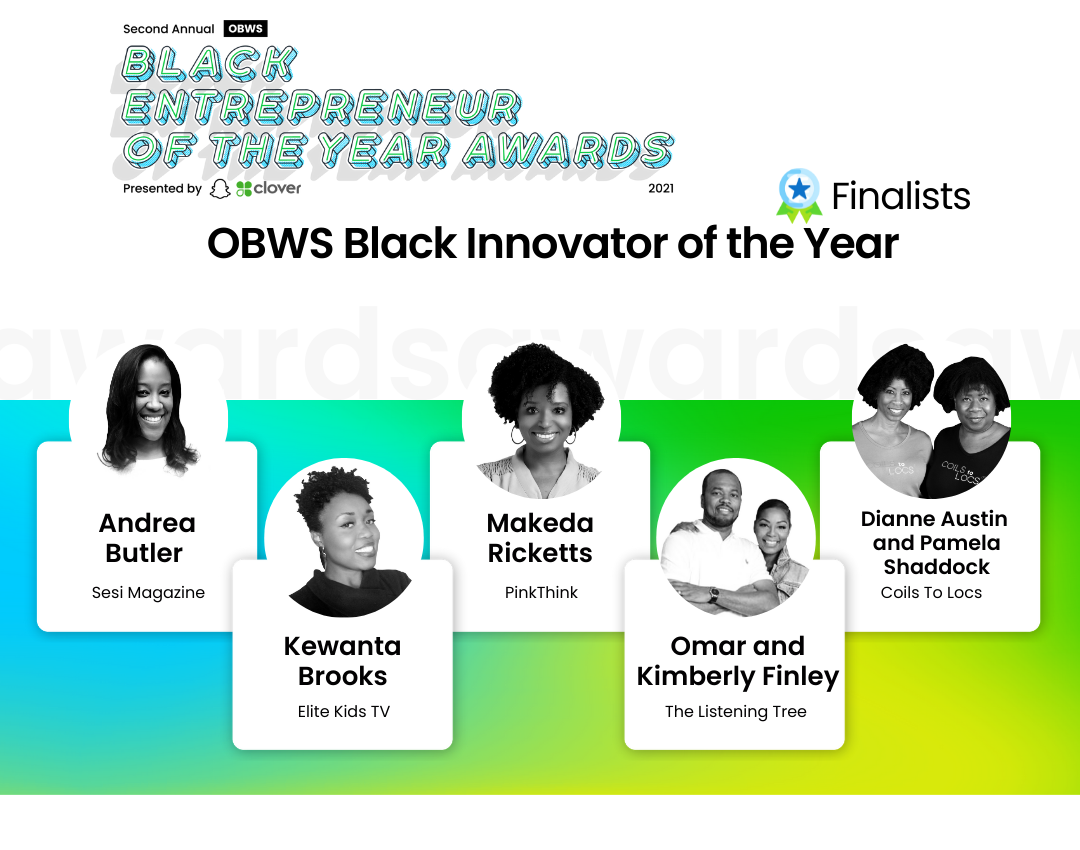 Andrea Butler (Sesi Magazine)
Sesi means "sister" in Sotho, a Bantu language mainly spoken in Southern Africa. They rep Black teen girls to the fullest — filling that void in mainstream magazine media, in which Black girls and their voices are virtually invisible.
Kewanta Brooks (Elite Kids TV)
Elite Kids TV is a subscription-based comprehensive learning platform enhanced by entertainment and diversity - or, "EdTech with a Whole Lot of Excellence!"
Makeda Ricketts (PinkThink)
PinkThink makes interest-oriented and engaging STEM education products for girls. In order to teach girls coding, PinkThink has created Codeable Style (cStyle) Bracelets, the first programmable wearable.
Omar and Kimberly Finley (The Listening Tree)
The Listening Tree is a children's bookstore created to perpetuate a love of literacy and learning in OUR community.
Dianne Austin and Pamela Shaddock (Coils to Locs)
Coils to Locs is disrupting a healthcare disparity that disproportionately affects black women with chemotherapy and other medical related hair loss: The lack of coily, curly, highly textured wigs, that can be purchased with health insurance at hospital cancer centers and hair loss salons. Their motto is; every woman, regardless of hair texture, deserves a wig that resembles the hair that she lost.

Black Social Entrepreneur of the Year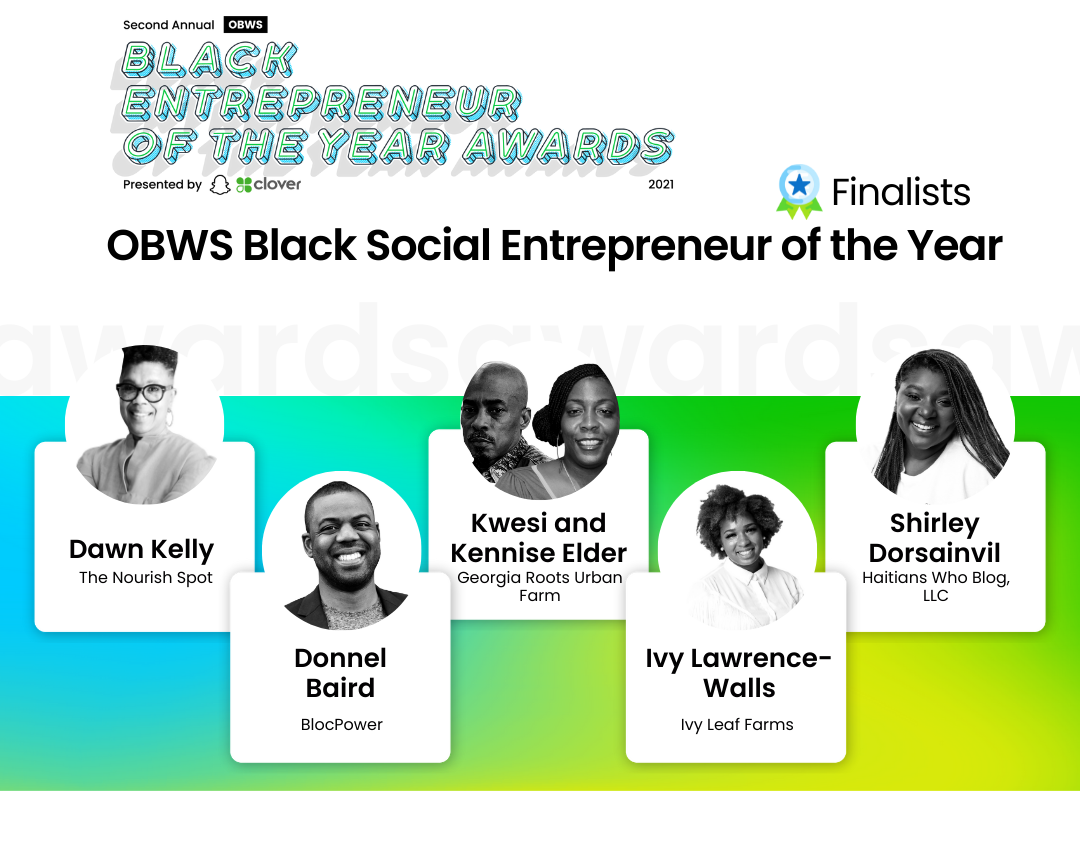 Dawn Kelly (The Nourish Spot)
The Nourish Spot Inc., located on 107th Avenue & Guy R. Brewer Boulevard, exists not only to deliver fresh produce & customizable food & beverage to the marketplace in hopes of helping people live longer, more vital lives but also to create value within our community by partnering with non profits to provide internships for young people, fair wage paying jobs and mentorship to individuals seeking to establish small businesses of their own.
Donnel Baird (BlocPower)
Since 2014, BlocPower has greened +1,100 urban buildings in 26 cities, creating new jobs, lowering energy bills and mitigating fossil fuel dependency.
Kwesi and Kennise Elder (Georgia Roots Urban Farm)
Kwesi and Kennise Elder are Georgia natives and some of the few black farmers in Atlanta. By farming and bringing the community together, they are truly making their mark in the food systems of South Fulton with Georgia Roots Urban Farm.
Ivy Lawrence-Walls (Ivy Leaf Farms)
Ivy Leaf Farms is a community based farm dedicated to food equity and complete neighborhood wellness in Houston, Texas.
Shirley Dorsainvil (Haitians Who Blog, LLC)
Haitians Who Blog is an online community amplifying the voice of Haitian creatives by providing access to mentorship, job opportunities, and resources to excel in their creative industry.
THE TIME TO VOTE IS NOW! $55,000 is up for grabs. Don't miss your chance to vote for these deserving Black entrepreneurs. The deadline to vote is August 29 at 11:59PM ET. Vote now >>> https://awards2021.obws.com